My time with Olympia Dukakis, the lioness of Lowell
It's been just over a year since the death of Oscar-winning actress Olympia Dukakis. Her surname is well-known to my fellow Bostonians. Her cousin Michael was our governor for a time, as well as the 1988 Democratic presidential nominee. Dukakis is a brand name here in the Bay State.
I was fortunate enough to spend a few hours with Olympia one lazy Saturday morning, more than a decade ago. She had agreed to be interviewed for a graduate school research project I was conducting on the evolution of feminism. I flew to Los Angeles, rented a car and plugged the address her assistant had given me into my GPS. Soon enough, I found myself in front of a small bungalow in a nondescript part of West Hollywood. I was so excited I could scarcely breathe.
A dented screen door hung precariously from the hinges of the cottage's doorframe. There were no gates, no fences, no security. Somehow, I wasn't surprised.
I rapped on the door and heard her signature alto voice bellow, "It's open!" Tentatively crossing the threshold, I made my way down a narrow hallway. Within a few steps, I found myself in her kitchen. She was sitting at the table dressed in a t-shirt and striped pajama bottoms, hair still wet from a quick dash through the shower. Looking up from her plate of scrambled eggs she purred, "Want some, darlin'?"
I never told my parents, but by the time I turned 11, I carried a knife with me everywhere I went.

Olympia Dukakis
Before we talked about her life under Hollywood's glare, we talked about her life under the street lamps of Lowell. This gritty former mill town served as the backdrop for the first nine years of Dukakis' life. Her family home was located in "The Acre," the largely Greek section of town. And yet, this ethnic commonality did little to ease her entry into the social circles of the neighborhood.
"I had a chip on my shoulder so big it was like a tree," she mused. "I was competitive and rebellious, something my mother was ill-equipped to handle."
From there, the family would move to Somerville, living amongst the French, Irish and Armenian working class. Efforts at assimilation continued to evade her. "One afternoon I was caught by a horde of kids, tied to a tree, and had my socks stuffed down my throat," she said. "I never told my parents, but by the time I turned 11, I carried a knife with me everywhere I went."
The rough-and-tumble atmosphere of her earliest years acted as a crucible for Dukakis. Her no-nonsense demeanor, her candor, her feistiness, her political bent, her sexual mores, and her strident disapproval of the sins of patriarchy, all took root during her formative years. "There are attitudes I have, a fatefulness that I carry that is very Greek," she reflected. "I have a willingness to engage that is rooted in being Greek, a willingness to take on a fight." Voiced with her signature gravelly timbre, Olympia told her truth, loudly and often.
... Olympia told her truth, loudly and often.
Given this prism, it's easy to understand why the roles for which she is best known initially appealed to this grande dame of film. Stella, the butch lesbian of 2011's "Cloudburst," noted as much for its off-color script as for its tender love story. Or the transgendered landlady of "Tales of the City," Anna Madrigal, the character's name an anagram for "a man and a woman." This 1993 project came significantly before most actors were willing to take such roles. Not so for Dukakis. Or her 1989 performance as one of the Steel Magnolias, a fitting title for a woman known for her winsome heart and yet resolute demeanor.
But, in the end, it was her portrayal of Rose Castorini in "Moonstruck," the effort that won her the Oscar, that remains dearest to my heart. The matriarch of a dysfunctional New York Italian family, Dukakis' depiction of the complexities of motherhood and marriage are as gritty as they are heartwarmingly relatable.
As afternoon arrived, I asked two favors of the legendary actress. The first, for her to recite her most famous line from "Moonstruck." She leaned across the table, looked me dead in the eye and said, "Loretta, do you love him?" I squeaked out the prescribed response, "Ma, I love him awful." She gently shook her head and said, "Aw God, that's too bad." And with that she smiled, grabbed my hand and gave it a quick squeeze, demurely signaling the end of our time together.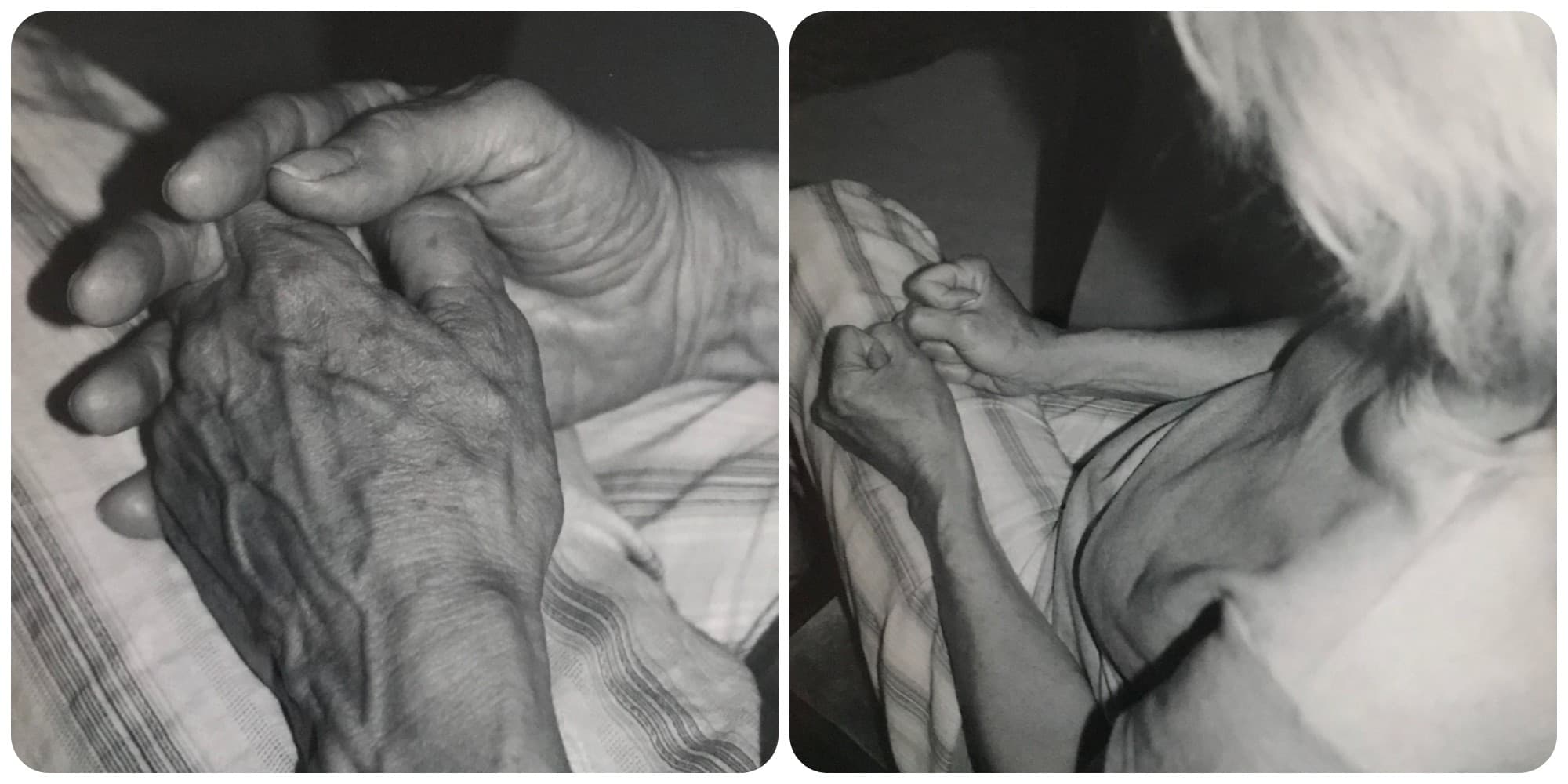 As I got up from the table, I asked her one final question. "Miss Dukakis, would it be all right if I took your picture?" For the first time since we had been together, I saw her stiffen. "No, no," I stammered, "not of your face. I'd like to take a photograph of your hands. I always thought people's hands were the best barometer of the kind of life they had led." Her shoulders relaxed and she motioned for me to come alongside her.
As if by reflex, she clenched her hands into two fists and placed them on top of her thighs. And then just as quickly, threaded her fingers together as if in prayer.
The lioness of Lowell. We miss your fighting spirit. And we miss your gracious heart.