America's seeing a historic surge in worker organizing. Here's how to sustain it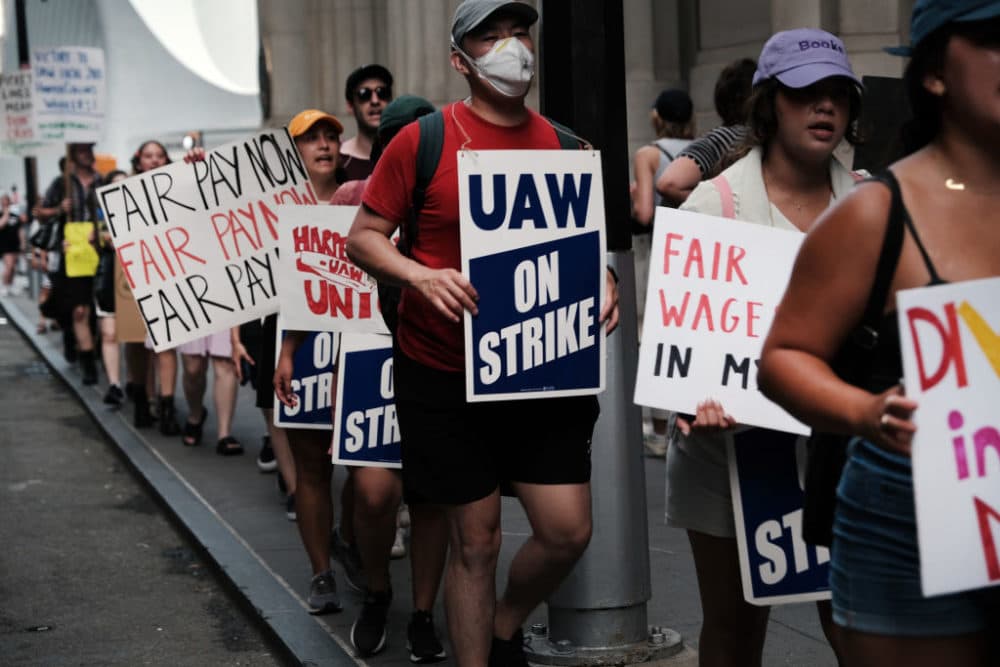 The labor movement must listen to and support worker activists and leaders.
Worker activism must grow, intensify and produce ongoing collective bargaining agreements or other forms of representation. The biggest prior inflection point in American labor-management history was the wave of strikes between 1933 to 1935, during the depths of the Great Depression. That era covered a wide array of occupations, big companies and industries including farmworkers, longshoremen, truckers, autoworkers and others. Today's activists have a way to go to reach that kind of scale and range. But success breeds imitation and as early movers at Starbucks, Amazon and other firms go, so too might activists at giants in other industries. The challenge, as ever, is to translate successful organizing campaigns into successful negotiations, resulting in labor agreements that provide ongoing representation for workers.
The labor movement must listen to and support worker activists and leaders. In the 1930s, worker activists on the ground invented and spread industrial unionism for mass production workers, and provided the testing ground for new leaders like Walter Reuther, who led the United Auto Workers from the 1940s to the 1970s. In turn, elder labor leaders like Mine Workers' president John L. Lewis provided the resources and expert advice needed for these emerging leaders to build and grow new unions. The same dynamic is in play today as a diverse set of young activists lead their peers in protests and organizing efforts. They need the support of organized labor to build the next-generation of the labor movement. This includes those trying to form unions for collective bargaining and those seeking  a stronger voice through other means, such as by building worker centers or gaining seats on community level employment standards boards.
Engage the business community. We have no illusions that all employers will abandon their knee-jerk resistance to unions or see the need to fix and update labor law just on the pure merits of the case. Yet no real change in either the rates of success of organizing or in law and policy are possible without dialogue and engagement with business leaders. Perhaps some can follow Microsoft's recent announcement that it will stay neutral and not oppose worker efforts to organize. Perhaps it is time to bring employers into serious conversations about the types of high-quality labor-management relationships they could help build.  Indeed, some such conversations have  already begun.
Fix and update labor law. The worker unrest and strikes during 1933 to 1935 pressured Congress and President Roosevelt to enact the National Labor Relations Act. Likewise, strikes by public-sector workers in the 1960s produced state-level statutes endorsing collective bargaining. Similar policy changes will be needed to sustain contemporary worker efforts, both by fixing the basics of existing labor law to ensure that workers who want collective bargaining are successful in achieving contracts, and by opening up labor law to new forms of worker voice in workplace affairs and corporate governance. But legal changes won't lead the process. As in the past, policymakers will respond to pressure for change coming from the workforce, a broad base of public interest groups, and ultimately some in the business community. Given Congressional gridlock, this may take time.
On this Labor Day and beyond, all of us — as voters, customers or investors — should look for ways to support the current generation of labor activists. Through their efforts to build a next-generation labor movement, these young workers are helping create a better future — one with less inequality and greater economic opportunity— for all of us.
Thomas Kochan is Professor Emeritus at the MIT Sloan School of Management's Institute for Work and Employment Research and co-founder of the Worker Empowerment Research Network. 
Wilma Liebman is a former chair of the National Labor Relations Board who served on the NLRB from 1997 to 2011.  
Both authors are past presidents of the Labor and Employment Relations Association.