Alex Jones' damage to society is incalculable. $1 billion for his Sandy Hook lies is a start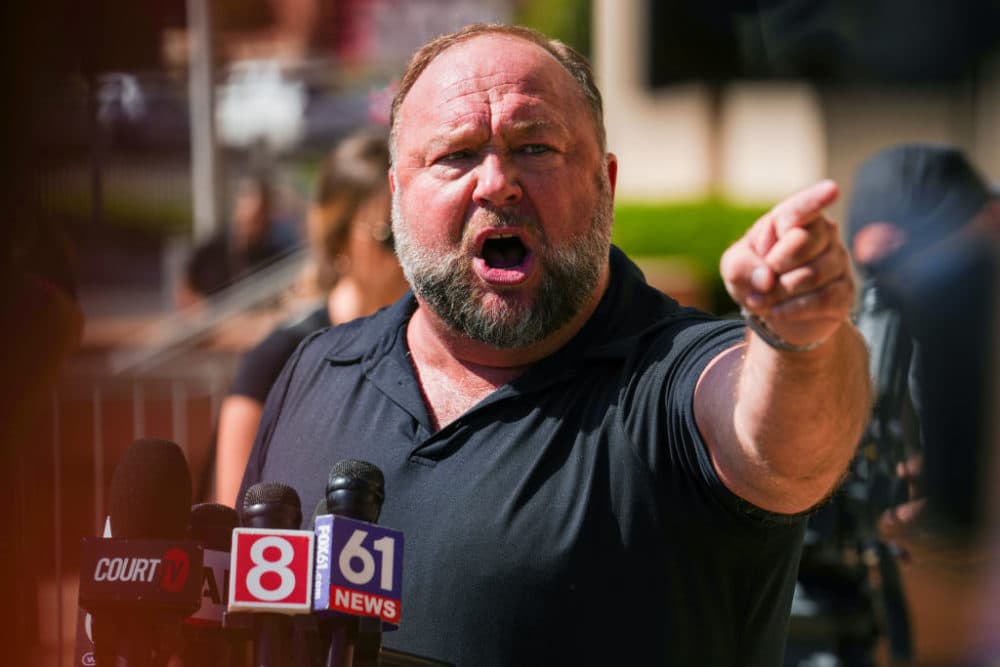 Almost one-fifth of Americans believe that mass shootings are faked, usually by an (actually fake) deep state. That fact is among the many justifying the nearly $1 billion that Alex Jones must pay parents of the slaughtered Sandy Hook children, per a Connecticut jury's verdict Wednesday.
It's a secondary justification, certainly. The immediate victims of Jones's scabrous lies were the parents who, grieving the unimaginable — the murders of their first graders — found themselves scalded by Jones, who declared them actors staging a hoax. His utterances seemed a parody, cruelty so extreme that you expected it to be followed by the Joker's mu-ha-ha-ha. Except that this cruelty was tragically real, as were the death and rape threats it triggered against parents — also the daughter of Sandy Hook's slain principal — from the most unhinged among the one-fifth.
Yet the culture at large is victimized, too, by peddlers of conspiracy theories, and Jones' Infowars website is the Cumberland Farms of that industry. It's cliché to call our country polarized, as if we're divided only by differences of opinion, which are legitimate in a free society. "Polarized" euphemizes our crisis. What too often rends us isn't disagreement over ideas but over reality and decency: Innocents gunned down are a hoax; life-saving vaccines are tracking devices designed by Bill Gates, the deep state, or fill-in-the-blank; a presidential election was stolen, not by the incumbent who actually tried to steal it, but by a challenger who prevailed by 7 million votes.
All of which settles the matter of whether Wednesday's judgment against Jones, likely among the largest defamation verdicts ever, serves justice. It does, even if it's true — as one lawyer not involved in the case speculated — that the gargantuan sum reflects a blue-state jury's ideological leanings. (An earlier Texas verdict awarded parents, including Scarlett Lewis, about whom I've written, roughly $50 million, multiples less than the Connecticut punishment.) The only outstanding questions are, first, whether the pileup of damages against Jones, with yet a third trial in the offing, will make him as financially bankrupt as he is morally.
The second question is how do we restore our national sanity, and is that even possible?
The first question can't be answered by outsiders trying to parse Jones' opaque finances. A forensic economist estimated his personal and business net worth at up to $270 million. But Jones filed for bankruptcy for his company this summer, a declaration that the Sandy Hook families have challenged in court as an attempted dodge of the damages. He says he'll appeal the Connecticut verdict.
It's worth adding that Jones jetted privately to the Connecticut trial and holed up at a "rented villa with a pool and tennis court," according to the New York Times. A shallow charlatan's desperate, last stab at vanishing ostentatiousness? A reflection of truly deep pockets? Who knows. Yet simple math may indeed be simple in this case: Thursday's jaw-dropping compensatory damages plus any follow-up punitive damages from the Connecticut jury plus the Texas award plus the upcoming trial equals: Jones "now faces financial ruin."
As for Jones, he is, as he always will be, trapped in the emotional quicksand of those who profiteer off of evil.
Regarding the second question, formidable forces impede society's restored rationality against the damage that lies such as his have done. One is history and the fabled "paranoid style in American politics." The most rotten of our apples have proven they're willing to die or go to jail to bring down democracy over election fraud as delusional as Jones' hoax fable. (The two are related. The Jan. 6 congressional committee is investigating Jones' possible role in the insurrection, and when he testified before it, he claimed to have invoked the Fifth Amendment almost 100 times.)
But history also offers hope, as those advocating for a better country usually have won the culture wars. Tactics such as media literacy classes show promise of saving some people from Infowars-style disinformation.
As for Jones, he is, as he always will be, trapped in the emotional quicksand of those who profiteer off evil. He toxified himself even further with the Connecticut jury, if that's possible, by bloviating on the stand that he was "done saying I'm sorry" for his Sandy Hook lies. And even as the nearly billion-dollar broadside was being read in court, he livestreamed the proceedings on Infowars, while ranting what may be his epitaph:
"They covered up what really happened, and now I'm the devil. I'm actually proud to be under this level of attack. … Do these people actually think they're getting any money?"
Given that he trawled for money from his audience, claiming to be on the brink of broke, perhaps not. But his ruin may be more gratifying to his victims than money.