It's come to this: our Red Sox as human billboards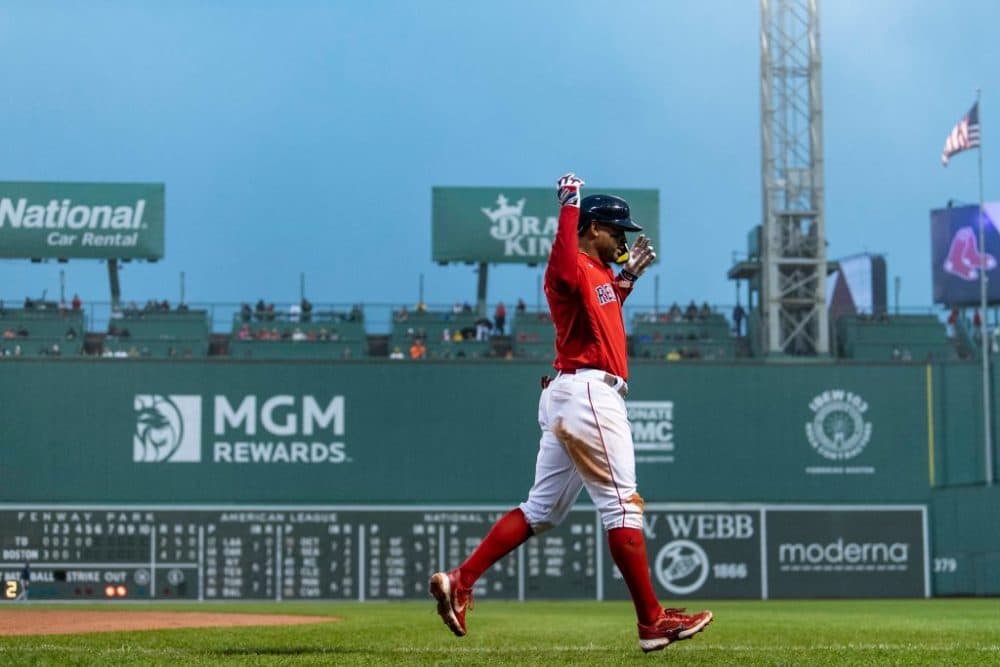 This spring, as the fungoes fly at Fenway Park and the pricey popcorn is bagged in the bowels, will we in Red Sox Nation be rooting for the MassMutual Red Sox?
Kind of.
On the front of team jerseys, you'll see the familiar RED SOX in red on white or blue on red, or on the rare occasion, a blue BOSTON on dandelion yellow (those #BostonStrong colors). But no matter the color of the jersey, you'll also see — for the first time ever — a four-inch-by-four-inch patch on the shoulder that reads "MassMutual." It's the result of a 10-year marketing deal, valued at approximately  $170 million.
During the 2022 season, the Sox shoulder patch paid tribute to the late NESN analyst, Jerry Remy. It was a dignified salute to a locally born broadcaster who entertained and informed us for 33 years, with his Boston accent and dash of humor — much of it of the self-deprecating variety.
[Our] olde town team of horsehide hitters and tossers will be like smaller-scale NASCAR stock car drivers.
I'm old enough to remember when the only advertising allowed in Fenway Park was for the charitable wing of the Sox, the Jimmy Fund. But next year, our olde town team of horsehide hitters and tossers will be like smaller-scale NASCAR stock car drivers.
According to a statement by Red Sox president and CEO Sam Kennedy:
"We treated this process at the Red Sox on pursuing a partner in a very deliberate and a very discerning manner. I confess, we were very selective about who we will partner with; our list of non-negotiables was admittedly quite long. From the beginning, it became clear there was only one name that fit that bill, and that was MassMutual. We knew that they were not only a perfect match because they check the box in each of the categories that we outlined as our goal for this relationship."
Parsing this language, I'm assuming companies like Sam Adams (the official beer of the Boston Red Sox) and Jim Beam (makers of a "Boston Red Sox Limited Edition Bourbon Whiskey") just missed the holy grail of corporate sports sponsorship.
MassMutual likes doing this sort of thing. The company spends a huge amount on sports marketing, and a has a sponsorship deal with the National Hockey League, too. The insurance giant will also have 80-foot-high neon signage that will replace the old John Hancock signature towering over Fenway's centerfield bleachers.
Thomas A. Yawkey's Red Sox were the last American League team to sign a Black ballplayer (Pumpsie Green in 1959), but John Henry's Red Sox are the American League's first to ink a deal turning their ballplayers into human billboards.
In the National League, the San Diego Padres were the first to enter the world of "active jersey patches." The team has a four-year deal worth $36 million with Motorola, for which Manny Machado and his mates will implicitly shill. His new Motorola mate? Xander Bogaerts. Alex Verdugo and his mates are left to implicitly tell you MassMutual is a great life insurance and Financial Services Company.
(Full disclosure: MassMutual/Fidelity Investments has taken over my distribution of my monthly pension checks from the Boston Globe's one-time owners, The New York Times, and the checks do arrive on time every month.)
John Henry's Red Sox are the American League's first to ink a deal turning their ballplayers into human billboards.
Major Leaguers are now on the de-evolution route to Little Leaguers, who sport uniforms touting Ball Park Buns & Rolls and Stop & Shop.
Granted, the Red Sox and every other MLB team (and every professional team of any stripe or type) has softened us up for this with signage on virtually every foot of fence space in the park and has treated at-home viewers with and company logos cut into green grass in foul territory. Aren't branding players just a further extension of the concept of, uh, branding?
Well, yes.
It's just another cheapening of the game, one further nudge away from enjoying the once-pure baseball part of the game of baseball; another slide down the very slippery slope tying the corporate world to what was once called America's pastime. Sure, you'll probably put the patch out of your mind when you watch on TV. Or try to. But when the camera focuses on that pitcher's shoulder as he comes to the set position, maybe you'll think about how you're set for life insurance.
But let's look at the bright side: I'm certain, as a long-time fan, that the Red Sox — the team with the highest ticket prices in baseball — will use the extra bucks to lower ticket prices or maybe even sign top-tier free agents like.
Not Bogaerts, as we learned late last night, as Red Sox Nation now enters a period of mourning and anger.
But at least they signed Masataka Yoshida. Red Sox fans fervently hope he's not the batting equivalent of the last Japanese free agent the Sox signed, right-handed pitcher Daisuke Matsuzaka., And then Trevor Story really can switch back to shortstop, and make those throws deep in the hole.
Right?
Editor's note: This essay has been updated to reflect the news of the Red Sox deal with the San Diego Padres.