My two dads: The one I had, and the one I deserve
My husband, Dave, tells a story of his high school bullies littering his front lawn in the dark of night with the remnants of Friday night festivities — empty beer cans, fast food wrappers, wadded paper. He only learned this story because his mother told him what had happened about two weeks later, after they'd done it again. His father woke before him, cleaned the lawn to pristine, and said nothing to Dave. Perhaps he wanted to make life easier for his son, and this was one thing he could do.
 
When Dave tells me this story, years into our relationship, his eyes water. He knows as well as I do what it was to be the targeted kid in our respective well-off Boston suburban towns in the '90s. When I was closeted and trying to simply survive adolescence, I fielded prank calls to our home phone line from my tormenters. "I heard you were gay and wondered if you'd go out with me," they'd laugh before they hung up. Though my heart pounded as they talked at me and cackled, I was grateful that I was the one who'd answered, and not my father.
I'm not surprised by what my father-in-law did for Dave back then. He's the same man who, when I asked for his blessing to propose, said, "You don't need my blessing, but you have it." He's the man who, when he toasted his son and me at our wedding, said, "A parent finds peace when his child finds love, and when Dave and Jason found each other, we found peace."
My father eventually said he'd support me in everything "but this" -- this being who I was.
When I came out to my father, I was 16. For days afterwards, the air in my home felt stale and still, the way it can after a death. My parents grieved and looked through me. I left for five days and stayed with friends, their parents encouraging me to be patient, holding me at a time I desperately needed a parent's hug. When I came home, my mother held me, cried that she missed me, and made me feel I could come back. My father eventually said he'd support me in everything "but this" — this being who I was. Later, he said he was scared that, because I was gay, the world wouldn't give me what I deserved.
Dave was a freshman in college when he came out to his parents, still young for most coming out moments of the time. He recalls they had questions, they had concerns, but he doesn't recall the feeling of conditional love, as I did. My father passed away when I was 25, and I never got to say to him what I began to realize in my 30s: that what I deserved was a father who would love me as I am — who would fight the bullies, not what made me, me.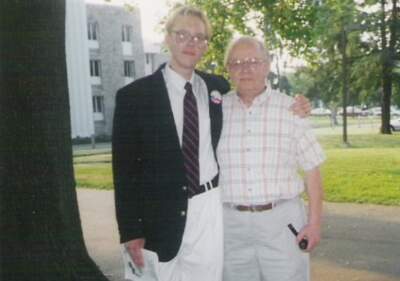 My camera phone is stocked with pictures, year after year, that I've snapped from inside my and Dave's home. In them, my father-in-law is a speck outside, pushing a lawnmower as he looks after the grass we have no interest in tending. In another picture, he's taking our greyhound Ribs for one last walk before we put him to sleep, after his cancer took over. I don't have a picture of it, but I hold close to the feeling of being in a large hotel room with my husband's family, all of us tipsy after his brother's wedding. My father-in-law found the one open restaurant in town, and ordered us pizzas.
He shows his love through the care he takes of those in his family. That I am part of that family was never questioned, and, to me, these acts of love are quietly revolutionary. It didn't take me long to embrace what my father-in-law offered; in fact, I think I'd always wanted something like it, and when I found it, it felt like home.
Last year, when Dave and I were selling our house in Stoneham, we ordered almost two yards of crushed stone to cover a gravel driveway. Dave's bad back wouldn't allow him to help me spread the rocks, so my father-in-law showed up, his trailer full of shovels and a wheel-barrel, and we spread the rocks together. The love is automatic, no holds barred.
It didn't take me long to embrace what my father-in-law offered; in fact, I think I'd always wanted something like it, and when I found it, it felt like home.
For my father, it was never as simple. At his best, he was inspirational, having lived through a war and the loss of his entire family. He provided for us for years. We never went hungry as he had, never had to beg or steal to eat. At his best, he fostered my love for classical music, dance and books. At his worst, he would live out his trauma in our home, bruising some of us with fists or words. At his worst, he didn't come close to giving any of us what we really deserved.
I'm 46 now, with enough years of distance and therapy to see that my father gave what he had to give. And he did teach me how to treat others — by showing me how not to treat them. As I nurtured relationships of my own, I had to learn to do the opposite of what I saw growing up. I no longer pity myself for it. But I did wonder, as I worked in opposition, what it would have been like to learn kindness by example instead.
In my 30s I met Dave, who bandages my fingers when I cut them open making dinner. Holds my hand when I'm in pain. Brings me tea just because. I reap the benefits of having a husband raised by a father like his.
Every day now, I see how to treat people — gone are the mental gymnastics of doing the opposite of what was modeled to me. I enjoy the father I have now, too, the one I deserve.