John, Paul, George, Ringo… and AI?
In 1964, when The Beatles first appeared on "The Ed Sullivan Show," any pre-pubescent girl could tell you that Paul was the Dreamy one, George the Shy one, Ringo the Cuddly one, and John the Dangerous one. But by 1965, with the release of "Rubber Soul," the Fab Four had managed to shed their pop star personas and demonstrate that they were not just appealing and ebullient, but that they were serious musical innovators.
In the studio, they experimented with sound engineering techniques that quickly became standard elements in recording. Looping, flanging, backmasking (playing their tapes backwards) and recording John's voice through a rotating speaker were just some of the technological innovations they employed. Lower tech but equally significant, Ringo put tea towels across his snare drums and stuffed a sweater inside his kick drum to muffle the ring from the drums' metal edges. And they were similarly pioneering in their creation of the "concept" album ("Sgt. Pepper's Lonely Hearts Club Band"), early adoption of music videos ("Penny Lane" and "Strawberry Fields Forever"), and integration of Indian modes and instruments into their music.
Thus it comes as no surprise that Paul McCartney is now using artificial intelligence to produce what he says "will be the last Beatles record." Though details are few, he appears to be employing AI to clean up a demo tape of a song written and performed by John Lennon in the late 1970s. "We were able to take John's voice and get it pure through this A.I.," McCartney explained, "so then we could mix the record, as you would normally do."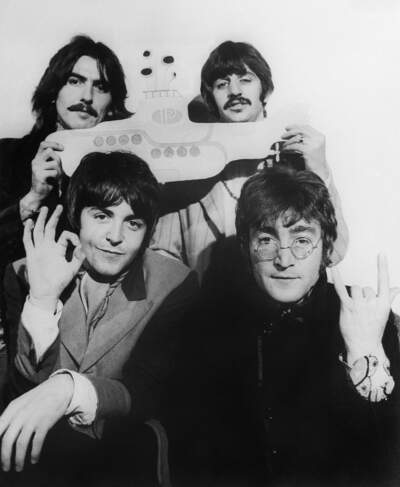 Some recent AI experiments have synthesized the voices of Rihanna, Drake, Eminem and other big names to sing songs that they themselves never actually recorded. This creates understandable angst among the artists whose voices are being artificially generated, and the writers, singers, and music publishers whose copyrights are being violated.
But simply purifying a demo track (one that Lennon's widow, Yoko Ono, voluntarily gave to the surviving Beatles) and adding to it is less legally and aesthetically offensive. That's why Paul McCartney's use of this technology (which he describes as "kind of scary, but exciting, because it's the future") will probably not be controversial. There's nothing especially novel in using computers to "clean" a recording, removing the ambient and machine-generated noise so that the unalloyed vocal can be heard and built upon. In fact, Paul, George, and Ringo did just that when curating and recording "The Beatles Anthology," releasing two "new" songs built around demo recordings John had made prior to his murder in 1980. And as McCartney noted in a recent interview, film director Peter Jackson did something similar in the production of "Get Back," his fascinating, if overly long documentary series about the recording of "Let It Be."
That documentary's episodes revealed the strife, the diverging passions, and above all, the mutual fatigue that led The Beatles to break up. But the great pleasure of watching the series lay in seeing how the foursome — but particularly Lennon and McCartney — collaborated to create a song.
Initiated by one of them, a portion of a tune, a stanza, a piano or guitar lick would serve as the stock. Then the others would throw complementary ingredients into the pot, seasoning and stirring each other's musical ideas until concoction was just right. And remarkably, the final version of the song sounded as if it had just emerged from a single mind, fully formed.
In using AI to refine and build on John's demo, Paul is digitally collaborating with his former writing partner. But without the spontaneity, without the pure joy of bouncing ideas off of a living comrade in real time, the result is bound to be underwhelming.
The two "Beatles Anthology" songs based on John's demo tapes but completed long after his death ("Free as a Bird" and "Real Love"), demonstrate the risk. John, who apparently never liked his own singing voice, sounds more like one of Alvin and the Chipmunks than the ragged-toned rocker of "Don't Let me Down." Without the raucous improvisation, the brotherly competition and animation infusing the composition process, the songs sound turgid, embalmed.
There's a moment in "Get Back" when George, struggling to find the right lyric for "Something In The Way She Moves," asks for help.
"Just say whatever comes into your head each time --" John advises. "—'Attracts me like a cauliflower' — until you get the right word."
No AI program will ever generate that sort of loony insight. And if it did, it would be the product of data volume and/or randomness, not of the singular musical mind of a man who knew how to play best with others. After all, John Lennon wasn't just rebellious. He was also the Goofy one, the Knowing one, the Searching one.
Paul McCartney has aged out of his dreamy good looks. And even if the soon-to-be-released "new" song isn't a great one, he can be forgiven. In honoring his friend's memory and gifting The Beatles' still-mourning fans with one more song, he's shown himself to be the Loving one.