These women know what they want. LFG
What does Oprah Winfrey have to do with the U.S. women's national soccer team? Yes, the billionaire and live-your-best-life guru is a fan, but it's not just that. This team has always had an answer to the question Winfrey swears by: "What do you want?"
I've been obsessed with people who have a response to that query for as long as I can recall, maybe because my own answers haven't always come so easily. Seeing the vulnerability, confidence and joy that comes with people who are clear about their desires never fails to inspire; it's sublime to watch someone access and express the truest version of themselves in the act of going for it. And if they can hang onto that magic, well that's really something, too.
Which brings me back to the USWNT, a team I've been rooting for, for nearly 30 years. My love for the team started young, when I was just a kid, soon after Tony DiCicco took over as coach in the mid-90s. Tony lived in my hometown; he owned the soccer shop on Main Street and ran goalie clinics for my town's high school team. Back in those days, Mia Hamm, Julie Foudy, Michelle Akers and the rest were getting by on a measly $10 per diem from U.S. Soccer. No networks carried their games, because nobody cared about women's sports.
But to me, they were magic. A talented, feisty group of women who had bodies like mine, only a lot more muscular and exponentially more skilled. The team was scrappy and such fun to watch, and their camaraderie — the ineffable lightning-in-a-bottle dynamics of a team in flow state — was the stuff of legend.
That clarity of purpose sets them free to display a full range of unambiguous emotion
The 2023 USWNT squad, like all previous iterations of this team, is just as engaging. They are young and wildly talented. And as the 2023 World Cup begins, there's zero confusion about what they're after: A record fifth world championship. They're on a mission to complete the three-peat, never before achieved by any team, men or women. That clarity of purpose sets them free to display a full range of unambiguous emotion.
I'm useless when it comes to play-by-plays or in any substantive debate of soccer strategy (Meg Linehan of The Athletic is my go-to for those breakdowns). And while it would be nice if the tournament was only about skill on the pitch, we're not there yet: It'll once again be an allegory for how far women have come, and how far we have to go.
And yet. You've probably heard this one before: "This is the key moment for the women's game." Sure, sure, you say, right. But really: I think this could be the moment?
The 2019 tournament set all sorts of records, garnering more than 1 billion viewers across all platforms, including more than 260 million people who watched the final (when the U.S. beat the Netherlands, 2-0). My family was among them. We hosted a breakfast watch party that year, where we alternated between holding our breath and eating waffles.
The expectations are even greater in 2023. FIFA expanded the field to 32 teams, up from 24, and has its sights set on a global audience of 2 billion. The prize money is $110 million, more than three times what it was in 2019, though still just a quarter of the men's $440 million purse. And, ad revenues are up: As of June, Fox had sold 90% of World Cup advertising space, and revenue from the sale of those ads has increased more than 50% from 2019. The commitment brands like Nike are making this go-round feels different and more serious than in recent years. Women's sport is finally big business.
Plus, a lot has happened since the USWNT won the championship in 2019. A three-year pandemic, of course, when uncertainty and ambiguity reined. The National Women's Soccer League (NWSL), now by far the most successful women's soccer league in U.S. history, is growing. There was also the award-nominated documentary "LFG" in 2021, a bronze medal at the Summer Olympics that same year, and a historic equal-pay agreement in May 2022, that ensures the U.S. women's team is now paid the same as the men's. I can't know for sure, but I imagine that equal pay settlement removes an enormous emotional burden, in addition to being a big financial carrot. Maybe it's easier to play when you're not fighting your own soccer federation to pay you what you're worth.
This 2023 team is more diverse than any other U.S. team in history. The roster also includes three mothers, which is not new for the USWNT, but still seems remarkable to me. (When you see Julie Ertz toss someone at midfield, remember this: she had a baby less than one year ago.) The U.S. is favored, slightly, but their victory is hardly a foregone conclusion. Fourteen of the USWNT's 23-person roster are World Cup rookies. Rising stars like Naomi Girma, Sophia Smith and Trinity Rodman could be the household names of the next generation, but they'll rely on the big-game experience of veterans like Alex Morgan, Kelly O'Hara and Megan Rapinoe, who are playing in their fourth World Cup.
I've heard O'Hara talk about getting coffee with the "little ones" on the team. She's not being hyperbolic. There is a 20-year gap between Rapinoe, 38, the team's oldest player, and Alyssa Thompson, who is just 18. If there's a whiff of "Roy Kent" to Rapinoe's role this year, it doesn't seem to matter. She's embracing it, just as Abby Wambach did in 2015. Pinoe — she of blue hair, the icon and crusader — recently announced her plan to retire from the sport at the end of this year's NWSL season. She'll play fewer minutes this tournament, but I don't want to miss a second of her last stand, especially when this is how she sums up her approach:
These games, literally anything can happen. There's so much faking it until I make it, all the time. But you just have to do that, I've learned that from my years on the national team. It could happen, there's two minutes left, you could score two goals. You have to believe that because otherwise, if you never try you're never gonna do it.
Hanging on the wall in my home office is a framed letter-to-the editor I wrote  published by the New York Times on July 24, 2011. Almost exactly 12 years ago, I was just as enamored by the narrative of women being respected for their ability to "run, sweat and tackle" even if too many people still thought "the virtue of women's soccer is women in shorts." At least I'm consistent.
Maybe this is one great thing about loving a team for so long — you get to see it evolve. And on the whole, the changes for women in sport have been good (the changes to my knees and hips in the last dozen years less so, but such is life). For the next month, I'll be watching with my three girls, who, by the way, don't think there's anything remarkable about watching women play sports on TV. They're also confused about why we've never had a woman president, but that's a whole other story.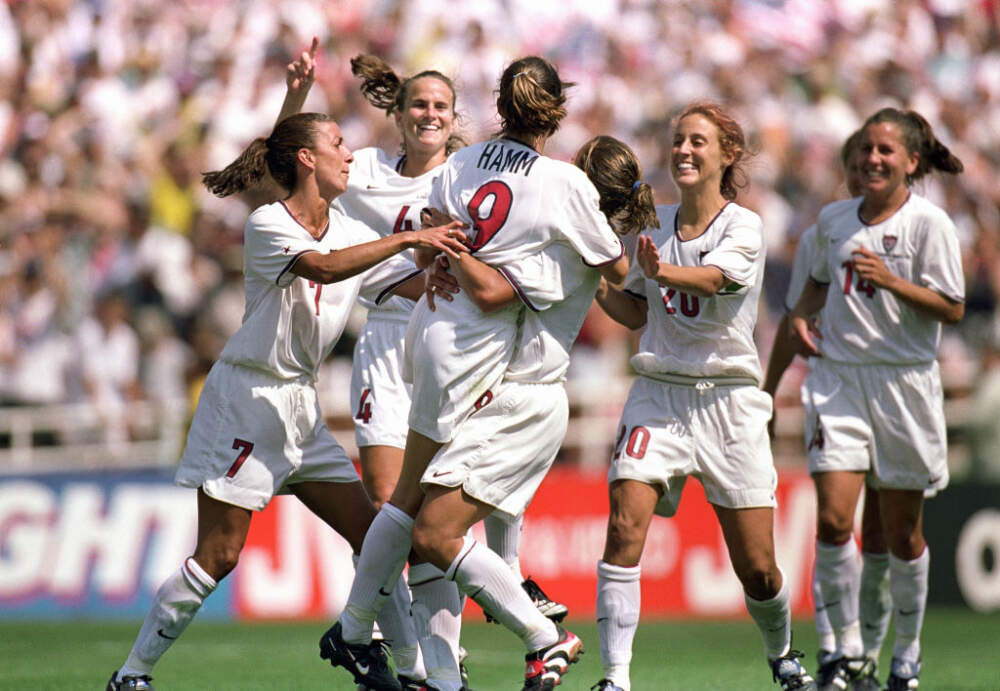 The U.S. women won the first ever women's World Cup in 1991, were runners up in 1995, then became champions again in 1999, before 90,000 at the Rose Bowl in Pasadena. We all remember Brandi Chastain's black Nike sports bra. There's been so much more in the intervening 25 years, all built on the never-quit-never-say-die foundation the '99ers put down: World Cup victories in 2015 and 2019. Olympic golds in 1996, 2004, 2008 and 2012. The newbies on this year's team know their history, but they aren't intimidated by it.
How has the USWNT stayed the best in the world for so long? How has every successive generation built the mental fortitude and physical fitness to compete at the highest level?
These women know what they want. LFG.