'Barbie' isn't about the matriarchy or the patriarchy. It's about fantasy vs. reality
My 17-year-old daughter and I are standing in line in the lobby of The Majestic 7, a new movie theater in Watertown's Arsenal Yards. I'm wearing a hot pink beret and she a pink gingham blouse, and we're waiting to pose together in a life-size pink Barbie Doll box. "She's Having The BEST DAY" is emblazoned in a heart on the front.
Like millions of others across the country this weekend, I snagged tickets to see "Barbie" with my daughter. What makes the film's success notable, besides it being the largest opening weekend for a female-directed movie, is that the success arrived despite, or maybe because of, the boycott called for by right-wing pundits against the film. Piers Morgan called "Barbie" an "assault" on men. And in a 43-minute video takedown, conservative podcaster Ben Shapiro calls the movie "the worst" he's ever seen and lights a Barbie Doll on fire to illustrate his ire. He argues that because "Barbie" discusses the patriarchy, namechecks Proust, and features a trans actress as one of the Barbies, it fails its core audience of moms and their young children who still play with the dolls.
But critics are missing the point. Barbie was a role-playing doll, a way for girls to act out their possible selves (astronaut, doctor, president) in a way they couldn't with a baby doll, which limited them to the role of caregiver. Ginger Gaetz, wife of Rep. Matt Gaetz (R-FL), complained that the movie  "neglects to address any notion of faith or family." But Barbie was never designed to have a family: She never married. She never became a mom. And when Mattel introduced Midge, Barbie's pregnant friend in 1963, the doll failed commercially and, as we learn in the movie, was discontinued.
"Barbie" isn't targeted to the little girls still playing with the doll, but to those who grew up with her. Some of us are teens, some are queer (how many of us made our Barbies kiss each other or cross-dressed our Kens?), some are mothers curious to reassess our relationship with Barbie and see what a filmmaker like Greta Gerwig might do with the icon.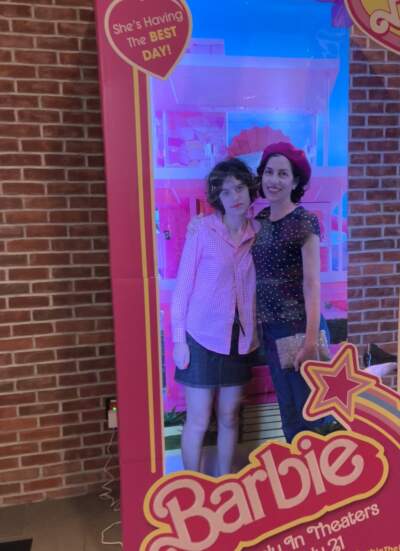 The emotional conflict in the movie isn't between men and women (as the critics assert) or even between Barbie and Ken, who, when introduced to the benefits of patriarchy in the "real world," is determined to turn Barbie Land into Kendom. It lies in the challenge of reconciling what we imagined for ourselves as kids (great outfits and nonstop dance parties) with the lives we actually live as adults.
The online "Barbie" debates completely ignore that the film's subplot follows a mother/daughter relationship. It's not a girl, but adult Gloria (America Ferrera) who accidentally implants the "irrepressible feelings of death" that incite Stereotypical Barbie doll's existential crisis. As Barbie's high-heeled feet go suddenly flat, she seeks answers from Weird Barbie (Kate McKinnon) and is shown a montage of Gloria and her daughter, Sasha (Ariana Greenblatt). The two used to play Barbies together, but now that Sasha's a tween, she no longer wants to. She stops playing, she stops sharing, she shrinks from her mother's touch, which pains Gloria. She longs to win back her daughter.
That feeling will be better understood by the adults in the audience. And not just the moms. We all emotionally break up with our parents as we leave childhood. But we also break up with our younger selves, our innocent fantasy-believing selves.
Perhaps I was sensitive to this plotline because I was sitting in the theater with my own daughter, a girl I once gifted with Barbies, who is now only a month shy of her 18th birthday, the date when she'll legally be an adult (and legally able to get tattooed without my permission, she likes to remind me). Here she is, on the verge of womanhood. Which of her fantasies will she be able to make real? And how much will she want me in her life?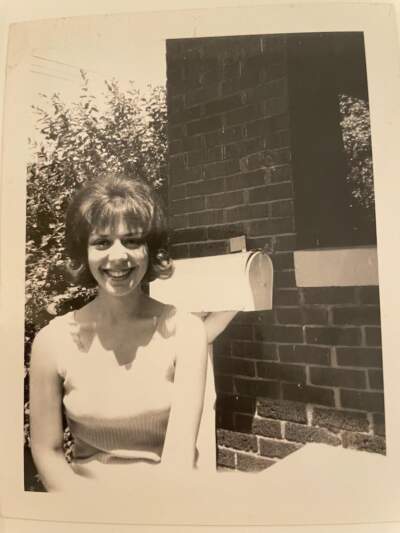 In 1959 Mattel co-founder Ruth Handler created and named Barbie after her own daughter, Barbara. My mother was also a Barbara, and she was also called Barbie by her mom. August 28, the day my daughter turns 18, will also be the 50th anniversary of my mother's car accident, the accident that left me motherless at age 2.
Like many girls, I used dolls to imagine my life as a woman. But pretend play can only get you so far, especially when you're a motherless girl without a real-life role model. I wanted — and still want — my reality to be perfect, free of conflict and cellulite and irrepressible thoughts of death. I lost my Barbie.  I don't want to lose my daughter. This is why when we finally reach the front of the line in the Majestic 7 lobby, I spend so much time in that Barbie Doll box.
I take photos of her. She takes photos of me. I ask a stranger to take photos of the two of us together. But the lighting is off. My daughter gets fidgety. I can tell she's tired of posing and smiling, and this makes me anxious. Aren't we supposed to be having the BEST DAY?
I want this photo to capture us united in a shared cultural moment: Barbenheimer! But why? Will this make me feel like a successful mother, a creative person? And what sort of modeling is this? In order for my girl to become the strong woman that 18 can usher in, I have to remember that projecting perfection is painful and futile. It'll only set her up for disappointment.
Greta Gerwig's Barbie only becomes a woman by experiencing a full spectrum of feelings, including the kind of despair that lands her face-down on the ground. She finds beauty in the mirror but also in the lined face of an elderly woman. She chooses Birkenstocks over high heels.
I can't protect my daughter from irrepressible thoughts of death, or aging, or any of this. Her future is hers to make and it will be beautiful if I let it be hers to choose.