Mass. is getting a new seal and motto — and you can help decide 
From the nation's easternmost extremity to its midriff, states are pondering redesigns of their flags and seals for varying reasons. Utah leaders thought their banner to be banally indistinguishable from too many states'. A trivial anxiety, perhaps. But it appeared even more so when measured against the anxiety it triggered in cultural warriors.
Utah's Republican Gov. Spencer Cox signed legislation retiring the state's old flag — featuring a beehive, symbolizing community, and lilies that sustained hungry settlers — in favor of a patriotic, red-white-and-blue pattern that retains the hive and adds Utah's defining mountains and canyons. The New York Times reports that while many Utahans approve of the change, the state's standpatters do not, with one sputtering, "They're trying to cancel our heritage."
Cox, whose party is hardly a welcoming nursery for heritage-canceling wokesters, doubtless diagnosed the outburst correctly: "The controversy has far less to do with the flag and far more to do with this moment that we find ourselves, in a country where there is so much animosity and division."
Similarly impotent objections arose in my state of Massachusetts, which has made the decision to redesign its colors. A commission developing a new seal and motto, which adorn the flag, has solicited public help, via an online survey. The commission will make final recommendations to the legislature by Nov. 15.
Having completed the survey, I come not to plug my choices but to plead the standard electoral exhortation: Whatever your preferences, vote. Massachusetts wisely chose to redesign, for a rationale that's anything but trivial.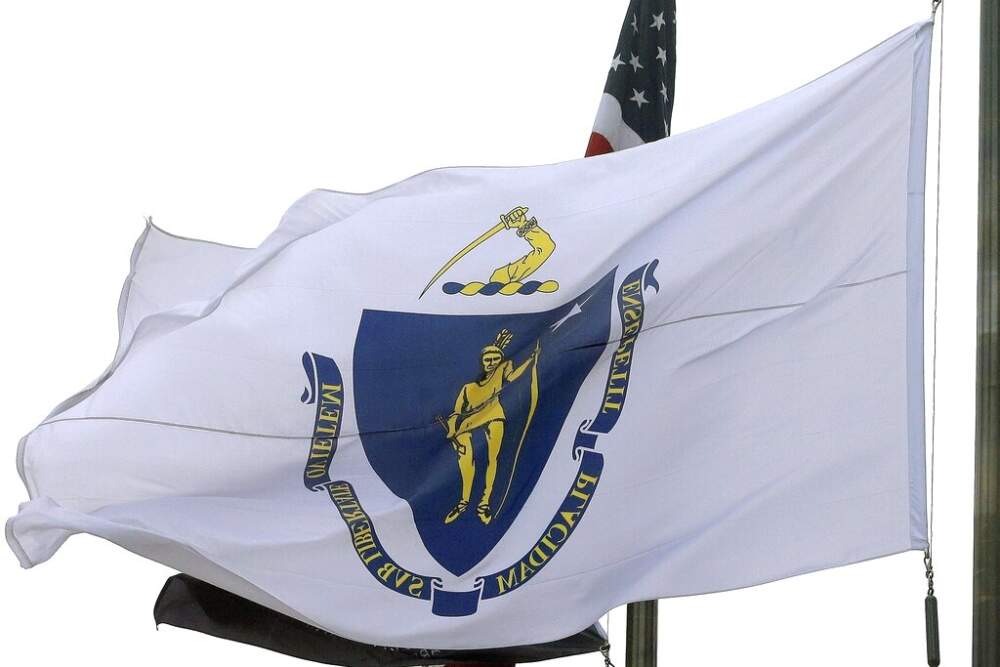 Indigenous residents complained about the state's current seal for decades. It shows a disembodied arm brandishing a sword over a Native American, with a wraparound Latin motto that means, depending on the translator, "by the sword we seek peace, but peace under liberty" or "[she] seeks with the sword a quiet peace under liberty."
Heraldry experts — who know the ins and outs of armorial bearings — say the image alludes to preserving liberty against religious bigotry in the English motherland from which colonists fled. That, some argued, invalidated the Indigenous objection that the seal depicts our violent destruction of Native tribes. Yet the seal inevitably evokes that destruction for the vast majority of people who see it, since they obviously aren't heraldry experts. A public symbol that requires boning up on an arcane specialty has flunked its assignment to convey, clearly, its meaning to the public.
"State seals are designed to represent the shared values, history, and identity of a state": With that in mind, the Massachusetts's Seal and Motto Commission suggests various redesign options in its survey, including geographic features, animals, plants and historic figures associated with the commonwealth. It also makes room for respondents' personal suggestions. (I put in a word for Themis, Greek goddess of justice, as apt for a jurisdiction whose firsts span centuries, from public schools to sanctioning same-sex marriage.)
In the zoological category, my choices tilted toward the awe-inspiring, particularly the whale, Massachusetts's most magnificent creature. I intended no disrespect to our current state fish (what else — the cod), state bird (the black-capped chickadee), or state game bird (the turkey).
Whatever your preferences, vote. Massachusetts wisely chose to redesign, for a rationale that's anything but trivial.
I chose a depiction of the shore for possible inclusion, mindful that the ocean checks the magnificence box while also powering so much of Massachusetts's history and economy. Among the anthropocentric options for the flag and seal, I looked favorably on several possibilities: an Indigenous person (they were here first), people from different backgrounds (harmony being humanity's enduring aspiration), and/or clasped hands, harmony's symbol.
I liked "Service, Justice, Equality" for a new motto, mainly for its first word. Serving others, always imperative, demands endorsement in our present moment of Trump-ian narcissism. It also appeals to the Catholic in me, and Catholicism, like the ocean, has played a featured role on Massachusetts' stage of history.
Of course, all of these ideas can't make the final cut. That would require a state circus tent, not the confined space of a state flag. But no one can gripe that the commission hasn't offered choices — except, perhaps, those unreconciled to losing the current design. In this case, accusations that the commonwealth is "canceling" its old seal and flag at least have the merit of being true.
And this is one cancellation that's overdue.