For Marathon Bombing Victim, Kindness Helps Recovery
This article is more than 7 years old.
Martha Bebinger
WBUR
Marathon Monday was Brittany Loring's 29th birthday and there was a lot to celebrate.
She'll soon graduate from Boston College with law and business degrees. She has a job awaiting her at PriceCoopersWaterhouse.  And she's getting married in September.
Brittany was near the finish line, waiting to cheer on a friend, when the first bomb blew holes in both her legs and sent shrapnel into her head. Her fiance, John McLoughlin, was making his way from the Red Sox game to meet Loring when he saw pictures of the explosions.
"I immediately sent her a text message, saying, 'Are you OK?'," says McLoughlin, pausing as he remembers the moment. "It took about 20-30 minutes to receive her follow-up that said, 'hurt at Boston Medical Center.'"
McLaughlin and a friend ran into traffic, looking for a driver who would take them to the hospital.  A medical student gladly obliged. It was five hours before McLaughlin and members of Loring's family saw her.
In between surgeries, she's had lots of visitors. Dustin Pedroia stayed for a while.  On Monday, Patriots players Stevan Ridley and Rob Gronkowski walked in.
"She had a huge smile from ear to ear," says McLoughlin. "We hadn't seen that yet. We were wondering where that smile was, if we were going to see that again."
Loring's family is also grateful to FBI agents for aid including a free hotel room, responders who treated Brittany on the scene and everyone at Boston Medical Center, even kind parking clerks.  Her family says Loring cherishes notes posted to a fundraising page created to help with medical expenses.
"Brittany would say, 'read me the messages,'" again and again says Brittany's mother, Pamela Lambert-Loring. "She would call them her hugs, and it would just help her relax and go to sleep."
"They're like a big birthday card, the one she never got," says Brittany's dad, Dan Loring.
Doctors at Boston Medical Center weren't sure if they could save both of Lorings legs. After three surgeries, they did.
Loring's medical bills will certainly exceed her coverage under the state's student health plan. She'll need months of physical therapy, but her friends and family stress she's alive.
"Fortunately, I think we got as close to a best case scenario as possible," says McLoughlin.
There are odd twists in this story as there are with many of the marathon victims. Loring lives not far from the Tsarnaev's home in Cambridge. And McLoughlin says he's heard that one of the brothers used to work at a pizza parlor the couple frequented.
"I'm wondering how many times I've ordered food from one of these brothers, wondering how many times I've tipped them," says McLoughlin with a short laugh.
Loring hasn't asked much about the suspects or the investigation and her family doesn't want to dwell on that. Loring's parents and McLoughlin aren't angry at the Tsarnaevs. McLoughlin says he sees them as damaged men who don't deserve publicity.
"If we can put that aside and stay focused on the positive pieces, that really has a lot more power than figuring out who these people are," says McLoughlin. "I'm not interested in 'how did they grow up or what was their mother like.'"
Loring's mother says Americans have shown her daughter — with every card, message visit and act of kindness — that they will not be intimidated by terrorists.
"Any attempts to separate us, as a people, as a community, to make us fearful," says Lambert-Loring, "has just made us stronger. It's worked against them."
In the weeks before the marathon, Brittany Loring was helping to arrange donations of prom dresses for low income teenagers.  She hopes to return to charity work soon. It will be her way of saying, "I'm back."
This program aired on April 26, 2013. The audio for this program is not available.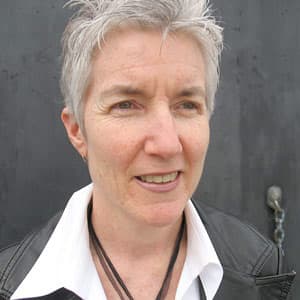 Martha Bebinger Reporter
Martha Bebinger covers health care and other general assignments for WBUR.