The Face Of Opioid Addiction: Vinnie, A 'Regular' Guy From Revere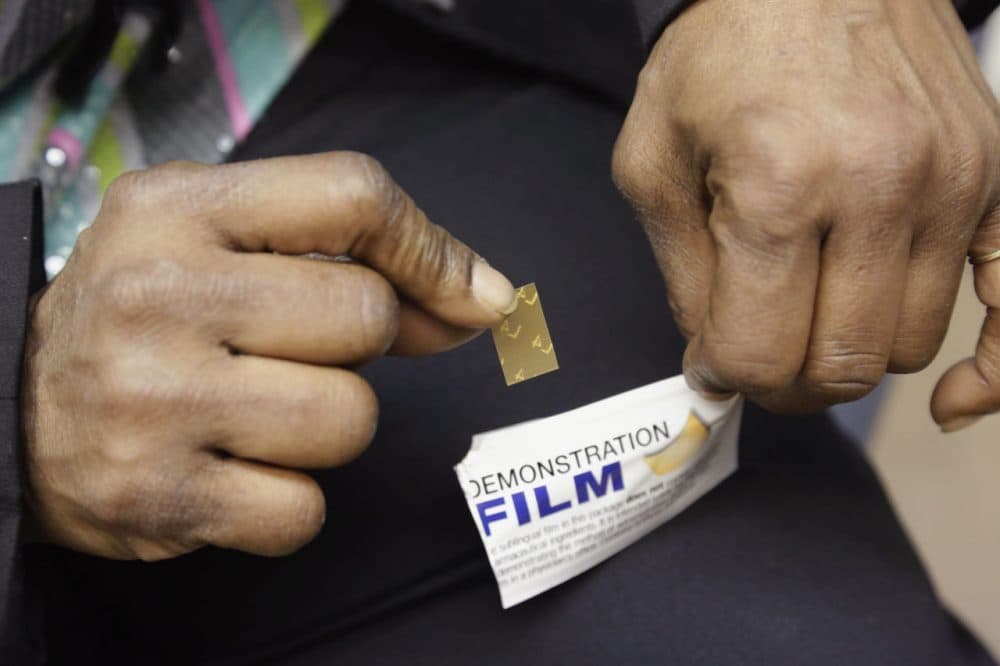 This article is more than 5 years old.
Correction: An earlier version of this story said that approximately 100 Americans died each day from opioid overdoses in 2013. In fact, this number refers to all drug overdoses in that year, and opioid related overdoses, including deaths involving prescription opioids and heroin, accounted for two-thirds of the total, or approximately 67 deaths each day. 
By Dr. Annie Brewster
Guest Contributor
Want a glimpse of what opioid addiction really looks like?
Meet Vinnie: a self-described "regular" guy from Revere, Mass., and a recovering drug addict.
Toothless, and 60, Vinnie was prescribed opioids — Oxycodone, Oxycontin, Dilaudid, among others — for a chronic pain condition. Though he says he never intended to abuse these medications, Vinnie became an addict, taking painkillers for 28 years as his doctors kept prescribing higher and higher doses to manage his pain. Listen to his story here:
Vinnie stopped caring about anything except opioids, and finding his next dose of medication.
His marriage fell apart. He missed opportunities to spend time with his only daughter as she grew up. He became estranged from friends. He stopped taking care of his body and lost his teeth, gained 100 pounds, and developed diabetes, heart disease and arthritis. He fundamentally lost his will to live and contemplated suicide.
Ultimately, it was a pharmacist who put a stop to Vinnie's opioid use by refusing to fill his prescription. After his initial panic, this abrupt end to the drugs led Vinnie to connect to a new doctor, an addiction specialist. His new regimen included a slow tapering of the narcotics and the initiation of Suboxone therapy.
The state and nation are in the midst of an escalating opioid crisis — it's estimated that 67 Americans died each day from opioid overdoses in 2013, and the number of deaths from drug overdoses was three times that of the combined deaths from car accidents and homicides in that same year.
Just this week Massachusetts Gov. Charlie Baker enlisted medical schools to provide more addiction-related training to medical students. Against this backdrop, Vinnie's story shows the harsh reality of addiction as well as a path to recovery.
How to fix it? It's clear that a multifaceted approach is needed, as outlined in an extensive report put out by Gov. Baker's Opioid Working Group in June.
One element, relevant to Vinnie, is consideration of one of several medications available to treat opioid addiction, including methadone, buprenorphine and naltrexone. Currently, these medications are underused, partly because they are controversial.
Access can be tough, as the majority of treatment centers don't provide such medications, and many insurers don't cover them or have strict rules on how and for how long they can be prescribed.
Suboxone, the drug Vinnie takes, is a combination of buprenorphine and naltrexone, a partial opioid agonist to reduce drug cravings and an opioid antagonist added in small amounts in an effort to prevent abuse. This medicine is much easier to get than methadone (patients can take it home instead of having to go to a clinic every day), and it can be used both for medically supervised opioid withdrawal and for long-term maintenance therapy.
So, what's the controversy? Some argue that use of Suboxone (and methadone) is just replacing one addiction for another. It is still an opiate-like compound, and one that is habit-forming.
In addition, Suboxone has street value. It has become increasingly popular among addicts as a means of curbing opiate withdrawal symptoms, bridging the gap until opioids can be obtained, and perhaps, because there is a market for it, providing an income source to allow for the purchase of more illicit drugs.
Does this mean we shouldn't use the medication? Data clearly show that medications like Suboxone and methadone are saving lives, decreasing the spread of infectious diseases, decreasing criminal behavior and improving social functioning among addicts. And Vinnie's story certainly argues in favor of Suboxone. As he says: It gave him back his life.
Dr. Annie Brewster, M.D., is founder and executive director of Health Story Collaborative, a nonprofit in Boston. She also produces stories for CommonHealth's Listening to Patients series.
Annie Brewster Contributor, CommonHealth
Annie Brewster is a practicing internal medicine physician at Massachusetts General Hospital.