Weighing In On The New Oprah-Weight Watchers Venture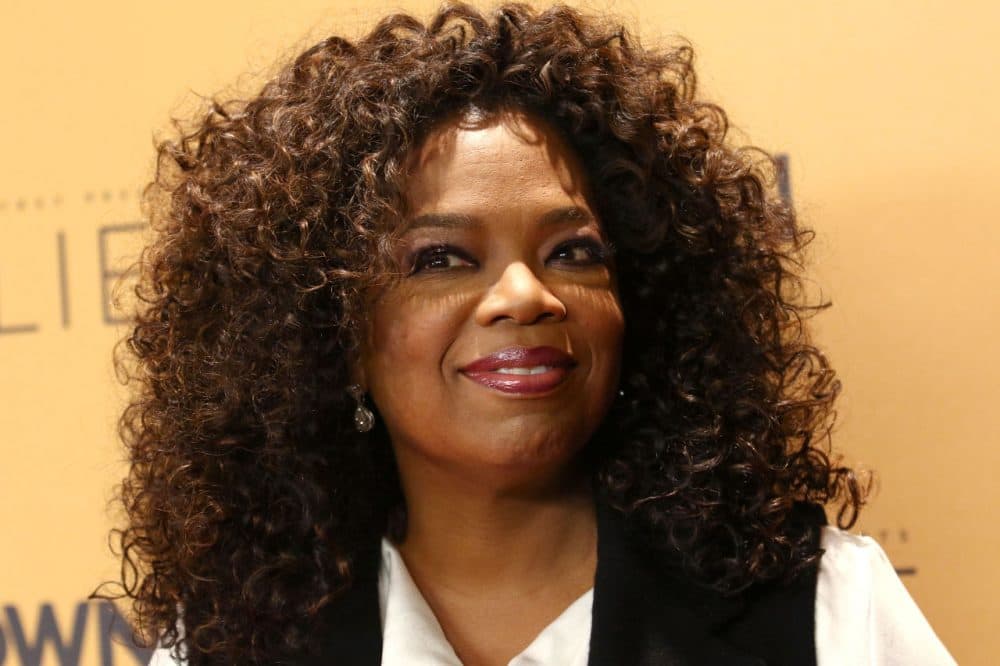 This article is more than 3 years old.
By Jean Fain
When I learned that Oprah Winfrey would be the new face of Weight Watchers as well as a major investor in the international diet company, I panicked. Would this endorsement by a beloved celebrity lure even more desperate dieters into counting calories, weighing foods and getting sucked into the group's particular brand of tough love?
Let me back up for a moment: If the partnership between the faltering diet company and former talk show host is news to you, Oprah recently invested $43.2 million in Weight Watchers International, Inc., to help dieters everywhere lose weight and gain health and happiness.
She initially bought 6.4 million shares, or 10 percent, of Weight Watchers, and has the option to buy another 3.5 million. Her investment immediately started paying off: The stock doubled on day one, earning the most recognizable black billionaire $70 million, at least on paper. What's more, since Aug. 12, Oprah has lost 15 pounds.
So, is a Weight Watchers' membership a wise investment? I've already written about what I feel are the organizations' downsides in an earlier post. At best, Weight Watchers provides a short-term fix and conditional support for long-standing eating issues. At worst, the food plan can exacerbate the very problems members are hoping to resolve.
Unless you've been on a media diet, you already know that Oprah has a long history of gaining and losing weight. Over the last 25 years, the yo-yo dieter, who has written of her ongoing "food addiction," has tried everything from liquid diets and rigorous exercise to a personal chef and a more spiritual path, but she's yet to settle on any one successful, sustainable approach.
To help you make a wise investment, I solicited a half dozen expert opinions via email and asked what they think of Oprah's slimming plan and her open invitation to "come join me" at Weight Watchers. More specifically, I posed two questions:
1) What's your reaction to the announcement that Oprah is not only the new face of Weight Watchers, she's a major investor in the diet company?
2) Oprah is asking everyone to join her in counting Weight Watchers' points. Will you join her? Why or why not?
To be fair, I also asked Oprah and friends for their thoughts. Neither Gayle King, Oprah's close pal, nor Oprah's publicist got back to me. All I got from Stedman Graham, Oprah's boyfriend, was an automated response. If there were a surprise, it's how hard it was to find a single expert who's excited about this fledgling partnership.
What follows are highlights from those recent email interviews:
-- Marion Nestle, professor of nutrition, food studies and public health at New York University, author of "Soda Politics":
"It's a classic conflict of interest -- she's flacking a company in which she invests. The more she flacks, the more people join, and the more money she will make. There are worse things to flack. Weight Watchers is actually demonstrated to be a reasonable diet plan. It works for some people.
"I'm of the persuasion that weight can be managed by eating less. I'm trained in nutrition and don't need to count points."
-- Traci Mann, diet researcher, author of "Secrets from the Eating Lab" and advocate of strategic eating:
"Oprah has made an outstanding investment. As long as people give diet companies the credit when they lose weight, but not the blame when they regain it, there will always be business for companies like Weight Watchers. As much as I love Oprah, I see no reason to join in with that near-futile mission. Weight Watchers leads to short-term weight loss, but in the long term, the majority of individuals regain what they lost."
-- Virgie Tovar, body image expert, fat activist and unrepentant foodie:
"I was disappointed [when I heard the news.] I see an investment in the diet industry as antithetical to the improvement of women's lives. The diet industry (and surrounding industries) does not improve women's lives. But women certainly disproportionately benefit the diet industry. Of the 108 million people on a diet in the U.S. 85% of the customers consuming weight-loss products and services are women. A 2015 study found that 80% of bariatric surgeries in the U.S. are performed on women. And over 90% of women report dissatisfaction with their bodies. [Will I be counting points?] Absolutely not! Asking people to count points is infantilizing and promotes self-surveillance."
-- Judith Matz, therapist, author of "Beyond A Shadow of a Diet" and "The Diet Survivor's Handbook":
"I commend Oprah on her efforts to empower women, and I empathize with the struggles she's shared related to body image and emotional overeating. However, using her public influence to encourage women to diet is the most disempowering action that Oprah could take. I feel great concern that Oprah's association with Weight Watchers will cause more women to pursue weight loss and remain engaged in the diet/binge cycle that can lead to shame, lower self-esteem, depression, poorer health outcomes, eating disorders, weight gain, and weight stigma. Anytime someone manipulates their eating for weight loss, it's a diet, regardless of attempts to reframe it as being about health and happiness. The solution isn't to keep trying the same thing over and over, but to get off the diet rollercoaster and learn how to reconnect with natural signals for hunger and fullness (known as attuned or intuitive eating), understand the many myths about health and weight, and accept that people naturally come in different shapes and sizes. [Will I be counting points?] Absolutely not!"
-- Sarai Walker, author of "Dietland":
"It's too bad that someone with Oprah's enormous influence continues to advocate for weight-based approaches to health. If she decided to promote a Health at Every Size model, she could cause a revolution. Instead, with this new deal, she has now become a stakeholder in the multi-billion dollar weight-loss industry. What a missed opportunity. So, no, I won't be joining Oprah in her new business partnership."
-- Ronna Kabatznick, social psychologist, author of "The Zen of Eating" and advocate of mindful eating:
"It's wonderful that Oprah is investing in Weight Watchers — both personally and financially. This will enable her to have an even wider influence worldwide on how to help people make positive physical, emotional and spiritual changes in life. I really appreciate that Oprah is so open and honest about her struggles with food. Not even Oprah can buy her way out of food compulsions. Hungers of the body and heart are eternal struggles. Every spiritual tradition addresses these longings — how we confuse the longing for wholeness with gluttony, lust, wealth, etc. But it never works. Oprah knows that, which is why she is a spiritual seeker. I hope she brings that spiritual element to Weight Watchers. Because without that focus, the hungry heart will wither while counting points. I won't be counting points with Oprah or anyone. For me, in my sixties, it's an hour of physical activity a day and eating in moderation what I love, which is mostly whole foods."
---
Personally, while I don't agree with all of the above opinions, the range of views has helped me broaden my perspective.
If you're still craving perspective, consider asking yourself this: If a beloved friend asked you to join a diet organization with them, how would you respond? Would you respond any differently if that friend owned 10 percent of the organization? Keep breathing; the answer lies within.
Jean Fain is a Harvard Medical School-affiliated psychotherapist and the author of "The Self-Compassion Diet."