Patient Demand Surges In Opening Year Of Medical Marijuana Dispensaries In Mass.
07:04
Play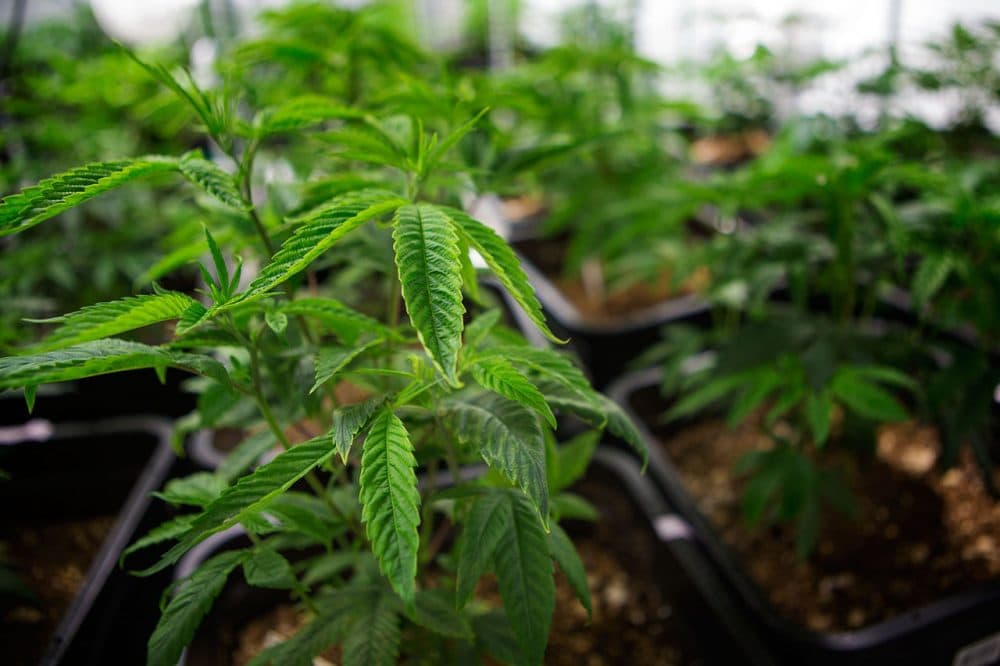 This article is more than 4 years old.
By the numbers, the first year of medical marijuana dispensaries in Massachusetts looks pretty dramatic.
The latest data released by the Department of Public Health shows that 16,510 patients had obtained a certificate from a physician and registered through the state as of Nov. 30.
That's up from 1,423 in January, a nearly 12-fold increase.
A steady stream of men and women waited outside a former factory in Salem on June 24 for the opening of the state's first dispensary. Some were frustrated at having had to wait more than two years since voters approved a medical marijuana ballot question.
"I'm a law-abiding citizen, two kids, daycare provider, no criminal record," Salem resident Wendy Atwood said. "So I feel like I'm a good example of someone who can use [marijuana] responsibly."
Patients purchased 9,576 ounces of marijuana in 65,270 individual transactions between the end of June, when the first dispensary opened in Salem, and the end of November, according to the state. By then, there were four stores open — in Salem, Brockton, Northampton and Ayer. Some dispensaries could not keep up with demand and had to close for days at a time, although problems with state testing rules and delays at testing labs also interrupted the supply of weed.
Despite the early figures, inside the industry analysts say 2015 was a year of slow growth. Only about 1 in 10 patients who are expected to buy marijuana to help them treat pain, nausea, seizures and other ailments have signed up so far. A fully mature market, with an expected 150,000-plus patients, is still two to three years away, says Kris Krane, managing partner at 4Front Advisors. He's working with companies that hope to open more than 20 dispensaries in Massachusetts.
Krane predicts a surge of patients and sales as more dispensaries open. Many people, Krane says, are buying marijuana from illegal sources and risking the $100 fine for possession of one ounce or less, while they wait for a dispensary to open near them.
Two more storefronts, in Brookline and in Lowell, are in the final stages of seeking approvals to open. A total of 17 dispensaries have provisional certificates.
A second round of rolling applications for medical marijuana licenses began in late June. So far, there are 159. No one expects all of those applicants to complete the full application process or get state approval to begin operations.
Outside the dispensaries, there's a growing vendor network of companies that make fertilizer, lights, software and accessories.
Doug Leighton, managing director at Boston-based Dutchess Capital, has invested tens of millions of dollars in 21 ventures since 2012, and most of them are located outside of Massachusetts. Leighton says it's becoming clear that the successful investments are in "things that can cross state lines, because there's a big difference between touching and not touching the plant."
It's hard to scale up products that require touching marijuana, Leighton says, because regulations vary from state to state. But the cannabis social network MassRoots, for example, is available anywhere.
While the industry expands, many mainstream medical groups are stepping up their opposition to the idea of marijuana as medicine. In early December, the Massachusetts Medical Society (MMS) began recommending that doctors warn women in their child-bearing years about the potential harms of marijuana.
MMS President Dennis Dimitri acknowledged there is no firm evidence that using marijuana would harm a baby during pregnancy or while nursing, but said "given the special circumstance that we're talking about here, we think that caution is the right route to take."
One-hundred and twenty-four physicians had registered with the state so that they can issue marijuana certificates to patients as of November. That's up from 35 at the beginning of the year, but just a fraction of the estimated 23,000 physicians who see patients in Massachusetts.
Dr. Uma Dhanabalan, a family physician who practices in Natick, urges doctors to learn more about marijuana.
"I'm not telling all doctors to go out there and start making the recommendation" of marijuana, Dhanabalan said, "but I want them to understand that cannabis is an option, and not have patients be alienated when they use it, especially in pain clinics."
Dhanabalan says the state and country need much clearer standards for providers using cannabis, as well as for labs so patients can be sure they are using marijuana safely.
Look for debate about the pros and cons of medical — and recreational — use of marijuana to explode in the coming year. A proposed ballot question that would make marijuana legal at age 21 will be filed with the state Legislature in January. Gov. Charlie Baker has said he's opposed. If the Legislature and governor don't approve the measure by early May, supporters plan to collect the 10,792 signatures needed to place the question on the November ballot.