Cholera In Haiti: Court Says Victims Can't Sue, But U.N. Promises Amends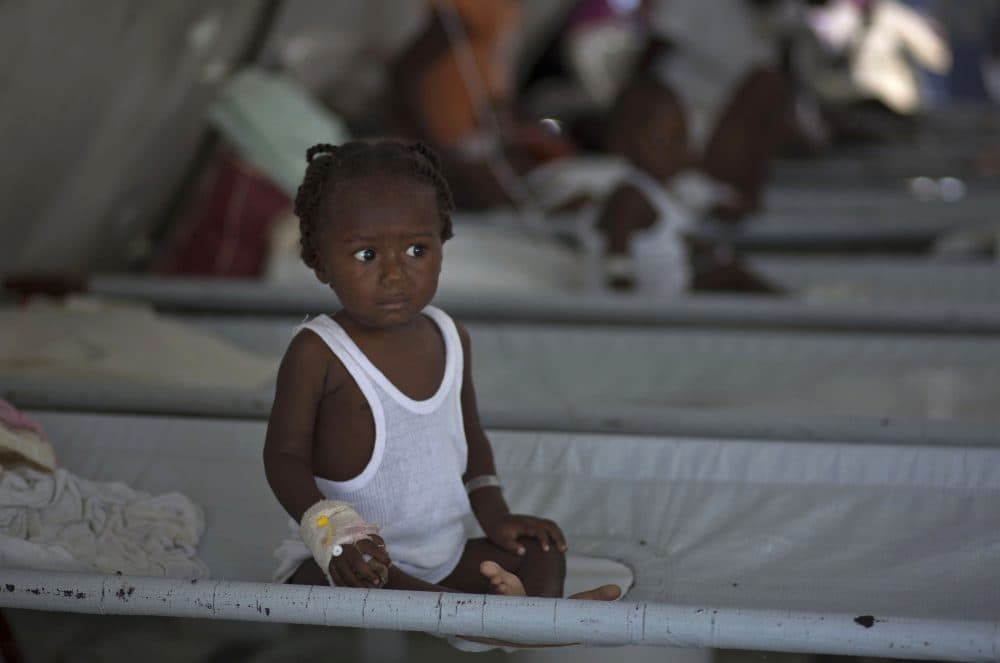 This article is more than 4 years old.
In 2010, United Nations peacekeeper forces infected with cholera unleashed a devastating outbreak of the disease in Haiti. So far the epidemic has lasted six years, killed nearly 10,000 people and sickened almost 800,000.
Thursday night, a three-judge panel on the U.S. Court of Appeals issued a 22-page opinion rejecting an attempt by Haitian cholera victims and their families to hold the United Nations accountable.
But this week also brought victories for Haiti's cholera victims, including a long-awaited acknowledgment of the U.N.'s responsibility and big new promises of more U.N. help:
The U.N.'s own auditors found that for years after the epidemic began, the agency's peacekeeping forces continued to pour untreated sewage into public waterways, ignored warnings about contaminated water and failed to inspect water treatment plants and septic tanks.
A leaked report from an internal U.N. human rights watchdog, obtained by The New York Times, lay blame directly on the agency for introducing cholera into Haiti in 2010 through infected peacekeepers and poor sanitation at a U.N. encampment. That report calls the U.N.'s response to its self-created crisis "morally unconscionable, legally indefensible and politically self-defeating."
A surprising statement from the office of Secretary-General Ban Ki-moon acknowledged the U.N.'s "own involvement in the initial outbreak," saying the agency "needs to do much more" to address "the suffering of those affected by cholera."
And on Friday, after the Appeals Court rejection of cholera victims' suit, Ban tried to soften the blow with a statement saying he "deeply regrets the terrible suffering the people of Haiti have endured as a result of the cholera epidemic." He added that the U.N. "has a moral responsibility to the victims...and for supporting Haiti in overcoming the epidemic and building sound water, sanitation and health systems."
In a separate email statement to CommonHealth, U.N. spokesman Farhan Haq promised "a significantly new set of U.N. actions" to be unveiled within the next two months.
This and other public statements from the U.N. skirt a forthright admission that U.N. personnel caused the cholera epidemic in 2010. Studies and scientific investigators say the epidemic resulted from contaminated sewage from a U.N. peacekeeper camp at a tributary of Haiti's largest river.
"U.N. officials have admitted they had a role in the introduction of cholera, but they still have not made as strong a statement as they need to do," said Beatrice Lindstrom, a staff attorney for the Boston-based Institute for Justice and Democracy in Haiti, who argued the case against the U.N. in U.S. federal courts.
"Still, the statement is significant because it comes after six years of stonewalling -- not only toward the victims and their advocates but with the media, members of Congress and their own human rights system," Lindstrom says. "Against that background, this statement marks a turning point."
All this comes at a time when some public health researchers expect a new surge in cholera cases in Haiti.
Although cholera cases and deaths had declined in 2014, "this year the fight has stalled and cholera rebounded," two French scientists write in a "mission report" commissioned by UNICEF and submitted last month. "The coming rainy season, to last until November or perhaps December, suggests the possibility of a particularly high cholera death toll this year, possibly up to 400 or 500 deaths, compared with 300 two years ago."
To understand how advocates for Haitian cholera victims view all these developments, I spoke with attorney Lindstrom. Our conversation, edited:
What was your reaction to the Appeals Court decision that rejects your suit against the U.N.?
I was shocked by the timing. We were expecting a decision, but it was surprising on the same day [as the U.N.'s statement acknowledging responsibility for cholera in Haiti]. We are of course disappointed, but our end goal has always been to secure justice for the victims. The new statement indicates we may be moving in that direction. It would be a better outcome for everyone if this were settled out-of-court.
Does the Appeals Court decision mean that the U.N. can't ever be held accountable for harms that its personnel cause?
That's one of the things that's very troubling about the decision. It effectively closes the door to any forum in the world to seek this kind of accountability. [If this decision stands] the only court with jurisdiction would be the International Court of Justice [in The Hague, Netherlands], but only the U.N. itself can bring cases there. So it's not a viable avenue for anyone else [who has a complaint against the U.N.].
You have 90 days to file an appeal to the U.S. Supreme Court. What factors will you consider in deciding?
Importantly, the U.N. has now said it will be publicly announcing a new set of [cholera control] initiatives in the next two months. We'll follow that closely and advocate for a robust response. If it's reflective of what victims in Haiti need and they will be made whole, there's no need for this to linger through the court system. But if not, we will look for any effective forum to provide a remedy.
 You mean other courts besides the U.S. Supreme Court?
The other option is to bring an action in another country's courts -- for example, Haiti, or in Europe, where the jurisprudence is more protective of victims' rights.
Does an effective remedy, in your view, have to include reparations for victims and families?
That's a demand we have been making consistently. If there's no compensation or individualized support for families who have suffered, it's hard to envision this will be perceived as justice by the victims, or that Haitians would feel this is an adequate response. But reparations could include access to medical care, promises of a non-repetition [of cholera epidemics] -- a whole set of components.
Why do you think the U.N. has made statements acknowledging its role in introducing cholera to Haiti now, after denying it for years?
There's been significant momentum building to this point. More than 160 members of Congress have written bipartisan letters. The U.N.'s own audits have been giving them severe criticism. Over half the candidates for the next secretary-general have stated publicly that they would do much more to support cholera victims. And [special rapporteur for human rights] Philip Alston, in his draft report to the General Assembly, puts it in very clear terms how indefensible the U.N.'s position has been. That's what has led to a tipping point.
The U.N.'s statements this week do not explicitly address what happened and merely acknowledge that the agency "played a role" in the outbreak. Is that enough?
The U.N. is clearly parsing its words carefully, as it has all along. After the first investigations showed pretty conclusively that the U.N. was responsible, it refused to investigate the source and called it only rumors and attempts to stigmatize the U.N. In order to make things right, it's not enough to simply brush it aside. There needs to be a statement that fully explains what happened and acknowledges the truth.
In the U.N. spokesman's email to me, he said the U.N. "has been heavily engaged in cholera eradication since the 2010 outbreak." Do you agree?
I would not. Currently the [U.N.] plan for eradication of cholera is funded at 18 percent. This is going into the fourth year since the plan was launched. So the response is far from close to adequate.
Going forward, what will cholera victim advocates consider an adequate response?
It's essential the cholera elimination plan be fully funded. It's a costly undertaking, for sure. The price tag is currently $2.2 billion over 10 years. But Haitian peacekeeping operations have cost $500 million to $800 million every year since cholera was introduced, in a country that has not had a war in our lifetimes. There's no question that clean water and adequate sanitation are an urgent need that would form a foundation for Haiti's prosperity and stability going forward.
You're saying that a focus on water and sanitation would do more for Haiti than a police action?
Yes.
Richard Knox Senior Correspondent, CommonHealth
Richard Knox is a senior correspondent for WBUR's CommonHealth.