Brigham Doctors Rally Against Trump Administration's Proposed Changes To 'Public Charge' Rule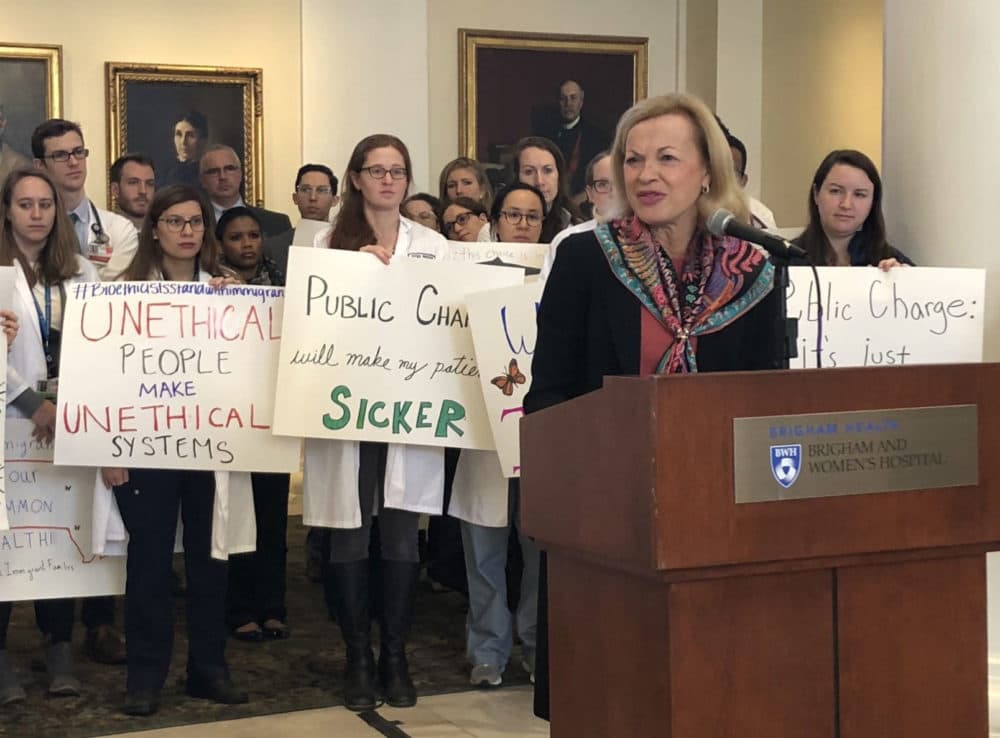 This article is more than 2 years old.
Wearing white lab coats and holding signs that read "Protect Immigrant Families" and "Healthcare is a Human Right," about 150 doctors and other Brigham Health employees rallied Tuesday in Boston against a proposed change to a federal immigration policy.
The policy, known as the "public charge" rule, allows immigration officials to consider whether a person would be dependent on the government before granting a green card, visa renewal or other change in legal status.
Under the current rules, officials can consider programs like Temporary Assistance for Needy Families (TANF) and Supplemental Security Income (SSI), but if the proposal passes, programs like Medicaid, Supplemental Nutrition Assistance Program (SNAP) and even certain housing benefits would be added to the list.
Department of Homeland Security (DHS) Secretary Kirstjen Nielsen said in a September statement that the change would "promote immigrant self-sufficiency and protect finite resources by ensuring that they are not likely to become burdens on American taxpayers."
But opponents say the changes would force immigrants to choose between their health and legal status.
"As doctors, we shouldn't have to think about our patients' immigration status," Dr. Douglas Jacobs, an internal medicine resident at Brigham and Women's Hospital, told the crowd. "But now, when I'm looking at a list of patients assigned to me in clinic, I can't help but wonder who would be affected, and who might not be able to see me again."
He mentioned a patient from Ecuador who was recently diagnosed with cancer: "I want to tell them that I'll always be there for them, but now I'm just not so sure."
A report out Tuesday from the Urban Institute suggests that the rule change could cause some immigrants to opt out of assistance programs they truly need.
Speaking at the rally, Dr. Betsy Nabel, president of Brigham Health, said the institution strongly opposes the the rule change.
"Access to health care is a basic human right that goes back to our founding in 1913," she said. "We started as a hospital to serve the immigrant poor of Boston. That continues to be our mission today, and that will be our mission 100 years from now."
Nabel said she planned to document her opposition to the changes in a formal comment on the federal registry, and encouraged everyone in the crowd to do so as well. The 60-day public comment period for these changes ends Dec. 10.
Jacobs repeated the call to action: "This is not who we are at Brigham and this is not who we are as Americans," he said. "Today at Brigham we stand up for our patients and we stand up for our coworkers. No to public charge!"
"No to public charge," the crowd repeated.
"Today at Brigham we reject the xenophobic human rights violations coming from some of our nation's leaders," he continued. "Today at Brigham we protect our patients not by choosing the right medicines, not by mastering the right procedures, but by rejecting the proposals from our government specifically designed to injure those we are oath-bound to protect."
Jacobs said that the government's justification for the rule change — promoting self-sufficiency — isn't borne out by the facts. He cited studies showing that access to food stamps and Medicaid can have substantial long-term health and economic benefits.
Brigham Health isn't alone in opposing the changes. A coalition of local immigrants rights groups released a statement Tuesday calling the proposal "cruel and un-American."
"The idea that penalizing use of the social safety net will make non-citizens—many of whom are heads of household and workers—more self-sufficient is simply wrong," said Lauren Sampson, Civil Rights Fellow at the Boston-based Lawyers for Civil Rights, one of the groups behind the statement. The Department of Homeland Security "ignores the fact that the vast majority of enrollees in public assistance programs are employed, and that many non-citizens who already live and work in the United States are paying state, local, and federal taxes that prop up these public programs."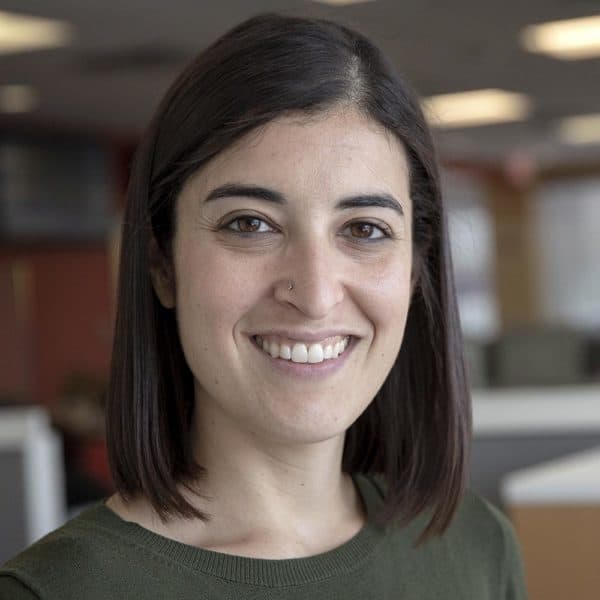 Miriam Wasser Reporter, EarthWhile
Miriam Wasser is a reporter for WBUR's environmental vertical.