The Two Stories We Tell
51:29
Play
It's been an eventful month since the Sugar pilot debuted. Cheryl's memoir, "Wild," was released as a major motion picture starring Reese Witherspoon. There was a trip to the Golden Globes, and an Oscar nomination. Her life suddenly became the focus of intense public scrutiny. All of which has forced some private introspection.
In this episode, the Sugars explore the two stories we tell — the story of how we want to be seen, the public self, and the story of who we really are inside, the private self. They field questions from a feminist struggling to reconcile her stories in the wake of an emotionally abusive relationship, and from a twenty-something virgin who has spent her life letting her family write her story. Along the way, Steve and Cheryl look at their own conflicting stories.
---
Show notes
[0:35] "I Want a Little Sugar In My Bowl," Nina Simone, 1967.
[1:37] "Wild," the film, starring Reese Witherspoon as Cheryl Strayed, 2014.
[2:10] "Wild," the memoir, Cheryl Strayed, 2012.
[4:00] "The moment when Humbert Humbert realizes that he's not just some grand European romantic...," Lolita, Vladimir Nabokov, 1955.
[6:36] "Who Will Comfort Me," Melody Gardot, "My One and Only Thrill," 2009.
[13:33] "The Photoshopped version of you in Vogue...," "Walking the Walk: An Interview With Cheryl Strayed, Author of Wild," Vogue, February 2012.
[13:42] Review of "Wild," David Denby, The New Yorker, December 2014.
[15:58] "Bad Feminist," Roxane Gay, 2014.
[17:00] "I'm an old school Rumpus fan of your work," Roxane Gay, The Rumpus.
[22:55] "Against Football: One Fan's Reluctant Manifesto," Steve Almond, 2014.
[33:12] "Her moral training, both at the school she attended and at home, was negative in nature, prohibitive in intent, and almost entirely sexual," John Williams, Stoner, 1965.
[37:25] "The Pearl, A Magazine of Facetiae and Voluptuous Reading," 1879-1880.
[40:29] "Secret Heart," Feist, "Let It Die," 2005.
[43:06] "Love is a Battlefield," Pat Benatar, 1983.
[43:10] "Hell is for Children," Pat Benatar, 1980.
[44:01] "(A)Sexual," documentary by Angela Tucker, 2011.
[48:40] "My Girlfriend Comes to the City and Beats Me Up," Stephen Elliott, 2006.
[51:50] "Love is a Battlefield," Raining Jane, "The Good Match," 2011.
---
Full episodes of Dear Sugar Radio are released biweekly, with shorter episodes appearing on off-weeks.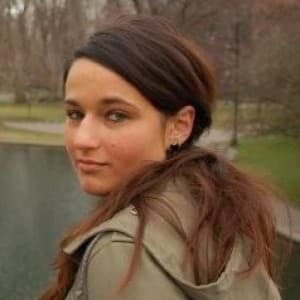 Lisa Tobin Senior Podcast Producer
Lisa Tobin was formerly WBUR's senior podcast producer.