Four Love Stories From The Wild World Of Reddit
Play
In honor of Valentine's Day, Endless Thread has concocted a monster mix of four love stories all found on Reddit.
A Wrestling Love Story
First up, a love story about wrestling starring Connie and Travis. They met on r/SquaredCircle, a subreddit devoted to wrestling. They're both from Missoula, Montana, and they met on a giant "Where are you from?" thread within the subreddit. Connie saw Travis' post saying that he was from Missoula, and she messaged him.
"What are the odds? You know, it's a small town, in a big country, in a big subreddit," she says.
You can learn more on the podcast as they discuss how they got together. But in case you're wondering, if they had to sum up their relationship in a wrestling move, it would be the gator roll — because, as they say, you kind of lay on the ground and roll the other guy with you. It's fun. It's flirty. It's ... probably dangerous; do not try it at home.
A Crazy Adventure Love Story
Next up is a story about a guy, Ross Simpson aka Yoitsyokka on Reddit, who prepared for the biggest adventure of his life last year. And he was looking for some company.
That's right, we slipped a story about a breakup into this wholesome mix of love stories. That breakup really made Ross re-think what he was doing with his life.
"I'm living this corporate lifestyle, and maybe this isn't exactly what I want," he says. "And then when I went home, I was just about to go to bed and I thought, I'll put this post on Reddit and see if anyone is crazy enough to come and join me, and yeah, that was the start of everything."
So yes, he was looking for someone(s) to run with him from the UK to Sicily, Italy, which is actually about 1,780 miles.
His plan was to sell all his worldly possessions, run from his home in Canterbury to Dover, take the ferry over to Calais, France, make a semi-circle around Lake Geneva, into the Alps and then down into Tuscany, through Sienna into Rome, go past Naples, hop on a ferry to Sicily and run the coast road to Palermo.
He guessed it would take him about 102 days, which would require him to run about 16-17 miles per day.
But ... is Ross a runner?
"Well... I thought of myself as a runner," he says, laughing.
Learn more about Ross' journey, including whether or not he actually made it to Italy, in the podcast.
A Love Letter Love Story
Third is a story about a second grade crush and a long lost love letter. Camille shared her love story on Reddit:
We were in the same second grade class, and he had a massive 8-year-old crush on me. He wrote me a note professing his love for me and slipped it under my school box; another student noticed, gave the note to the teacher, which she proceeded to read out loud and mortified him. 2 years later, in 4th grade, his family moved across the country for his mom's job.

Fast forward 8 years (we were 16), he adds me on facebook and starts messaging me, asking me if I remember him. I had no recollection. He tells me all these stories about us when we were in second grade, and I was totally creeped out. I checked my yearbook, and he did exist, but it didn't jog my memory at all. We kept chatting, and he mentioned that his extended family still lived in my home state and he came up to visit frequently, suggesting that next time he was in town we should get together. We did just that, and from then on we were in a relationship.
Ugh so cute, right?
That's the story of Camille and Richie. They lost touch after second grade, and then took it back up as teenagers. They dated long distance for six years and then, they got married last summer. Aww.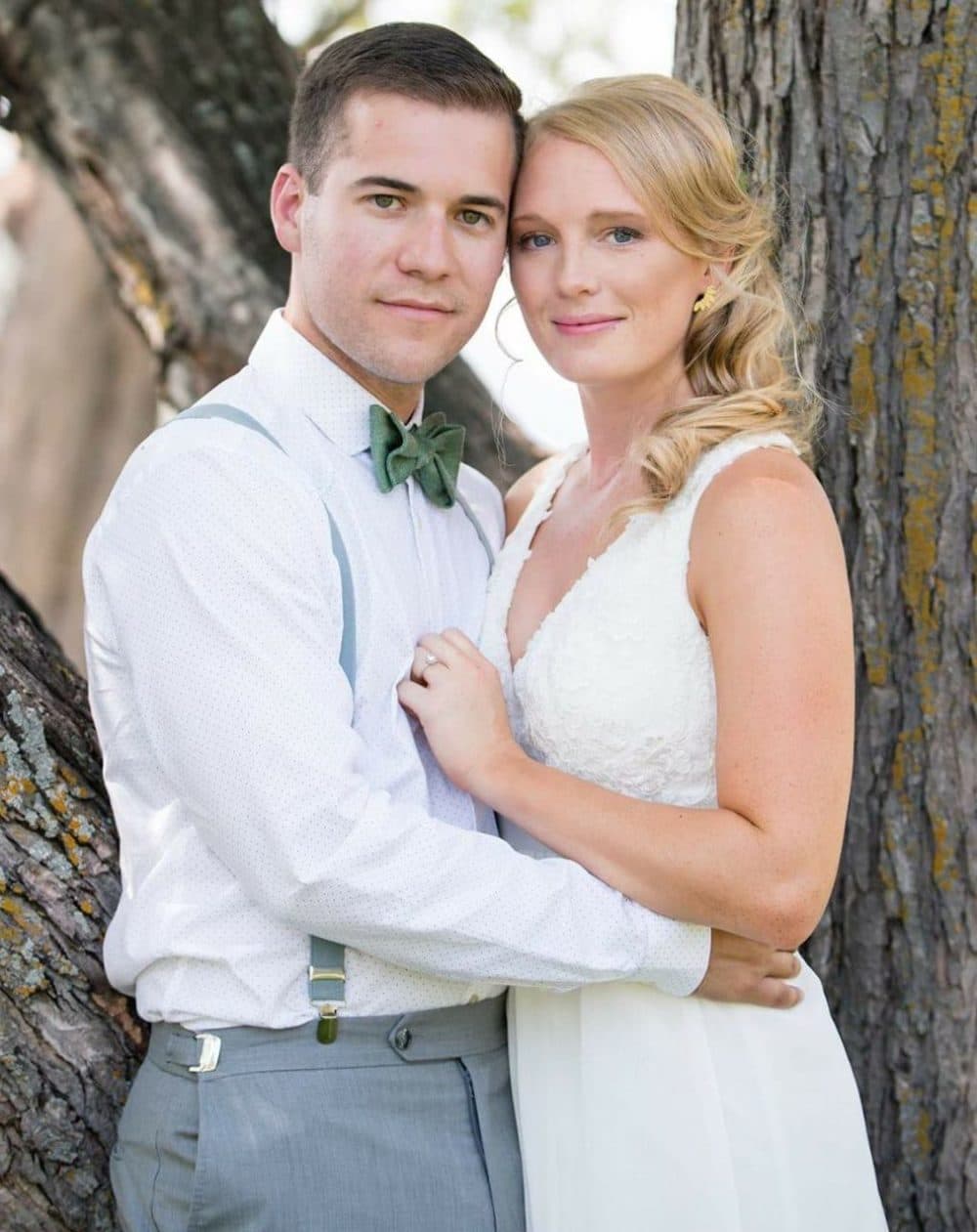 A Love Story About Two Weddings 
Last up, a story about one couple's journey from their first wedding to an unexpected second wedding. At first glance, Samantha and Laura seem like a pretty typical couple. They live in Phoenix. They have four boys, they work, etc.
Not quite.
Samantha is transgender. When she and Laura married in 2006, she was living as a man. And for years, she struggled with gender dysphoria and her own self image.
"That crushing weight of being stuck in the wrong body over the 10 years of our marriage, it was just a slow crescendo the entire time basically, just slowly getting worse, slowly becoming more present, slowly consuming my thoughts," she says.
Presenting to the world as a person she wasn't was overwhelming and exhausting.
Laura knew something was wrong, though she couldn't have guessed what it was.
"There were no clues. There were no hints," she says. She knew Samantha was depressed, but she just assumed it was the stress of their lives — they have four boys, and they're all on the autism spectrum.
The two talked about counseling, and about a month after the Grand Canyon trip, Samantha gave Laura a list of therapists. Laura noticed something about Samantha's suggestions.
"And I just said, 'So I noticed all the therapists have something in common.' We were in the car at the time. She's looking straight ahead she won't even make eye contact. She's like, 'Uh huh.' 'Well, they all list LGBT, so do you think maybe you might have a gender issue?' And she said, 'Maybe,'" says Laura.
Probably not the answer Samantha really wanted to give, let alone the answer Laura wanted to hear. But they went there. Laura says she wanted to stay calm, not freak out. They talked, and they talked.
"What was really important from that very early point in time is that Laura told me that she wasn't sure she could stay, but she loved me and she wanted to be there for me. And I think that's really one of the best things she could have said in that moment," says Samantha.
About two years before this conversation, Samantha had registered on Reddit, to access the site's various transgender communities. One of the first subreddits she showed Laura after coming out was r/transtimelines, which shows trans people as they progress through hormone replacement therapy and sometimes surgery.
When Samantha and Laura renewed their vows as wife-and-wife last year, they posted their vow renewal photos on Reddit, along with a photo from their 2006 wedding.
Samantha and Laura introduced us to a non-profit called Trans Lifeline. It's an organization dedicated to the well being of trans people, and they run a hotline for trans people by trans people. That number is 877-565-8860, or visit translifeline.org.