Tight Squeeze: The Claustrophobia-Inducing World Of Caving Yields Epic Rewards
Resume
You might not think about caves in the same breath as you do the deep ocean or outer space, but you probably should. There are approximately 70,000 caves in the United States alone, but the vast majority are inaccessible to the public. That means rare, delicate ecosystems have developed for tens of thousands of years in complete isolation from human contact. That is, until cavers travel deep underground through impossibly small spaces to find them. Join the Endless Thread team as we dive into the claustrophobia-inducing world of caving.
Thanks to the National Speleological Society, Adam Weaver, Amanda Willis, and George Veni for their help with this episode.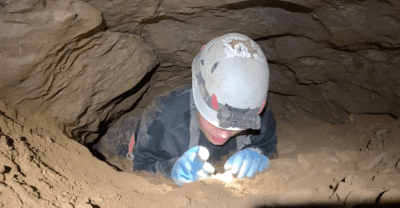 Show Notes:
Support the show:
We love making Endless Thread, and we want to be able to keep making it far into the future. If you want that too, we would deeply appreciate your contribution to our work in any amount. Everyone who makes a monthly donation will get access to exclusive bonus content. Click here for the donation page. Thank you!
Contact Us:
We want to hear from you! Tell us about your reaction to this episode or send us a story idea. There are a few ways to reach us:
Post or comment in the official Endless Thread subreddit
Send us a direct message on Reddit. Our username is endless_thread
Email us at endlessthread@wbur.org
Leave us a voicemail at 857-244-0338