Trump Faces Dual Tragedies In Las Vegas And Puerto Rico
Resume
This week on Freak Out And Carry On, Ron Suskind and Heather Cox Richardson respond to the mass shooting in Las Vegas and the ongoing crisis in Puerto Rico after Hurricane Maria. They're joined by historian Douglas Brinkley, Professor at Rice University, and discuss the 1900 Galveston hurricane, President Bush's response to Hurricane Katrina, the history of the National Rifle Association, and President Obama's failure to pass gun control legislation after the mass shooting at Sandy Hook elementary school.
---
Excerpts
Ron Suskind: President Trump this week faced an event that, statistically, we knew he would face at some point in his presidency: a mass shooting. I should say a mass shooting so bad that it makes the national news since there are dozens of mass shootings every month in the United States. Las Vegas, on Sunday night, was a place of tragedy. A lone gunman from a hotel window shot concert goers at a music festival. At least 59 dead, over 500 injured. The tragedy in Las Vegas is enormous. It's hard for us to comprehend in our hearts and minds. President Trump has faced nothing like this yet as president. But on top of what happened in Las Vegas he is still dealing with Puerto Rico in the aftermath of Hurricane Maria. Ninety five percent of that island, as of Wednesday, is still without power. Half the island is without drinking water. A set up for potential disaster. I want to take a step back today and think about how handling crises is often a defining moment for a president and how previous presidents have handled similar events.

Heather Cox Richardson: I have one overwhelming thought since I woke up and read the news from Las Vegas and that is, "this is not OK." So much of what's happened in my lifetime has been incremental. First one shooting and then another and then another. And there's always a few more people and we seem to be getting used to it. And I woke up to the news from Las Vegas and I went, "No, no, there has to be a point when the frogs jump out of the boiling water." It is not OK when our streets look like a war zone. It's not OK when we're literally being shot down in the streets. This is not the price of freedom, as Bill O'Reilly said. This is wrong. This is not my America.
And the same thing is true of Puerto Rico. That's us. That's us. That's our people who are dying without electricity and who don't have water to drink and who can't feed their children. This is not the America that I love. So I sort of felt like, for me, this week was a wake up moment. I thought, "no, no the water's gotten too hot now and we really have to jump out or we're not going to be here any longer." 

Ron Suskind: Doug, let's do a little compare and contrast here. Why was Katrina such a disaster for George W. Bush in 2005. And what can President Trump learn from it?
Douglas Brinkley: President Bush seemed very unattached and uninformed about Katrina. The administration was saying New Orleans isn't flooding, it isn't under water when CNN and other networks were showing water all over the city. So it was just a disconnect. He then decided to rectify it by doing a fly over instead of going to the states of Louisiana or Mississippi and he got roundly criticized for that. It takes him a long time to go. On his first visit, President Bush had a very bad visit to Louisiana and then he came back again and finally gave a prime time speech where he apologized a bit.
Regarding Trump and Puerto Rico, I think, first off, he had hurricane fatigue. He had to deal with Texas and South Florida. It's only really when the media started beating up on him--just like with George W. Bush--did the White House finally seem to be a little more responsive. I think we're seeing that Puerto Rico doesn't matter to Donald Trump. It's a political calculation. There are no votes there for him, there's no money for him. He's got his base that sees it as an otherness, a territory. It's sort of like Mexico in his mind in some way. And so we had a kind of a lackluster approach. His language was, I thought, demeaning. And he went to Puerto Rico and threw out rolls of paper towels.
Heather Cox Richardson: The expectation that the government is going to be there in times of an emergency actually come from a storm much like the one we saw with Katrina or with Puerto Rico. In 1900, a storm hits Galveston Island in Texas and completely wipes it out. It's a terrible tragedy in American history. We lose at least 8,000, probably as many as 12,000 people. When the storm hits, people didn't know it was coming. Buildings collapsed on top of them. The carnage in the streets afterward is terrible. There's so many bodies they can't actually bury them so they dropped them out at sea, off barges. But then the tide brings them back in. President William McKinley recognizes what's happening in Galveston, even though all the telegraph lines are down, nobody can get out to the island. He mobilizes the Army and he gets people on the ground within two days and they bring food and they bring tents. People recognize that the government really needs to be there for its people and the money pours in from across the country. But the city of Galveston is still run in the old fashioned, machine politician way and they managed to lose the money and go bankrupt within a year. And when that happens the city of Galveston pioneers a new kind of American government, a bipartisan non-political commission. So we get from this moment the idea that you need to have government responses to extraordinary circumstances and they should be managed in nonpartisan ways for what's best for the majority of people and that really still holds in American history from 1900 until fairly recently.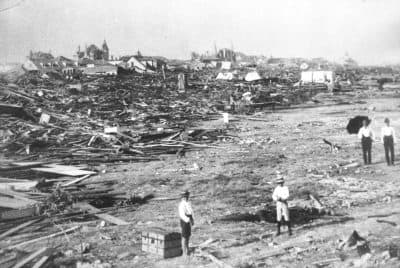 Douglas Brinkley: I agree with everything that was just said but how do we do it? We need a fund. If we're going to say that these last three hurricanes, and Katrina perhaps, are climate events, can we have a fund to to get to places like Puerto Rico or Florida, or Texas, instead of just constantly doing emergency funding for things. I'm very concerned about Puerto Rico right now. The death toll is going up. Only 7 percent of the island has electricity. You're going to get a health crisis. We need to think about how we're going to deal with these crises instead of always operating once they happen out of a huge deficit.
---
The views and opinions expressed in this podcast are solely those of the participants and do not in any way reflect the views of WBUR management or its employees.