Coldest Day In 20 Years Threatens U.S.
05:38
Play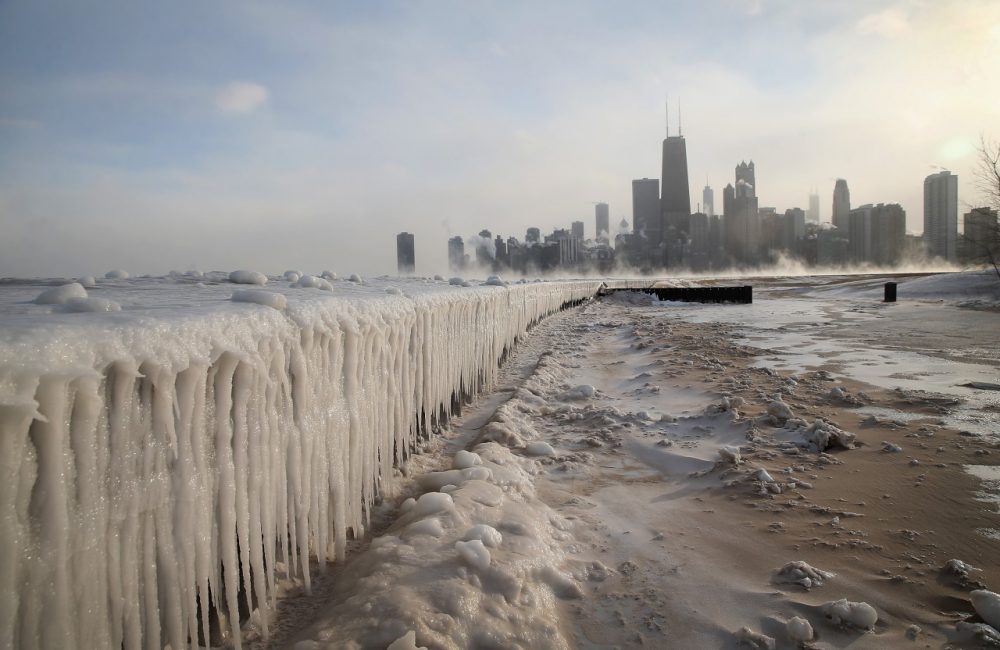 This article is more than 6 years old.
By Brian K. Sullivan and Naureen S. Malik
The frigid air that set records across the Midwest, stopping trains and planes and driving up energy use, may deliver the coldest day across the U.S. in almost 20 years by a measure of heating demand.
Yesterday's low in Chicago reached a record for the date of minus 16 degrees Fahrenheit (minus 27 Celsius), beating the mark of minus 14 set in 1884 and 1988, according to the National Weather Service. Today, New York's high will struggle to reach 10 degrees, a day after Central Park hit 50. As of 8 a.m., it was 4 degrees in New York, breaking a record for the date set in 1896, AccuWeather said.
The cold is part of a pattern of extreme weather that occurs every decade or so, according to forecasters. It extends across the upper Midwest into the South and eastward to the Atlantic, said Tom Kines, a meteorologist with AccuWeather Inc. in State College, Pennsylvania.
The frigid weather strangled transportation routes around the country including interstate highways, airlines and rails. It also led to a surge in energy demand that pushed power in Texas to more than $5,000 a megawatt-hour for the first time and caused disruptions at oil refineries in Tennessee and Illinois.
Cold's Cause
A pool of warm water just south of the Gulf of Alaska has contributed to the creation of a ridge of high pressure over that part of the Pacific, said Matt Rogers, president of the Commodity Weather Group LLC in Bethesda, Maryland. That ridging set off a chain of events resulting in cold air being pumped into the U.S., he said.
"You push a lot of warmth to the north and you have to push a lot of cold further south somewhere else," Rogers said.
The cold air rides south on a big dip in the jet stream that has drawn extremely cold polar air deep into the heart of the country, said James Aman, senior meteorologist with Earth Networks in Germantown, Maryland.
"It is certainly out of the ordinary," Aman said. "We get these more extreme weather patterns once every five or 10 years, so it isn't a sign of the end of the world or anything like that."
Reset, Repeat
The entire process then resets itself and temperatures in the U.S. rise, which is going to happen through rest of this week into the weekend, Rogers said.
"It has been like this all winter," Rogers said. "This is the pattern of the winter, it has been a high-deviation winter."
In one measure of the cold, the natural gas-weighted heating degree days value is expected to be 46.5 today, according to Commodity Weather Group, beating the century's previous high of 45.1 set on Jan. 16, 2009. Natural gas-weighted heating degrees subtract the daily average temperatures in cities nationwide from 65, then weight the totals based on population and use of the fuel for heating.
JetBlue Airways Corp. suspended operations overnight, contributing to the cancellation of at least 4,092 U.S. flights yesterday, according to FlightAware, a Houston-based aviation services company. As of 8:21 a.m. New York time, 2,240 U.S. flights scheduled for today were canceled.
Amtrak Trains
Amtrak stopped trains in and out of Chicago, reduced service from New York to Boston, and canceled trips on other routes. Parts of Interstates 65 and 84/94 in Indiana were closed yesterday, according to the State Police there.
Grid operators from the mid-Atlantic states through the central U.S. warned of tight operating conditions as the bitter cold boosted demand.
PJM Interconnection LLC, the largest U.S. electric grid, issued a systemwide, maximum generation alert for today to bring more capacity online, according to its website. The manager of the 13-state network, serving more than 60 million people from Washington to Chicago, expects demand to jump today to a record 140,551 megawatts, according to PJM's website and grid data compiled by Bloomberg.
New York
Spot gas prices for New York City surged to a record for today while other East Coast hubs climbed to 10-year highs. Transco Zone 6, which includes deliveries to New York City, reached $90 per million British thermal units in IntercontinentalExchange Group Inc. trading before ending at $55.49, an all-time high based on data going back to 2001. Gas at the Algonquin City Gates in New England more than doubled to $34.10 after reaching $50, the most since January 2004.
Natural gas for February rose as much as 1 percent on the New York Mercantile Exchange, advancing 4.4 cents to $4.350. Hedge fund managers cut their net-long position in the fuel by 3 percent in the week ended Dec. 31 with milder weather expected, according to data from the U.S. Commodity Futures Trading Commission. It was the first decline in six weeks.
Electric Reliability Council of Texas Inc., grid operator for most of the state, asked users to conserve power. The grid avoided rolling blackouts yesterday by importing extra generation from Mexico and the U.S. East.
Record Lows
Exxon Mobil Corp. and Valero Energy Corp. reported failures at refineries in Illinois and Tennessee because of cold temperatures, according to separate filings with the U.S. National Response Center. Exxon's 238,000-barrel-a-day plant in Joliet, Illinois, had problems with unidentified process units because of extreme cold. Valero had a system shutdown at its 195,000-barrel-a-day Memphis refinery following low temperatures in the area.
Record lows for the date were set or tied across the northern tier of the country. The low of minus 13 in Fort Wayne, Indiana, beat the old mark of minus 12 set in 1970, according to the weather service. In Burlington, Iowa, the mercury fell to minus 14, which was also recorded in 1970.
The lowest temperature of the day was minus 40 in Brimson, Minnesota, according to the U.S. Weather Prediction Center in College Park, Maryland.
Among today's forecast highs are 5 in Chicago, 17 in Washington and 26 in Atlanta.
Wind Chills
The cold air blowing across the Great Lakes may bring 24 inches of snow to parts of western New York by tonight, according to the weather service. The region is expected to be whipped by wind chills of minus 30.
"The lake snow belts are going to get walloped," said James Aman, a senior meteorologist with Earth Networks, Inc. in Germantown, Maryland.
New York Governor Andrew Cuomo declared a state of emergency in 14 counties, telling reporters on a conference call that a "truly extraordinary" weather event was expected.
The falling temperatures will reach deep into the southern U.S., said Michael Ventrice, a medium-range scientist at WSI in Andover, Massachusetts.
"They are definitely going to see some records," Ventrice said. "Atlanta will be in the single digits."
The worst cold apparently missed citrus regions of Florida, Dale Mohler, an AccuWeather meteorologist, said today.
Eastward Shift
While the heart of the cold is shifting east, it will still maintain its grip on the central U.S., Aman said. He said the weather will start to warm in a couple of days.
"By Wednesday morning a lot of your big cities will be in single digits and during the day Wednesday we start to come out of it," Aman said. "Things will be much more tolerable by Wednesday afternoon and we see some continued warming by Thursday."
Temperatures in New York are expected to bounce back to 39 by the end of the week, according to the weather service. On Jan. 13 it may reach 53, according to MDA Weather Services in Gaithersburg, Maryland. Chicago's high may reach 39 by Jan. 12 and Washington 57 by Jan. 13, according to MDA.
The extreme temperature swings across the country are the hallmark of this year's winter, Rogers said.
"I wouldn't be surprised if some 60s snuck into the Eastern Seaboard" by the weekend, Rogers said. "This has been a high-deviation winter."
Guest
This segment aired on January 7, 2014.