Vt. Governor Confronts State's Opiate Addiction Crisis
07:48
Play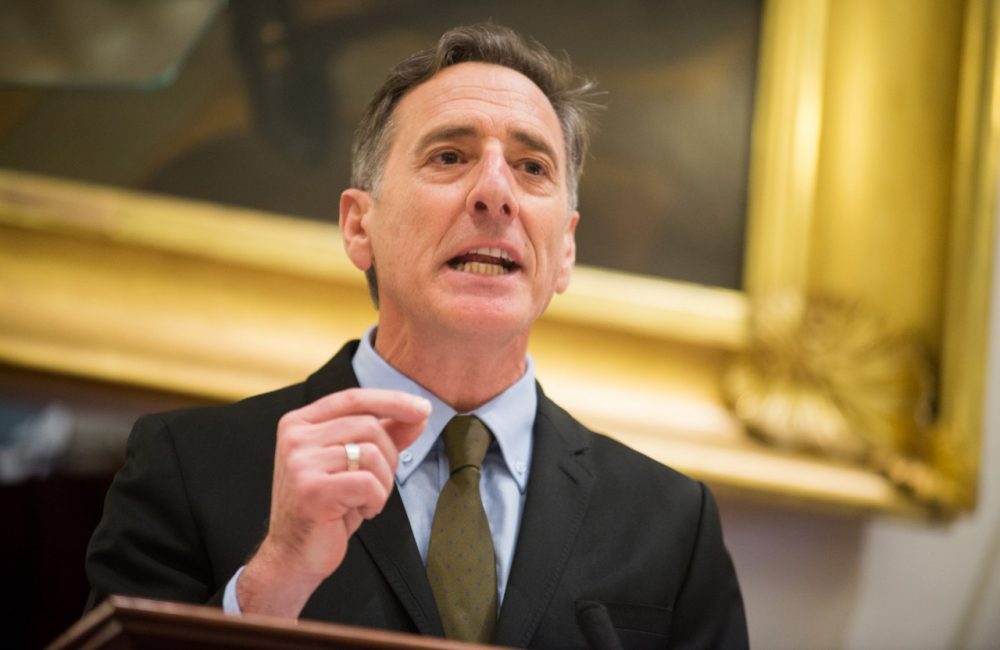 This article is more than 8 years old.
This week, Vermont's Governor Peter Shumlin began his annual State of the State Address in the usual fashion — he talked about state's strong economy, its low unemployment rate, its affordable high-quality healthcare.
But then, his speech took a sudden turn. He started talking about a crisis. "In every corner of our state, heroin and opiate drug addiction threatens us," he said. (See a transcript of the address here.)
Gov. Shumlin did something that perhaps no other governor has ever done before. He spent the rest of the speech — some 34 minutes — talking about Vermont's drug addiction problem.
Vermont, like most of New England, has become an epicenter for heroin and prescription opiate trafficking. Since last year, deaths from opiate overdoses have doubled in Vermont, and the number of Vermonters seeking treatment has increased 771 percent since 2000.
Crimes related to opiates has also increased. Now, 80 percent of Vermont's inmates are locked up for drug-related crimes.
Gov. Shumlin joins Here & Now's Meghna Chakrabarti to discuss the problem.
Interview Highlights: Gov. Peter Shumlin
On the impact of heroin addiction in Vermont
"As a governor who was born and raised in this state, what I cherish most about Vermont is our quality of life. This heroin epidemic threatens all of that. We've got to figure out a more honest way to deal with this as the healthcare challenge that it is, a public health issue, as opposed thinking we can solve this by simply locking folks up."
"I don't think there's a Vermonter who can't tell you of a family member or a friend or a neighbor or a friend of a neighbor – because we're a small state, and we know each other's business – where some family member hasn't dealt with this challenge."
On Vermont's approach to the problem
"I've come up with a pretty aggressive plan to find ways to clear our waiting lists, because we've got huge waiting lists of folks who are ready for treatment, but who were not given treatment to, and I'm saying, 'Hey, this is no different than kidney disease or cancer or any other disease.' We've got to get treatment to these folks; that's our best hope. And then, taking steps both with law enforcement and, most importantly, with preventative measures, to ensure we're getting the folks what they need."
"I don't think there are very many states that are building treatment centers in every major community, which is what I'm going to do, make sure there aren't waiting lists for treatment, and then make sure there's a judicial process that gives you the option, when you're really down low, when you're bottomed out, to face the challenge and go into treatment and avoid prosecution if you do well."
On heroin addiction nationwide
"You know, we make the decisions we make as a nation, but let's not deny that when we approved FDA approved drugs like OxyContin, and then we passed them out with great exuberance, we are setting folks up to become addicted to opiates."
"The challenge that we're facing as a nation now is that heroin is cheaper than FDA-approved OxyContin and other drugs on the street. Bottom line is, this is a disease. It's a disease that, once you get hooked, is a lifetime battle. And so, as a governor, I've got to look at this and say, 'Okay, this is real.' Politicians don't really want to talk about it, but if we don't, we're not going to deal with it."
Guest
This segment aired on January 10, 2014.