After Delivering Speech, Christie Waits For Possible Subpoenas
07:29
Play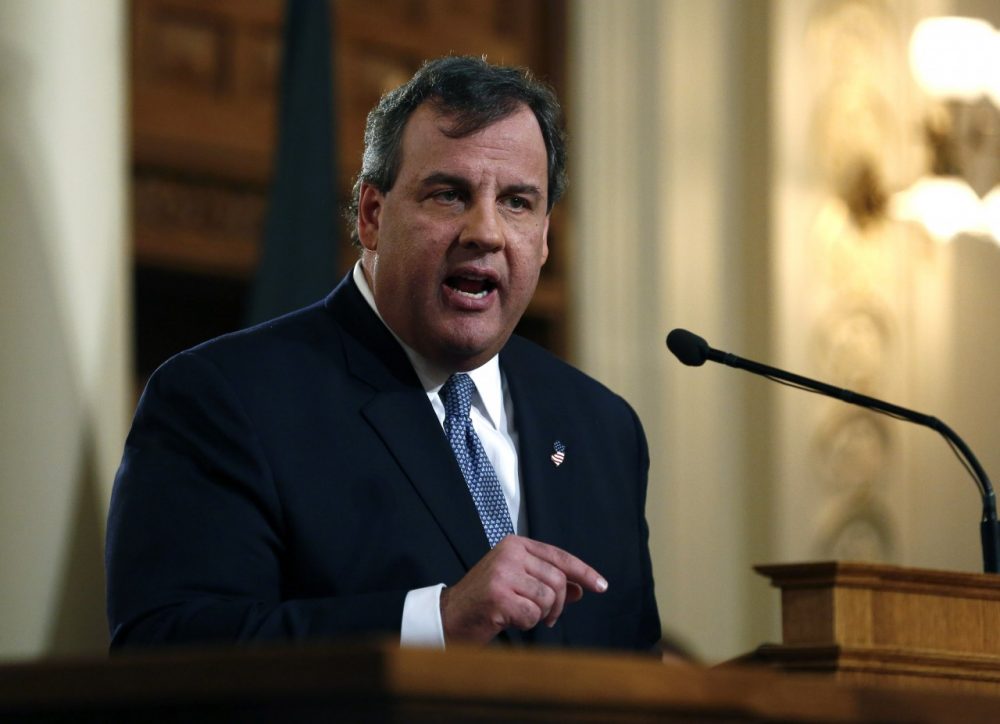 This article is more than 8 years old.
Investigators in New Jersey may soon subpoena members of Governor Chris Christie's staff as they try to determine whether Christie had a hand in George Washington Bridge lane closures last September. The lane closures created huge traffic jams in the town Fort Lee, N.J., whose mayor, a Democrat, did not endorse Christie's re-election bid.
In his State of the State speech yesterday, Christie referred to the scandal by saying "mistakes were made," but he has denied knowing about the lane closures.
Christie is also having to explain a recent photo of him and his high school friend and Port Authority appointee David Wildstein, even though Christie last week said he hadn't seen Wildstein in a "long time."
In the book Mark Halperin co-authored about the 2012 presidential campaign, he describes how the Romney campaign aides decided to steer clear of Christie as a vice presidential pick because of fear of scandal.
Halperin joins Here & Now's Jeremy Hobson to discuss the political storm surrounding the New Jersey governor.
Book Excerpt: 'Game Change'
By Mark Halperin and John Heilemann
Chapter 9: Big Boy
The billionaires' club never thought much of Governor Goodhair. Perched at the pinnacle of the Republican donor pyramid, the club comprised a loose affiliation of financial titans, industrial tycoons, and media machers. They were for the most part northern sophisticates, urban and urbane. They were adamantly conservative on matters of taxes, spending, and regulation, decidedly moderate on social issues, uniformly repelled by evangelical fervor and dum-dum populism of any flavor. They found the holy-rollerism of The Response hideous, and the rough talk about Bernanke preposterous. But they agreed with Perry about one thing: Romney just wouldn't do.
The billionaires' reluctance to rally around Mitt was surprising but undeniable. Nearly four months after his official entry into the race, many of the party's most bodacious bundlers remained seated on their hands: hedgefund goliaths Stanley Druckenmiller, Ken Griffin, Dan Loeb, Paul Singer, Paul Tudor Jones, and David Tepper; über-financiers Steve Schwarzman and Charles Schwab; Home Depot founder Ken Langone. Romney was hungry for the support of them all. None found him objectionable: he was a member of their tribe, sound on economic policy, and infinitely preferable to Obama—all in all, a stand-up guy. But even now, in late September, the billionaires were still looking for more than that. They were looking for the guy. A candidate without any phoniness about him. A candidate with a pair of clanging brass balls you could hear from around the corner. A candidate they were sure could win.
Christopher James Christie was the man they had in mind, and he made for an unlikely object of desire. He was not yet fifty, less than two years into his first term as governor of New Jersey, suave as sandpaper, and morbidly obese. He was also one of the most intriguing figures in American politics. Christie's ascent to this rarefied air had been rapid and unexpected.
Born in Newark, he spent the nineties as a lawyer-lobbyist, serving on the Morris County Board of Chosen Freeholders and losing a bid for the New Jersey General Assembly. In 2000, he cast his lot early with George W. Bush, visiting Austin three times, becoming acquainted with the candidate and Rove. His prodigious fund-raising earned him an appointment as his state's U.S. attorney and a signature W. nickname: Big Boy.
In 2009, after a six-year stint in law enforcement, Christie hurled himself at the governorship, which was occupied by Democratic multimillionaire Jon Corzine. The race was tight, obstreperous, and mean. Corzine ran ads swiping at Christie for "throwing his weight around." Christie showcased a capacious personality and a coriaceous hide ("If you're going to do it, at least man up and say I'm fat") but presented mainly platitudes and no clear agenda. The Wall Street Journal editorial page predicted that if he won, he would "arrive in Trenton with a mandate to do what he campaigned on — nothing."
Christie's victory was narrow, by less than four points, but the dervishlike governance that followed confounded every expectation. He capped local property taxes, slashed spending, and laid off state workers. He waged pitched battles with the Democratic legislature over a ballooning budget shortfall and with public-sector unions over unfunded pension liabilities. His style was equal parts take-no-prisoners and take-no-shit. He ritually sparred with voters and the press in public forums, exchanges captured on video by his staff and filed in the library of smackdowns that was his YouTube channel. (To a constituent asking him to justify cutting funds for public education while sending his kids to private school: "Hey, Gail, you know what, first off it's none of your business." To a reporter noting his confrontational tone: "You should really see me when I'm pissed.")
Less than a year into his tenure, Christie had emerged as a certified shooting star, beloved by conservatives, moderates, and populists alike. In the run-up to the 2010 midterms, he was besieged by questions about a White House run in 2012. His answers were unvarying and emphatic. "Short of suicide, I don't really know what I'd have to do to convince you people that I'm not running," he told reporters in Trenton the day after the Republicans retook control of the House. "I've said I don't want to. I'm not going to. There is zero chance I will. I don't feel like I'm ready to be president."
What Christie was ready to do, however, was flex his newfound national muscle. With the help of his two main political advisers, Bill Palatucci and Mike DuHaime, he convened a series of intimate dinners at Drumthwacket, the grand nineteenth-century mansion in Princeton that served as the New Jersey governor's official residence. On the guest list were the presidential aspirants deemed worthy by Team Trenton. On the table was Christie's endorsement, along with access to New Jersey's copious crop of rich Republican donors, over whom he exercised ironclad control.
Romney arrived one night in late January, the first to be granted an audition. He and Christie weren't personally close, but the ties between their worlds ran deep. Schriefer and Stevens had served as consultants and ad makers on Christie's campaign; Rhoades's girlfriend was a Christie appointee; DuHaime and Romney's political director, Rich Beeson, were pals; and Jets owner Woody Johnson was mates with both Mitt and Chris. When Christie had faced a primary challenge in 2009, Romney endorsed him and heaped money in his coffers. Now Mitt was hoping for a payoff on that investment.
Packing into Drumthwacket's formal dining room were a couple dozen of Christie's associates; Romney brought with him Johnson and Spencer Zwick. The case Mitt made over the meal was forceful and direct. His 2008 bid had taught him invaluable lessons; he wouldn't make the same mistakes again. He would run an all-economy-all-the-time campaign, hammering Obama for his fecklessness and failures. Only he had the business background and sagacity to fix the mess that the country was in. Only he would have a fund-raising operation capable of matching the president's. He was far and away the party's likeliest standard-bearer and best chance to reclaim the White House.
Romney was even more aggressive after dinner, when he and Christie repaired to the library for a private talk. I am going to be the nominee, Mitt declared. You should get on board now, before anybody else. The earlier you give your endorsement, the more it will mean. Christie told Romney he wasn't going to back anyone in the near future. It's too soon, he said, I'm not ready. (What Christie thought was less diplomatic: This guy will be delighted with my endorsement whenever I decide to make it.) He also told Romney something else—that until Christie made up his mind, he wanted none of the candidates, including Mitt, to raise money in New Jersey.
Romney found the stipulation galling, and voiced his displeasure. As Christie dug in his heels, the atmosphere got tense. Look, Christie said, when I decide to support someone, it will be more powerful if I bring everyone along with me. Just be patient; it'll be fine. But let's be clear: if you jump the gun and start raising money here, you can almost certainly kiss my support good-bye.
Romney left Drumthwacket incredulous at Christie's diktat and the backroom delivery—it was like something out of The Sopranos. Are you kidding me? Mitt thought. He's going to do that? Up in Boston, Stevens was equally astonished at Christie's imperiousness. There were plenty of New Jersey donors who'd given money to Mitt in 2008; now Chris was trying to impose a gag order on talking to them? "He sounds like the biggest asshole in the world," Stuart griped to his partner, Russ, about their mid-Atlantic client.
Rhoades was no more pleased with the prohibition, but he counseled prudence. The earlier we get Christie, the better—but better late than not at all, he said. When members of Zwick's finance team complained about being blocked from pockets of ready Garden State cash, Rhoades always offered the same verbal slap upside the head: Shut the fuck up. Don't go into Jersey. We have plenty of time.
But as winter turned to spring and spring turned to summer, with no Christie endorsement in sight, doubts crept in on Commercial Street. Although the governor continued to issue denials of any 2012 ambitions, his comments were increasingly freighted with self-regard. In late June, he appeared on Meet the Press, where David Gregory asked him who in the current field might garner his support. "Any one of them could if they're willing to be authentic," Christie said. "That's what allows you to do the big things like we're doing in New Jersey. It's not that I'm universally loved; we know I'm not in New Jersey. But what they do say in New Jersey is 'We like him and we think he's telling us the truth.' I think we need to have that type of politics on the national level."
Romney's luck regarding would-be rivals had been miraculous so far. The later it got, the less likely it was that anyone plausible would jump in. But Mitt worried that Christie might be an exception. The establishment loved him. The Tea Party adored him. The punditocracy pined for him. And then there were the blandishments of the billionaires' club—which even politicians with smaller egos than Big Boy's would find difficult to ignore.
Guest
This segment aired on January 15, 2014.