Cowboy Poetry: A Lesson From Gail Steiger
15:30
Play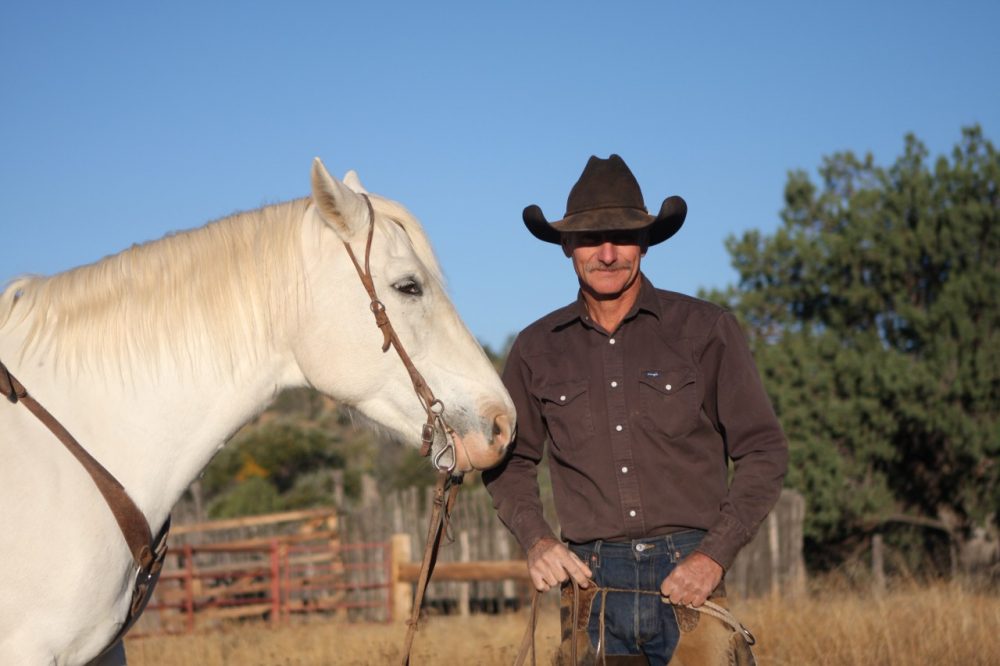 This article is more than 8 years old.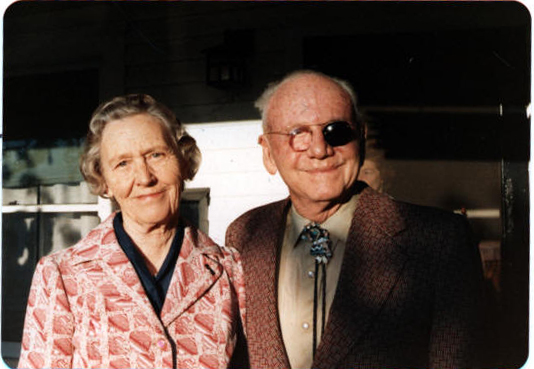 The 30th National Cowboy Poetry Gathering starts today in Elko, Nevada. Gail Steiger is a regular at the gathering. He's a cattle rancher near Prescott, Arizona.
Steiger comes from a line of cowboy poets. His grandfather was Gail Gardner, one of the most celebrated cowboy poets, and author of "Tying Knots in the Devil's Tail." His grandmother, Delia Gist Gardner, was also a poet. She wrote "Hail and Fairwell."
"Cowboy poetry is kind of a broad brush," Steiger told Here & Now's Jeremy Hobson. "There are purists who think it's all about cowboy hats and boots and spurs, but there are a bunch of us who realize it's a lot more to do with just what a gift it is for all of us to come here and live on this planet, where life just grows up out of the ground."
'Hail and Farewell'
Gail Steiger's note about his grandmother: "We never knew that she really had any interest at all in poetry, but we found a poem that she had left for us, in her drawer — we found it after she died. And there was a little note typed beside the poem that said she had written it when she was about 65. And she had revisited the site of her homestead, so kind of reflections from that hilltop cabin. It was a poem called 'Hail and Farewell.'"
By Delia Gist Gardner
(Reflection from a cabin in Skull Valley, Arizona, over an old Indian camping ground, 1945)
Think not on my brittle bones mingling with dust, for
These
Are but a handful added
To those gone before.
Think, rather, that on this borrowed hilltop
One lived joyously, and died content.

In this dark soil
I found reminders, saying:
"You, too, will pass; savor for us
The wind and the sun."

From the smoke-blackened earth
I dug
A frail shell bracelet, shaped lovingly, skillfully,
For a brown skinned wrist, now dust.
The broken piece of clay
Was a doll's foot and leg, artfully curved ,
Made for brown-eyed child.

Pottery shards saying:
"Yours for a little time only
Take delight in this, as we did."

The tree will die; the vine wither and rattle in the wind.
For I broke a law of Nature.
I carried the water to the hilltop. Nevertheless,
For those after me there will be
These things I have loved:

Morning sun rays, slanting across the hilltop,
Lighting the great trees in the green meadow.
Wind, the great blue sky,
Peace of the encircling hills
And flaming glow of sunset.
'The Sierry Petes' (or, 'Tying Knots in the Devil's Tail')
Gail Steiger's note about his grandfather: "In 1988, they dedicated the Gathering in Elko to him... At that time, Papa was 95 years old and he wasn't in good enough shape to attend the gathering, so this local folklorist asked me if I would shoot some video of him addressing the convention... As he was singing his song, I looked out into the audience and a whole bunch of people knew the words to that song. I had had no idea that it had gotten around as much as it had. It really gave me a new appreciation for the work that papa had done."
By Gail Gardner
So Sandy Bob punched a hole in his rope,
And he swang her straight and true,
He lapped it on to the Devil's horns,
An' he taken his dallies too.
Now Buster jig was a riata man,
With his gut-line coiled up neat,
So he shaken her out an' he built him a loop,
An' he lassed the Devil's hind feet.
Oh, they stretched him out an' they tailed him down,
While the irons was a-gettin hot,
They cropped and swaller-forked his yeres,
Then they branded him up a lot.
They pruned him up with a de-hornin' saw,
An' they knotted his tail fer a joke,
They then rid off and left him there,
Necked to a Black-Jack oak.
If you're ever up high in the Sierry Petes,
An' you hear one Hell of a wail,
You'll know it's that Devil a-bellerin' around,
About them knots in his tail.
Poems reprinted with permission of the Steiger family.
Guest
Gail Steiger, songwriter, filmmaker and cattle rancher in Yavapai County, Arizona.
This segment aired on January 27, 2014.