Uber Tests The Waters Of Boston Harbor
Play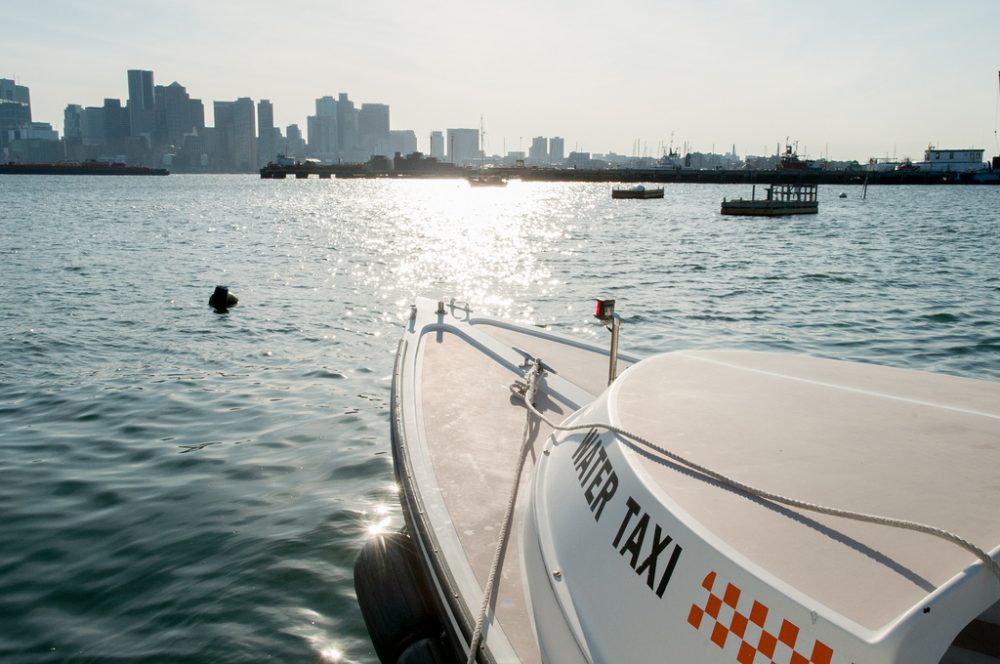 This article is more than 8 years old.
Users of the smartphone app Uber typically request commercial black car service to get from urban point A to point B.
But for the next two weeks, the on-demand car ride company is making a splash by testing water taxi service on Boston Harbor. For $13, consumers can hail a boat to ride to the airport, waterfront museums and restaurants.
I tried the UberBOAT service from the Charlestown Navy Yard, near where Old Ironsides, the USS Constitution, is docked. Within a minute of me requesting a ride, a captain called to confirm, and four minutes later, a motorboat named Thunder pulled up to the dock.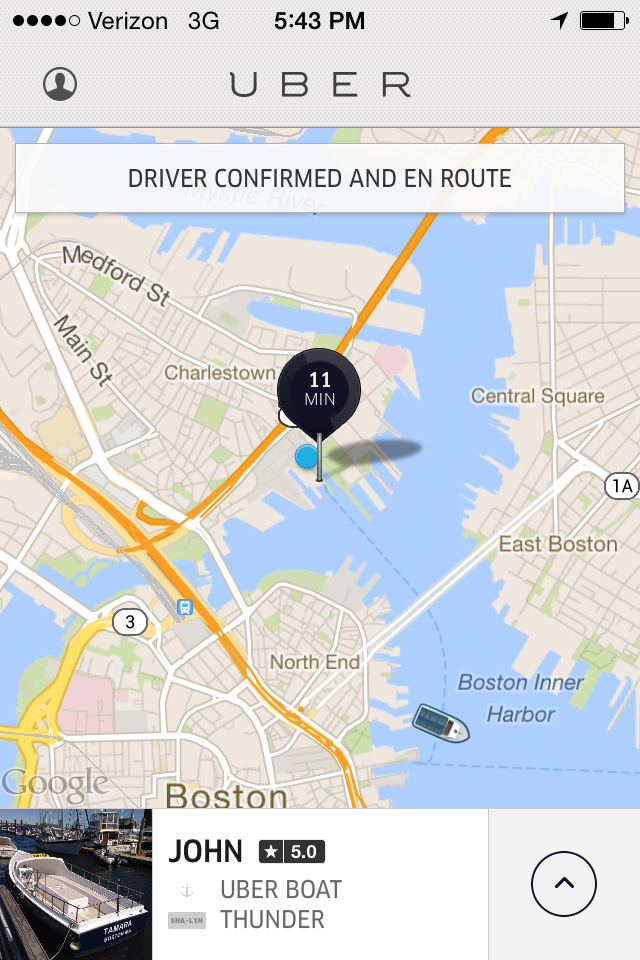 Navy veteran John Babstock is the captain. He's not just a guy with a boat. This is his job. Uber is partnering with an existing water taxi service. There's room for 12 passengers on the Thunder. Above the steering wheel, Babstock had posted a laminated cheat sheet. It shows screenshots from the app: how to accept rides.
"Actually, it's my first time using it, so actually it's a lot easier than I thought it was going to be," Babstock says. "I'm very — as my kids would say — technically challenged. So, yeah, they're pretty surprised that I could actually figure this out…"
I'm his third ride of the day. His other fares were a couple trying UberBOAT for fun and a businessman. The businessman was hiring a ride from his waterfront hotel to the airport, and was surprised to see a boat icon.
"All three of them loved it," Babstock says. "They thought it was great. Then again, you're on the water. Who doesn't love being on the water? Unless you don't like water…"
Babstock steers his boat along the wharves, veering around parked sailboats and large ferries coming in to dock. This is a no-wake zone, so he has to go slow. Across the harbor, jumbo jets come in for a landing at Logan Airport.
"It's probably not as fast as a taxi cab," Babstock says. "But you know Boston traffic, who knows? Hit or miss. Mostly missing!"
Exactly 10 minutes later, Babstock docks in South Boston. I'd punched into the Uber app my destination — up the channel from here, the equivalent of maybe two city blocks. But the tide is high. The boat won't fit under a bridge.
On the dock, Babstock pulls up the app to mark the trip complete. The total per-person charge of $13 automatically includes some coin for the captain: a $2 tip.
The fare is the same as if I'd called this water taxi myself. Babstock says a lot of Bostonians don't know they can hire a water taxi. He hopes this two-week trial leads to more business.
"If the company, if the Uber company can tweak the program and be more flexible, yeah, definitely," he says. "You gotta be really — no pun intended — fluid. 'Cause things change on the harbor, tide, weather — technology has to be more flexible with it. And if they can get that going, then this would be a great way to do business."
As he waits for his next fare, dispatch calls with a pickup that comes in the old way: by dumb phone.
"Can you head to 20 and do a pickup at 20?" the dispatcher says over the radio. "Hopefully you won't get an Uber call before you get there."
"Roger that!" Babstock replies.
Reporter
This segment aired on June 6, 2014.