Meet The 'Real Larry' Of 'Orange Is The New Black'
Resume
Ever since Netflix debuted the show "Orange is the New Black," Larry Smith has had to contend with being known as the "real Larry." Larry is the husband of Piper Kerman, whose memoir "Orange Is the New Black: My Year in a Women's Prison" is the basis of the series, which features characters named Piper Chapman and Larry Bloom.
Though a few scenes from their lives have been dramatized, Piper Kerman says that her husband is not Larry Bloom.
But Larry Smith says that when they watch the show "sometimes there are exact lines of dialogue from our lives, and sometimes there are lines that are actually — 'Wow! I wish I wrote that line and said that to Piper' 'cause their writing is great."
Larry Smith wrote about the experience of being "The Real Larry" for the latest issue of the online magazine Matter, which also includes Larry's interview with Jason Biggs, the actor who plays Larry Bloom.
"I do have some problems with the Larry Bloom character," Smith told Here & Now's Meghna Chakrabarti. "But I really like the way Jason plays Larry Bloom and I really like Jason as a guy. He's just a good soul. And we're very similar — we're both from New Jersey, we're both middle boys of two sisters, we both have an empathy, I think, for Larry Bloom and Piper Chapman."
Kerman agreed with Smith about Biggs' performance, but added, "For me, those characters seem very, very different from me and from Larry, so I'm able to enjoy them in a way that is probably somewhat unique."
The couple reported that their friends are more offended than they personally are by differences between real life and the series, even though some of the changes haven't been particularly flattering.
"Our relationship is way too boring for TV. They had to spice it up — I don't blame them," Smith said. "I have no idea what's coming in season three, but I'm rooting for Piper and Larry to get back together. I like those two."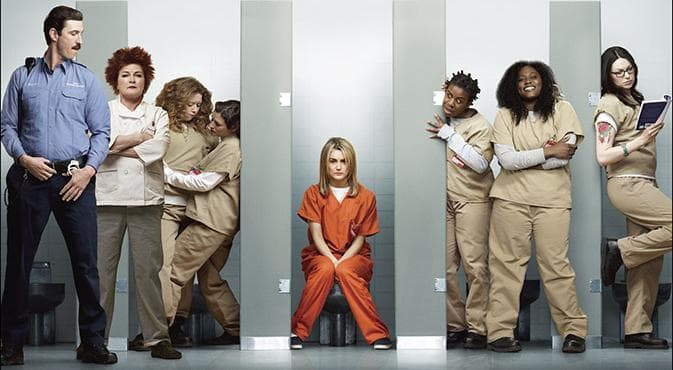 Guests
This segment aired on July 17, 2014.