The 14 Best Cookbooks Of 2014
This article is more than 8 years old.
Need a gift for a cook in your family? Here & Now resident chef Kathy Gunst shares her favorite cookbooks from 2014, including a book all about the Vietnamese sandwich banh mi, a book focused on baking with whole grains and a collection of over 500 cocktail recipes. Gunst is author "Notes from a Maine Kitchen," and the video series "Simple Soups from Scratch."
News flash: There were a lot of good cookbooks published in 2014. I mean really good books. The trends? Well I would say that baking is big. Alternative grains (including gluten free diets) are still popular. As well as ethnic food from all over the globe.
But the biggest news of all? BIG books are big — so many of the books I read and cooked from are oversized (read: heavy) and beautiful. Many of these big books feel more like they were designed for a coffee table than a book you would cook from in the kitchen.
Stories are big. It's no longer enough to assemble a nice collection of recipes. In fact it's amazing how many of these cookbooks have the word "stories" in the subtitle. For me, a food writer, this is good news. I like food stories. I like context. I like to know where a writer and a cook are coming from.
There are still a lot of what I call "fantasy lifestyle books" of gorgeous men and woman who live in gorgeous houses with gorgeous kitchens (and often have gorgeous children and dogs). Hard to trust books where everyone is that strikingly beautiful.
But there are also a lot of real cookbooks, the kind meant to get you into the kitchen cooking and experimenting with new cuisines, ingredients, and techniques.
Here are a few of my favorites from 2014, divided into their own somewhat random categories.
Best 'Fantasy' Books
"My Paris Kitchen: Recipes and Stories" by David Lebovitz (Ten Speed Press)
Who hasn't had a fantasy about living in Paris? All those gooey French cheeses and crusty breads, open-air markets, cafes, restaurants, artists. And all those French chefs. Ah, the life. David Lebovitz left San Francisco 10 years ago for Paris "without a plan." I want to make a plan to move to Paris "without a plan."
Now he has written a book of evocative essays and photographs of Parisian life with a collection of recipes culled from his decade of living in the "city of lights." I have plans to cook quite a few dishes from this book. In fact there's pretty much not a single recipe in here that I'm not interested in trying— or eating. From the classics like Croque-Monsieur (fried ham and cheese sandwich), French onion soup and Cassoulet to lamb shank tagine and Lemon-pistachio Israeli couscous.
Lebovitz cooked for many years at Chez Panisse and his dessert chapter shows his northern California roots: Bay leaf pound cake with orange glaze; Almond cakes with Browned Butter; Apricot crumble tart; and an amazing-sounding Buttermilk ice cream with olive oil and fleur de sel. The writing—essays and a long introduction—draws you right into a time and a place and a kitchen you would like very much to visit.
"Mallmann on Fire" by Francis Mallmann and Peter Kaminsky (Artisan Books)
This book is all about the world of outdoor grilling and cooking over fire around the world. Look, there is Mallmann in front of the Arc de Triumph in Paris with a portable grill and baskets of food. Look, now he's in his native Patagonia.
For the cook who loves to cook over open fire (think campfire, wood burning oven, fire pit) this is a wonderful gift filled with recipes that would (don't tell anyone) also work well indoors over a kitchen stove or a regular old charcoal or gas barbecue. Grilled and Roasted Leg of Pork Wrapped in Rosemary with Orange, Black Pepper and Rosemary Salmuera; Grilled Chilean Sea Bass with Toasted Almond Salsa; Creamy Polenta with Fresh Favas and Peas. The photography is stunning. Stack the wood. Get out the matches!
Baking Passions
"Baking Chez Moi: Recipes from My Paris Home to Your Home Anywhere" by Dorie Greenspan (Houghton Mifflin Harcourt)
Dorie Greenspan has an enviable life. She lives in Paris, New York, and Connecticut, writes award-winning cookbooks, and is considered one of the best bakers in the country.
Here, in her newest book, she presents so many appealing new choices. Despite France's reputation as a sophisticated baking world—think towering cakes and perfectly-made pastries with icings that glisten —Greenspan was attracted to the simple sweets: the country cakes, tarts, cookies and pies. This oversized book is filled with recipes (and photos) that call out to me: "bake me, you can do it," they cry. The Apple Tart Flambé; Soft-Centered Chocolate Teacup Cakes; Babas au Rhum; and Chocolate Cream Puffs with Mascarpone Filling, to name just a few. My only complaint: the book is big and heavy and not particularly kitchen friendly. But luckily the recipes are clearly written and they work. The Pear Tart with Crunchy Almond Topping disappeared in my house awfully quickly. A great choice for the baker or wanna-be baker on your list.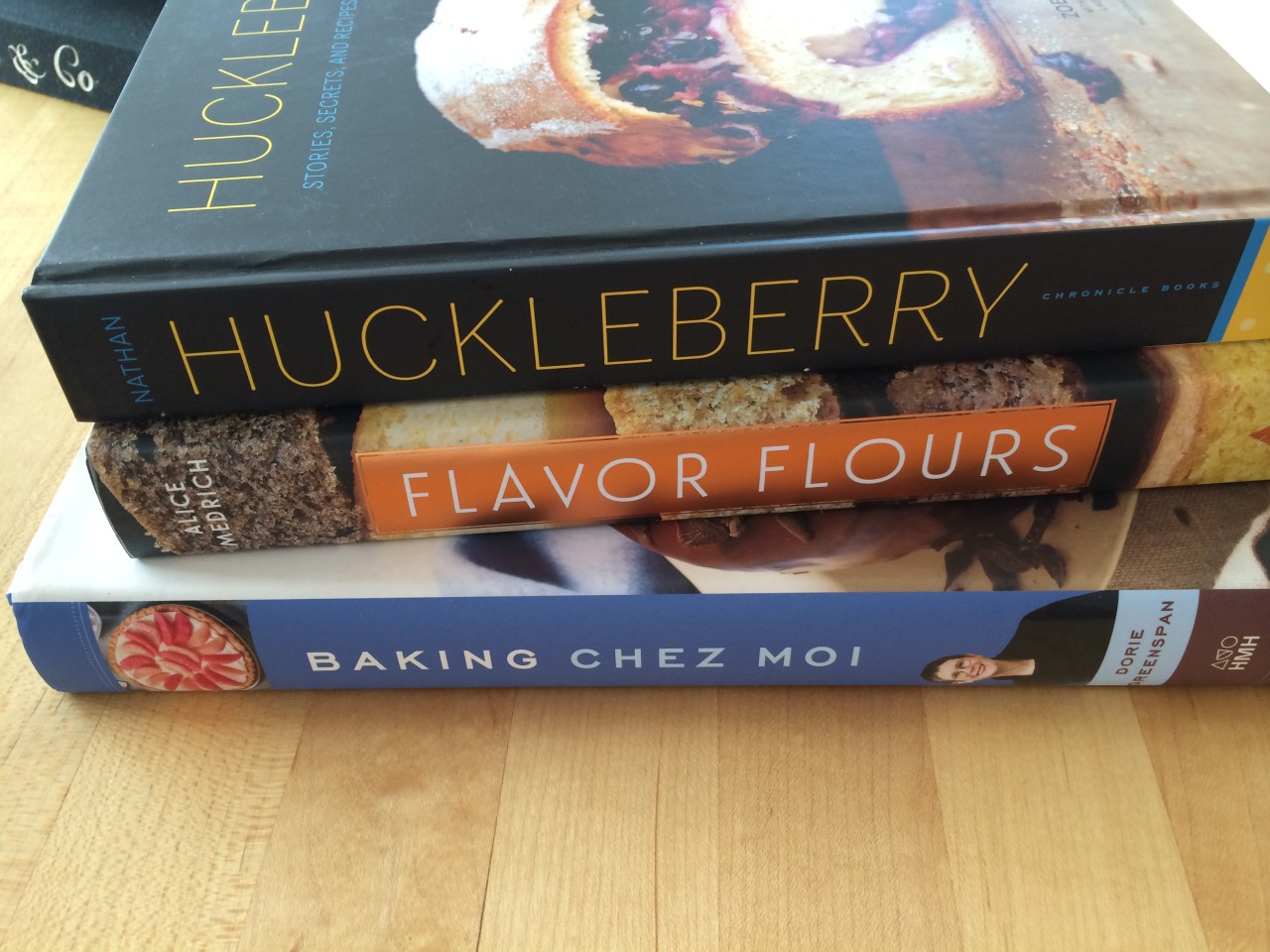 "Huckleberry: Stories, Secrets, and Recipes from Our Kitchen" by Zoe Nathan with Matt Armendariz, Laurel Almerinda, and Josh Loeb (Chronicle Books)
Who wouldn't love a book where the edges of the pages are yellow with little white polka dots? The chef of this Santa Monica, California bakery knows how to present thoroughly appealing food in a thoroughly appealing way. This is primarily a breakfast book but you'll find way more than the usual suspects. The book is very cleverly organized by time, beginning at 3:30 a.m. for the muffins; 4 a.m. is biscuits and scone time, moving up to 5:30 (breads and other things that rise) to 7 a.m. (goodies baked in a dish, including Cherry Tomato-Goat Cheese Cobbler; and Brussels Sprouts and Bacon Frittata) to pancakes at 8 a.m., and Cereals at 8:30 a.m., Sandwiches at 9, and Hearty Plates with an Egg on Top at 9:30.
The photography is gorgeous and Nathan's stories and writing makes her sound like a real person running a real business complete with the ups and downs that come with owning a successful bakery/restaurant. You can even learn how to make a perfect latte. Let me just tell you that I tried the blueberry scone and it was the best scone I've ever made or tasted.
"Flavor Flours: A New Way to Bake with Teff, Buckwheat, Sorghum, Other Whole & Ancient Grains, Nuts & Non-Wheat Flours" by Alice Medrich with Maya Klein and Leigh Beisch (Artisan)
This book teaches you how to bake with teff, buckwheat, sorghum, cornmeal, nut and coconut flours, chestnut flour and other whole and ancient grains. But here's the catch: this is not a book just for those on gluten free diets (although they will love it).
Medrich's thesis is that these alternative flours can be used in baking as flavor enhancers, not just as traditional white flour substitutes. Most of the recipes are familiar: you'll find chocolate cake and brownies, cookies and quick breads. But the flavors and textures are new, thanks to the addition of these "alternative" flours. Rice flour in a chiffon cake? Sure. Boston Cream Pie made with white rice flour? It works! Her book is perfect for those experimenting with gluten free or for the adventurous baker on your list.
Most Environmentally Conscious
"The Kitchen Ecosystem: Integrating Recipes to Create Delicious Meals" by Eugenia Bone (Clarkson Potter)
In this book Bone presents an interesting concept: She takes an ingredient, offers up a few master recipes and then tells you how to use the leftovers or scraps of food to preserve the ingredients and use it in other ways. How many times have you bought a bunch of vegetables or a chicken or a bag of lemons and had half of it go to waste?
"I have what amounts to a kitchen ecosystem: a set of interconnected recipes and foods that defines my palate, which is mostly Mediterranean, primarily Italian," writes Bone. "It also reflects my politics, because I believe in supporting regional, organic food producers. Usually all I have to do is buy the main ingredients, like a chicken or a bunch of beets, and I can rustle up a couple of meals."
"To explain it further: I discovered that most of my favorite ingredients could be used three ways: I could eat some fresh, preserve some, and turn the stuff I would normally toss into useful ingredients. My kitchen was becoming an ecosystem, and I was creating, in essence, a kind of perpetual pantry…"
For example in the ginger chapter, Bone makes a scallop crudo with ginger and chewy ginger black pepper cookies. Then she pickles ginger and makes a ginger syrup and a drink called a ginger bug. The preserved ginger is then used to make pears poached in white wine with ginger syrup, vanilla panna cotta with ginger syrup, and more. No waste. More thought. Great collection of recipes.
Chef Books Worth Recommending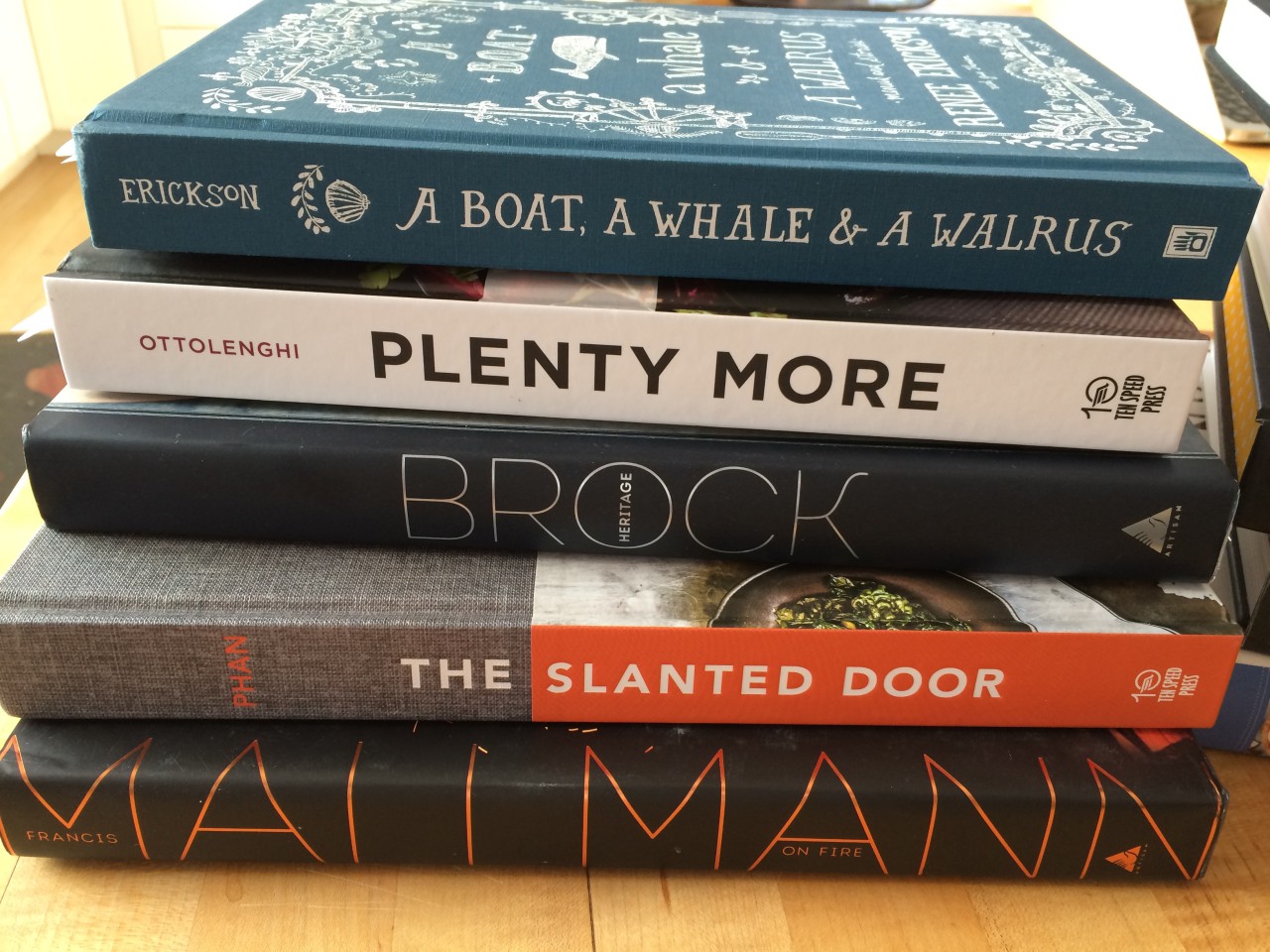 I generally don't trust cookbooks written by famous chefs. Don't get me wrong. Chefs are great cooks, but they often don't pay attention to little things like measurements and tablespoons. Chef-written books tend to be "translations" of the recipes you love in their restaurants. But this season there's several chef-written cookbooks that are worth mention.
"Plenty More: Vibrant Vegetable Cooking from London's Ottolenghi" by Yotam Ottolenghi (Ten Speed Press)
This is another great collection of recipes from Ottolenghi. This time the focus is on vegetables but with many new twists. The flavor profile is definitely Middle Eastern but the combinations are new and exciting. The book is divided up by cooking techniques: Steamed, Blanched, Mashed, Cracked, Baked, and Sweetened.
The recipe titles will make you hungry. Polenta Chips with Avocado and Yogurt; Brussels Sprouts Risotto; Crushed Puy Lentils with Tahini and Cumin; and Cauliflower Cake will all make an appearance in my kitchen this winter. I don't know about you but I am looking for an excuse to eat more vegetables. "Plenty More" will guide you to some deeply satisfying ways to achieve that goal.
"Heritage" by Sean Brock and Peter Frank Edwards (Artisan)
"Heritage" is a big, heavy, beautiful work. The cover photo tells the story: the chef's heavily tattooed arms holding a pile of gorgeously-colored heritage dried beans. This is a book about southern traditions and techniques written by a "bad boy," a modern day son of the South. I've been lucky enough to eat at Brock's Charleston, South Carolina, restaurant Husk (what many consider the "best restaurant" in the nation) and the food is amazing. So I was pumped to leaf through this book: there's his signature Cracklin' Cornbread (made with ground bacon and cornmeal and no white flour in a very hot oven in a cast iron skillet) and Grilled Chicken Wings with Burnt-Scallion Barbecue Sauce. There's also a lot of recipes for "chefy" restaurant food with several elements that would take a good part of an afternoon to cook: Crispy Sweetbreads with Spicy Red Pepper Glaze, Egg, Broccoli and Puffed Rice; and Seed-Crusted Snapper with Roasted Okra, Tomato Dashi and Benne.
Another appealing part of this book: a series of well-written essays (stories) that introduce you to his purveyors — like Mark Marhefka, a Charleston fisherman who sells to all the top chefs in the region. There's also a great chapter on making pickles — everything from peaches and mushrooms to Green Tomato Relish and Rhubarb Ketchup.
"The Slanted Door: Modern Vietnamese Food" by Charles Phan (Ten Speed Press)
Charles Phan's book is also oversized, gorgeous, and heavy to lift. The recipes and photos from this famed San Francisco restaurant include some classic Vietnamese dishes as well as Phan's creative take on classics. Grilled Rack of Lamb with Tamarind Sauce; Caramelized Chicken Claypot; Crispy Rice Cakes; and Shrimp on Sugarcane are just some of the many reasons you'll want to own this book.
"A Boat, A Whale & A Walrus: Menus and Stories" (Sasquatch Books) by Renee Erickson (with Jess Thomson)
This is an original book filled with great stories and even greater recipes from this Seattle chef. Fresh seasonal food guides this book. I found myself thinking "Wow, I never thought to add that" as I leafed through the ferric collection of recipes in this book.
I Want To Try Some New Foods Next Year
"The Banh Mi Handbook: Recipes for Crazy-Delicious Vietnamese Sandwiches" by Andrea Nguyen (Ten Speed Press)
Andrea Nguyen's book is devoted to what may be the world's best sandwich: the Vietnamese banh mi in many variations: with cold cuts, chicken, seafood, pork, beef, and vegetarian versions. There's also a great chapter on sauces and pickle recipes that can be served with any sandwich.
Drink Up
A new collection of beautiful books devoted to the cocktail. Learn from the best and set up a sophisticated, creative bar at home. Bring in the New Year with a new cocktail.
"Death & Co: Modern Classic Cocktails, with More than 500 Recipes" by David Kaplan and Nick Fauchald is a big, heavy cocktail book from Kaplan, owner of New York's Death & Co.
The book is filled with known and unknown combinations—simple appealing recipes for concoctions that are sure to make your new gathering a whole lot of fun!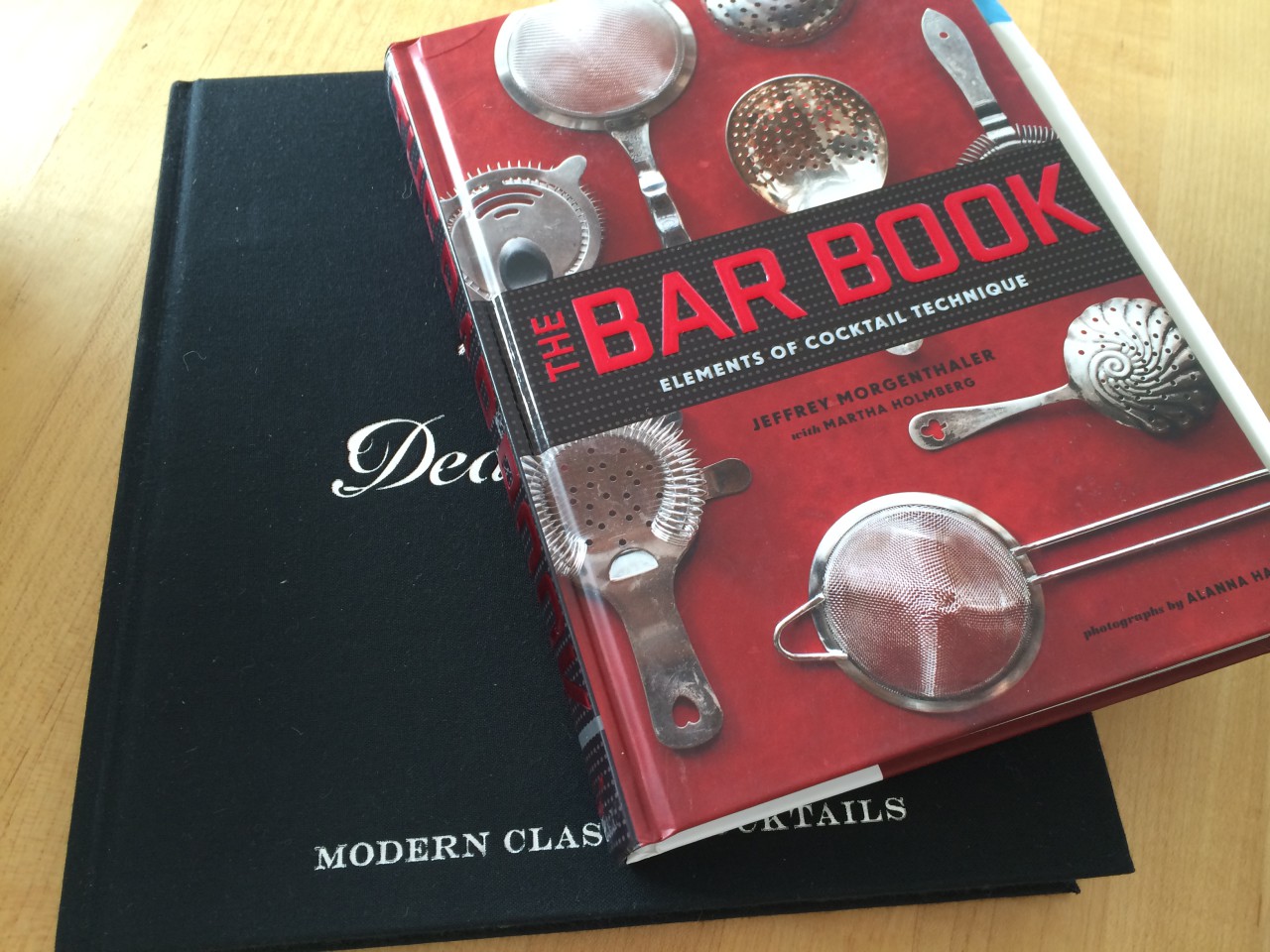 Ever wonder how bartenders create drinks and evaluate them? There's a thoroughly entertaining section in this book called "The Tasting" where a group of bartenders sit around and analyze cocktails. A recipe for a drink called "Flor De Jerez" includes rum, sherry, apricot liqueur, lemon juice and bitters. Here's an excerpt from a group of bartenders discussing the concoction. "I'm calling this drink Tommy and the Ron-Dels. I wanted to do a Ron del Barrilito rum drink based on the Tommy's margarita spice, but that was boring," says bartender Brad, "so I goosed it with Galliano and tiki bitters. I used a scant half of Galliano; otherwise, that's all you taste." OK, if you say so.
"The Bar Book: Elements of Cocktail Technique" by Jeffrey Morgenthaler with Alanna Hale and Martha Holmberg (Chronicle Books)
This book focuses on cocktail techniques. What's a cocktail technique? Ask away. The book is divided into sections: Citrus Juice, Soda and Mixers, Compound Syrups, Shrubs, Infusions, Tinctures and Bitters and more. Who knew? You'll learn how carbonation works, how to make Thyme-Infused Cointreau, make a proper Mint Julep (and crush ice properly), muddle mint and more.
Preserving
"Mrs. Wheelbarrow's Practical Pantry: Recipes and Techniques for Year-Round Preserving" by Cathy Barrow (W.W. Norton & Co.)
Cathy Barrow takes you through the year (and the seasons) with recipes for fresh fruit jams, jellies, chutneys, fruit and vegetable pickles and preserves, but also for totally unexpected recipes for preserving all kinds of foods: stocks, meat and fish, even cheese.
Kathy Gunst is resident chef for Here & Now and author of cookbooks including "Notes from a Maine Kitchen." She tweets @mainecook.