The Fellowship Of The Raga
06:11
Play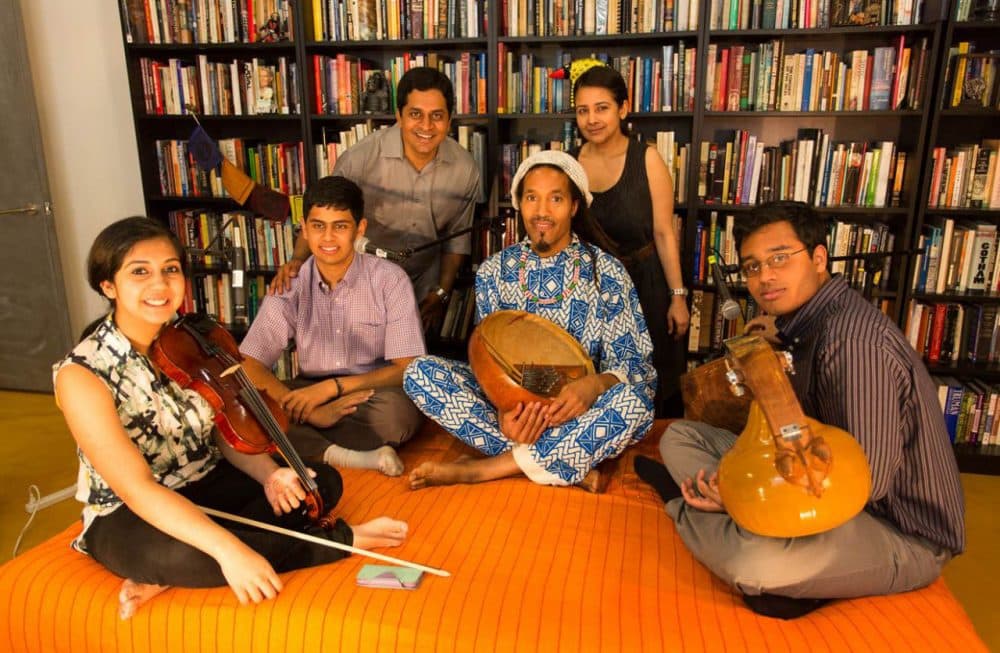 This article is more than 5 years old.
Each year, the IndianRaga Fellowship brings together young musicians in North America devoted to carrying on the tradition of Indian classical music. Over the course of a year, these high school and college-age kids get to collaborate with some of the heavyweights in Indian music. Recently the students and the masters gathered in a New Jersey recording studio to improvise and compose. Reporter Jon Kalish was there and has this report.
---
There's a drone in operation at the Lakehouse Studios in Asbury Park, but not the kind that the FAA is concerned with. This drone is the sound of an Indian instrument called the tanpura and comes out of a smartphone.
Abhishek Raghuram, a 29-year-old star from India, is leading this two-day-long gathering of IndianRaga fellows. Raghuram was a child prodigy and comes from a family of legendary Indian musicians. Sriram Emani is the founder of the IndianRaga Fellowship program.
"He is very awe-inspiring, so when he actually gives concert performances, the kind of complex note patterns that he can come up with on the spot when he improvises are often extremely advanced level," says Emani. "And because of that, most connoisseurs of Carnatic classical music, they hold him in very high esteem.
Carnatic classical music comes from the south of India. Hindustani music comes from the north. Ravi Shankar and Ali Akbar Khan were both Hindustani musicians. But Carnatic music is growing in popularity and tends to be taught in a more systematic way.
"I see a very high correlation between academic excellence and ability in music," says Emani. "And the crème de la crème of India has come here to occupy great positions in Silicon Valley or the top-most places, and I'm not surprised that they share a deep passion and commitment to the music and their kids reflect the same."
Speaking of the crème de la crème, one of the IndianRaga fellows is 20-year-old Shreehari Raghavan, a junior at the University of Pennsylvania's Wharton School of Business.
"Most of my friends were not Indian, actually, growing up. I spent a good amount of time with my close friends trying to get them to understand this. Some of them like it, some of them thought it was yodeling," Raghavan says.
Raghavan lives in Hillsboro, New Jersey. He was about 7 years old when he started taking singing lessons.
"To be honest, the way most kids get involved in Carnatic music is when their parents force them when they're young," he explains. "Indian families are typically insanely competitive and there are a fair number of 'tiger moms' in Indian culture, but I have to say that after I was maybe 12 or 13, the interest kicked in by itself. No one had to prod me. I really loved what I was doing and I loved the music for the sake of the music itself."
But Latha Ramamurthy of Homedale, N.J., says her 16-year-old daughter Sharada, who plays violin, needed no coaxing.
"We never put her on a spot that you have to learn this music or keep it alive or anything," Ramamurthy says. "We listen to the Indian classical music in the car, at home and she just picked up on a violin CD by a great maestro, Lalgudi Jayaraman, and one fine day she just told us she wants to learn that music and she's been learning that ever since she was 5 years old."
Ramamurthy's daughter is also an IndianRaga fellow and apparently worships Abhishek Raghuram, the Indian music star who is leading this collaboration. Raghuram is teaching the fellows how to compose on the spot.
All of the IndianRaga recordings are released as music videos. The group has made a point of combining Indian music with Western classical music and jazz. Indian music's influence on jazz is pervasive and longstanding. John Coltrane and John McLaughlin are just two of the jazz greats who have been influenced by Indian music. In the just-completed recording of the IndianRaga fellows in Asbury Park, a piano was used to bridge East and West.
"I think our mission really is to promote this tradition and to spread its awareness more globally," says fellowship coordinator Sriram Emani. "That doesn't mean that it only comes through putting ourselves in a silo. I think you can actually make it much deeper and stronger by broadening our perspective. Once in a while, when they're able to go out there and kind of get some fresh influences, it actually solidifies and deepens their tradition even more. Because they're actually able to place it in the context of what else is happening, learn what's unique about their particular style and hence understand what's their music versus what other kinds of traditions are."
Ten new IndianRaga fellows will be chosen May 15. They'll gather in Chicago in late June.
Reporter
This segment aired on May 14, 2015.