Comedy Writer Brings 'The Tweet Of God' To Broadway
Resume
It turns out that God has descended to earth to explain the meaning of life, and he's landed, of all places, on Broadway. But instead of speaking himself, he's taking human form and speaking through the star of the hit television show "The Big Bang Theory," Jim Parsons.
It all takes place in the new Broadway show "An Act of God," which has sold out in previews. The show was born out of "The Book of the Last Testament," a parody memoir born of the Twitter account @TheTweetOfGod - both of which come from David Javerbaum, the former executive producer and head writer of "The Daily Show."
Javerbaum is now at the "The Late Late Show with James Corden," and to his own astonishment, on Broadway as well. Here & Now's Robin Young sat down with him at the Studio 54 theater after a preview of the show.
Interview Highlights: David Javerbaum
On why God "came to him"
"I think the reason he came to me, and he could have come to many other people I guess for the same reason, is because he wanted it to come across as funny. Funny is something he does not do, and if you know some of his work over the last 6,000 years - the Middle Ages, the Inquisition - he's not a comedy guy."
What he's observed about everyday references to God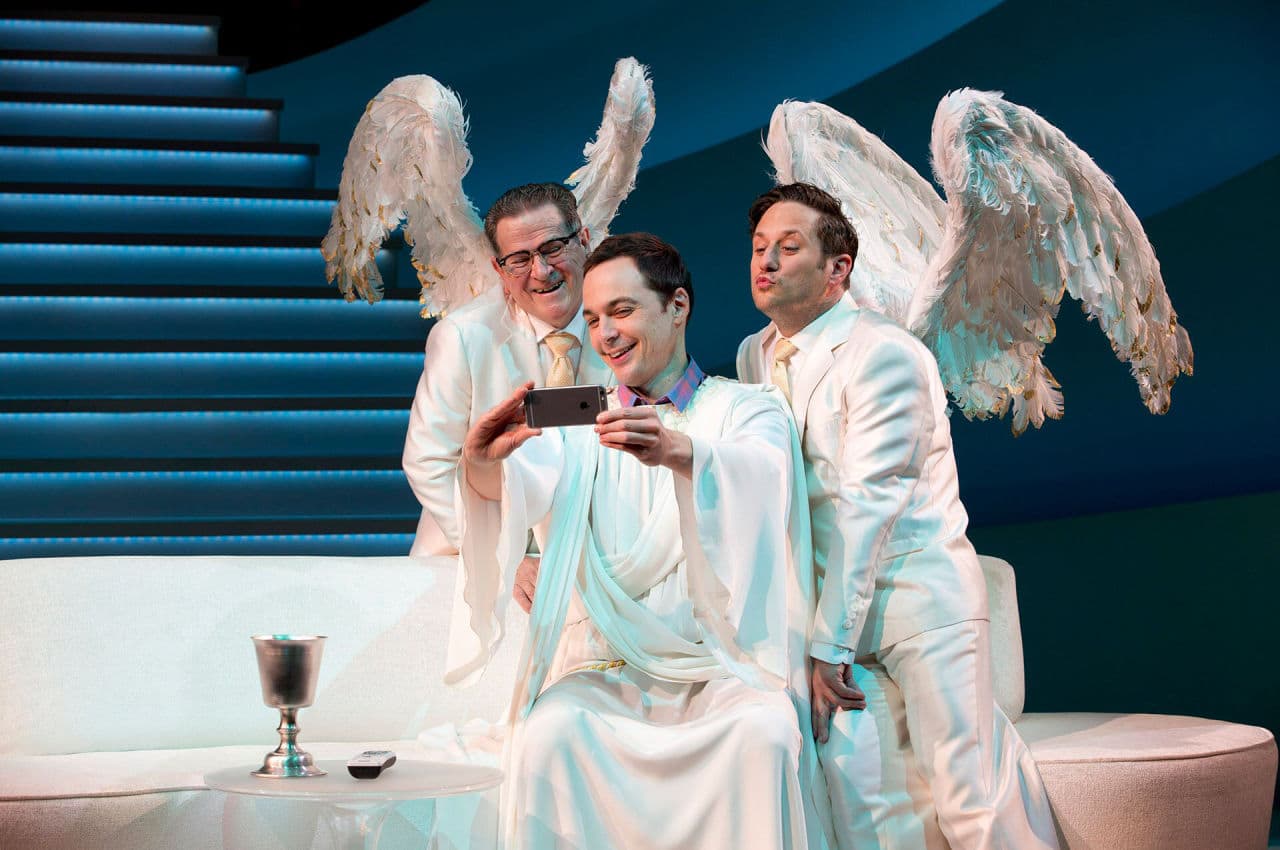 "I've had the Twitter account for five years, and I've had five years to just sort of try to inhabit this fictional character, to observe the use of God. Not just the big ways, but the way people say 'God bless you' when you sneeze, the way people call out his name during sex, the way God is routinely thanked after sporting events, the way he's thanked by Grammy winners."
On the deeper messages of the account
"I just feel very intellectually comfortable with the message. I mean, one of the broader messages is that people should maybe think about looking to each other to get themselves out of the problems they've caused, and maybe stop looking to God. For example, I think most of the resistance to accept climate change is because people deep down in their heads think, 'Oh God will take care of it.' That to me is an example of the belief in God really doing incalculable harm."
On how the Twitter account has grown
"I can't believe it got this far. Whatever happens I will be very happy with it. This has been so much further than I could have possibly ever imagined when I came up with this stupid idea a few years ago. It's really amazing. I would say that I'm blessed, but I know better."
Guest
This segment aired on May 27, 2015.