What's Next For 'The Jon Stewart Of Egypt,' Bassem Youssef
Play
This article is more than 7 years old.
Bassem Youssef went from doctor to international star and one of Time magazine's "100 Most Influential People" after he started a satirical show in Egypt during the Arab Spring, the first show of its kind in the Middle East.
Four years later, in 2014, with the country now under military rule, Youssef announced his show "Al-Bernameg" had become too dangerous to produce. He was repeatedly harassed by lawsuits and arrested, and he feared for his family's safety.
Youssef took up a residency at Harvard University, and sat down with Here & Now's Robin Young a the John F. Kennedy Presidential Library and Museum in Boston to talk about the past several years, and where he hopes to go with humor now.
Interview Highlights: Bassem Youssef
How 'Al-Bernameg' was created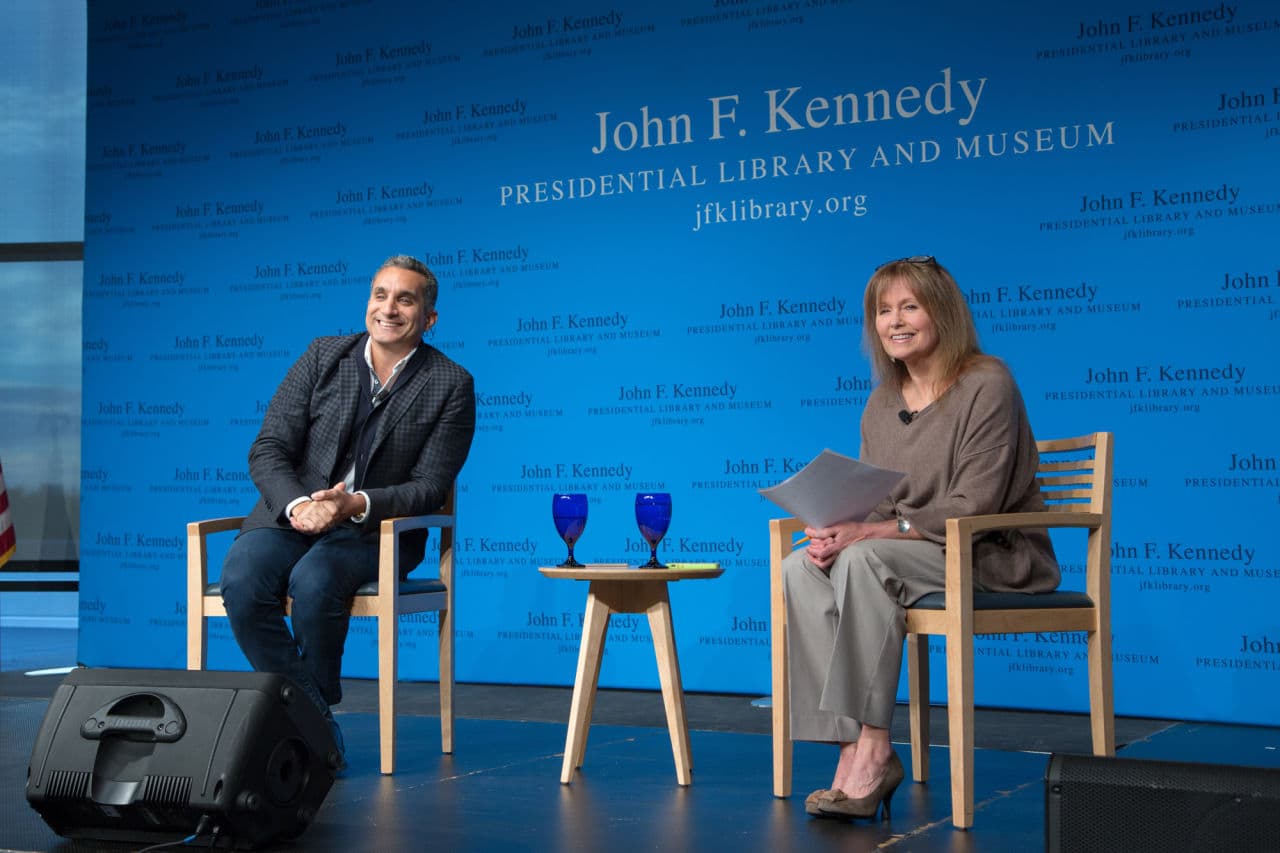 "We had a desk, a banner, one camera. And it was just making fun of the videos that we saw during the revolution. Because you had the state-run media basically telling everybody that this revolution is a conspiracy run by Hamas, Iran, Hezbollah, Mossad, CIA, The Village People, everybody wants to destroy the country. It was just like a gold mine. So we chose to document it, and do it in a funny way. And that was like the first time that was seen in the Middle East."
"And I really didn't think much of it, I thought that the first video would get 10,000 views. Two months later, and I have 5 million on the channel. And at that time, I was fighting to get a fellowship in Cleveland, a pediatric heart surgery fellowship, which I got. So it comes May 2011, I have the fellowship, the one that I've actually studied for 20 years of my life as a doctor and as a student, and I've got the TV contract, with all the money and the fame. I just sold out, and I chose the money and I went to the empty, useless life of fame, which was taken away from me, and now I'm sad."
How the revolution affected the show
"When the powers changed, we were faced with a choice. Because we knew, when the Muslim Brotherhood was in power, it just made sense - people in power, you make fun of them. You speak truth to power. There's no glory and no respect in making fun of the weak, the powerless. When they were ousted, now there are new people in power. And then you're faced with a choice. You cannot make fun of people who are in jail now. It's not like because you like them or you don't like them, it's just like, you can't."
"So with the first episode ever, we were canceled after the first episode. There was a warrant for my arrest, so we went voluntarily to discuss the jokes that I made in the show. And it was actually the night of the Oscars, because of the time difference, so we wait for the Oscars until 4 o'clock in the morning. So at that time, President Morsi was about to appear, but he appeared very late. So we made this joke about him being late like the Oscars. So the best question that I was asked on that day was the prosecutor asking me, 'What is the Oscars? What did you mean on this joke? Ha ha, not funny.'"
How the show was stuck between two opposing sides
"There's these people who always come to you and say, 'This is not the time for laughter, this is not the time for satire.' But actually, satire is cathartic. Sometimes it can be healing. It was, 'Somebody's dying every week,' so it was just like, we might as well cancel the show? The thing is I've always been accused by both of the parties that I'm pro-Muslim Brotherhood or pro-military. I'm pro none of them. I do not want a theological country, I don't want a military country. And these are like the people standing on that thin line who have been hated by both people. We just want a free country for everybody. But if you have someone coming up with a religious agenda or somebody coming up with a military agenda, the first thing they do is they crush the moderate agenda in the middle. So, you're only alternative is the more extreme on the other side. It's a game that's been played in the Middle East forever."
Is the Arab Spring dead?
"Where in history have you heard about a revolution that took 18 days? Like toppling Mubarak in 18 days. But that's not a revolution, we just wanted the soap opera ending. That doesn't happen in the real world. Just look at the French Revolution. It doesn't take 18 days, it takes years. But we are in the age of social media and YouTube and Twitter. 'Oh my God, it's taking three years, that's too long. It's dead.' It doesn't work that way. We were fools to think that."
Guest
Bassem Youssef, Egyptian satirist and former cardiac surgeon. He hosted the satirical news program "Al-Bernameg" from 2011 to 2014. He tweets @DrBassemYoussef.
This segment aired on July 8, 2015.