New Film Based On Travels With David Foster Wallace Opens
09:52
Play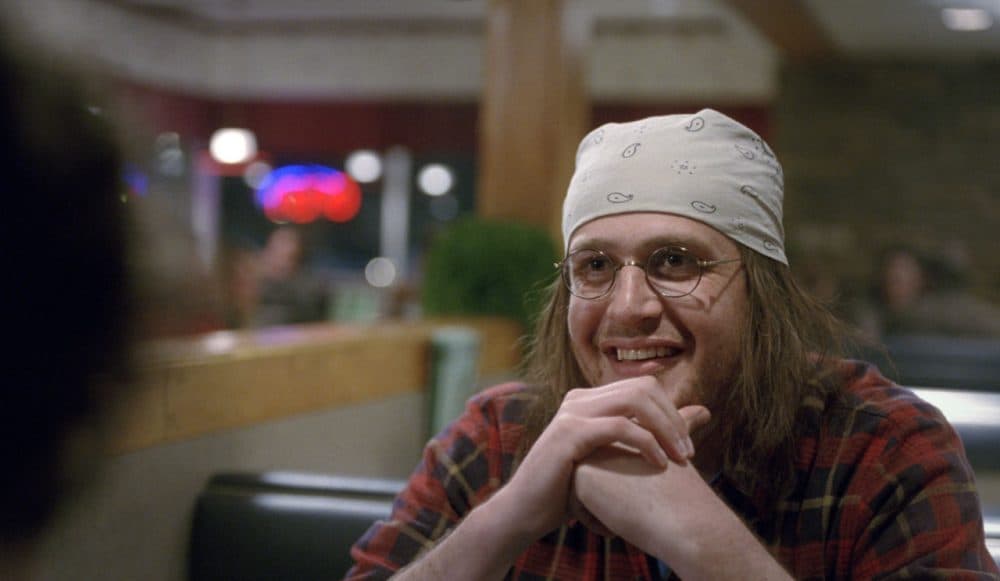 This article is more than 5 years old.
In 1996, when David Foster Wallace was riding the wave of fame following the release of his novel "Infinite Jest," Rolling Stone sent David Lipsky to Bloomington, Ill. to profile him.
The two men spent five days together as Wallace wrapped up the tour for his best-selling book. Lipsky's profile was never published in the magazine, but he recorded their conversations on cassettes and the transcript was published as the book, "Although Of Course You End Up Becoming Yourself: A Road Trip With David Foster Wallace" in 2010.
Now there's a new film based on the book called "The End Of The Tour," starring Jason Segel as Wallace and Jesse Eisenberg as Lipsky. We are revisiting a conversation we had with Lipsky after the book was published.
Our conversation with Lipsky originally aired on May 25, 2010.
Interview Highlights: David Lipsky
On reading David Foster Wallace for the first time
"I think I reacted the way people reacted in the '50s when they first read Salinger. It was kind of, when you opened up a magazine to read one of his essays, instead of finding words, it was like finding a kind of mirror. I remembered at the time that 'Infinite Jest' came out, I was at a party, and a woman sat down next to me and looked at all of the aspiring and successful writers in the room and said, 'Every relationship in this room is being ruined by David Foster Wallace.' Because when he's in the paper, the women are like 'Oh David Foster Wallace, he's so cute.' And the guys are like, 'I want to be David Foster Wallace.' So it's just this incredible joy about a new writer, and then here's this guy who's done what everyone wanted to do."
Describing Wallace's sense of humor
"His writing is as funny and as charming and alive as any writing I've ever read. In person, he was like that too. He was completely, shockingly awake. Like when we checked into the hotel in Minneapolis, the woman at the desk said to me, 'And your room has two twins.' And David said, 'Yes, Anita and Consuela.' We walked into a Denny's and I was surprised there was a smoking section, and David said, 'Yes, there's even a chain-smoking section at Denny's.' I remember we were at Mall of America, and we were looking around, and he was a really funny person to be at Mall of America with. He was looking at the store names, and he looked across and there was a restaurant called 'Hulk Hogan's Pastamania.' And he said, 'When I think pasta, I think Hulk Hogan.'"
On Wallace's death in 2008
"David had kept secret that he was on anti-depressants, which came out after his death. Toward the end of his life, David tried to switch medications at the advice of some of his doctors. And it was a bad drug reaction that really led to his suicide. It wasn't the pressure of being a writer, and it wasn't the pressure of his senses that drove him to take his own life. It was, in many ways, very clearly just a medical reaction. If you had asked me in August of 2008 who the most healthy American writer is, I would have said, without hesitation, David Foster Wallace."
On Wallace's advice about writing, technology
"He had a really clear idea of what writing was supposed to be. He said that he liked writing that worked on your nerve endings, and said that with real writing, there was kind of a stomach magic. He said that, 'It's so much fun to read. I'd rather read right now than eat.' He was talking about, it's funny, he kind of saw what makes people uncomfortable now about Facebook or about Twitter or about IM'ing and texting each other. He said that technology would get better and better at doing what it does, which is leaving us alone in front of screens, and that we're going to have to invent some machinery inside our guts to help us deal with that. I think of that every day, because I haven't, and most people I know haven't done that gut-building machinery. We haven't done that gut-building work yet."
Guest
David Lipsky, contributing editor for Rolling Stone and author of "Although Of Course You End Up Becoming Yourself: A Road Trip With David Foster Wallace."
This segment aired on July 31, 2015.