Tony Award Winner Jessie Mueller On Taking On The Work Of Sara Bareilles
Play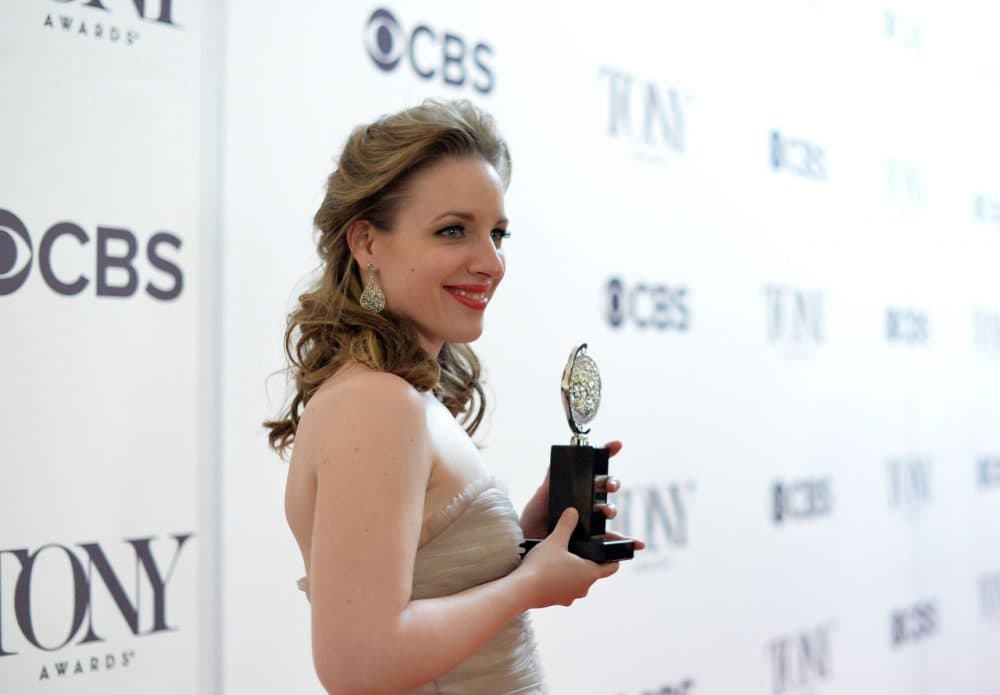 This article is more than 7 years old.
Jessie Mueller won a Tony Award for her performance as Carole King in the Broadway musical "Beautiful." Now she takes on the work of another acclaimed singer-songwriter: Sara Bareilles.
In the new musical "Waitress" at the American Repertory Theater in Cambridge, Mass., Jessie plays Jenna, a waitress in a small Southern diner who makes magically delicious pies. Jenna's dreams of winning a pie contest and making enough money to leave her overbearing husband are complicated when she becomes pregnant and has an affair with her obstetrician.
The musical is adapted from the 2007 indie film written and directed by Adrienne Shelly.
Jessie Mueller joins Here & Now's Robin Young to talk about "Waitress."
Interview Highlights: Jessie Mueller
Jessie Mueller on Carole King and Sara Bareilles
"It's such a cool thing, both to be working on sort of more pop music just as a different thing to explore because I've done a lot of classical musical theater, and then also to sort of honestly be able to watch these two women, the actual women, Carole King and Sara do their thing and watch them as artists."
On learning Bareilles' songs for "Waitress"
"I'm always daunted, especially because she has a crazy voice. She has no break to her voice, and for people who don't understand that, it just has to do with how the voice transitions from certain registers to other registers ... To me, it seems like she moves seamlessly from one to the next. When she sits down to write, she's writing for her voice. We play around with keys and things like that because she and I, the mechanics are different. But yeah, it's absolutely daunting because I've heard her sing the songs and I know what they can sound like, but also as we rehearse things, some of the pressure is released, or I'm releasing it for myself because it's getting more and more ingrained in the character instead of just, 'How am I singing this Sara Bareilles song?'"
On assuming the character of Jenna
"Jenna has gotten to a point in her life where she's kind of coasted along for a while and she's feeling stagnant and she doesn't know what to do. And I think she just hits a breaking point then and she's like desperate to make a mess. And she kind of does. She just makes one mess, one poor decision right after another. And I think that's something people can relate to. Everybody has these day-to-day challenges and they're just trying to navigate their lives. And some people make better choices than others and some people don't make any choices for a long time, which is sort of what happened to Jenna."
On Adrienne Shelly's influence on "Waitress"
"We talk about it a lot in rehearsal. What she did and what she brought to the screenplay is essentially what we're always going back to: What was her intention? To me, she wrote a story about, 'It's not a fairy tale, it's not a happily ever after.' It's more a story about people learning how to love and learning what love is. I've had the fortunate experience to meet her lovely daughter who was in the film. She's the little girl at the end of the film. I think there was an energy that came from her that was very clear in the film, and I think that's what we keep going back to."
On getting paid to make pie
"We had this wonderful day of rehearsal — yes we get paid to do this — where we went to a board member's house and were taught how to make pies. Literally that's what we did one day. We were like, this is the best day of rehearsal ever. And she was talking about the idea that pies are healing ... And I think that's what that last little bit of the play does too. You see these two, this woman and her child making a pie and it's literally, not to get all voodoo on it, but it's the beginning of a healing for this woman, for Jenna so she can get her daughter on better footing than she had."
Guest
This segment aired on August 3, 2015.