Tig Notaro: Healed And Humorous In New HBO Special
11:21
Play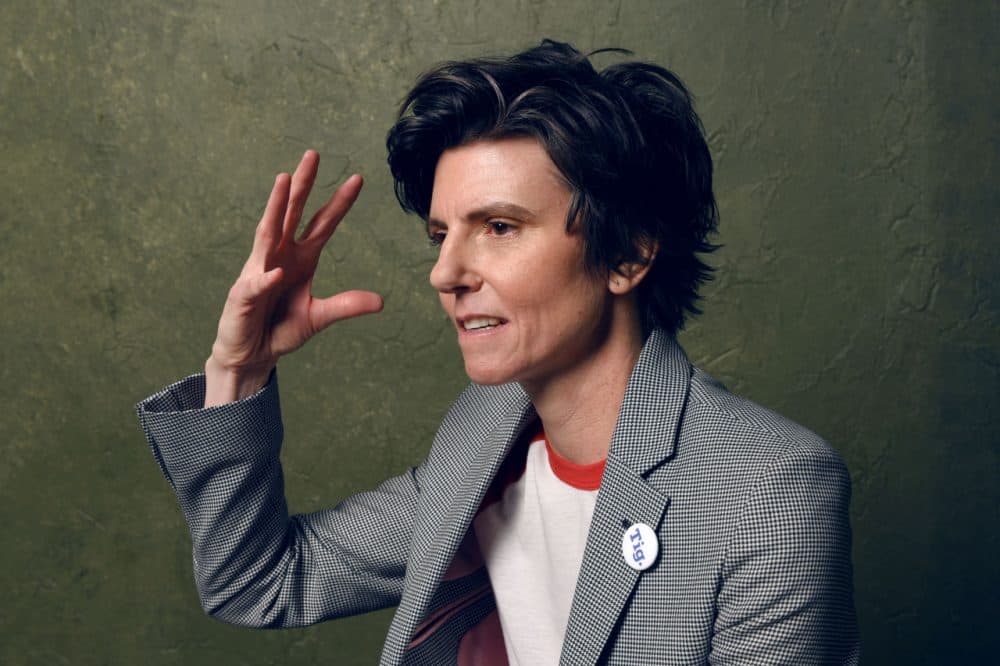 This article is more than 5 years old.
Comedian Tig Notaro made headlines in 2012 when she took the stage in Los Angeles with a routine that mined her battle with a serious infection, her mother's death and her own diagnosis of breast cancer. Her career exploded: the album of that set was nominated for a Grammy.
Notaro is the focus of the new Netflix documentary "Tig," and her comedy special "Tig Notaro: Boyish Girl Interrupted" premieres on HBO this Saturday. The show was taped in Boston, and Tig Notaro does reveal her post-mastectomy chest on stage.
As she told Here & Now's Jeremy Hobson, who was in the audience for the taping, "In my healing process and getting comfortable with myself and my body again, I was just realizing that my body has healed, and so that shouldn't be alarming... it's just good news."
Interview Highlights: Tig Notaro
On the surprise popularity of her 2012 stand-up album, "Live"
"I remember after 2012 asking my manager 'when do you think this is gonna die down, when do you think people are gonna lose interest?' And I was thinking truly in two days and I was asking earnestly, and he said 'I don't think it's gonna stop.'"
On readjusting after her cancer treatment
"I really went through a process of having to accept my life, my illness, my body looking differently. And cancer is a huge, huge deal but in my healing process and getting comfortable with myself and my body again, I was just realizing that my body has healed and so that shouldn't be alarming, it's just good news, it's great, it's not a big deal."
On how she can joke about the tough topics in her life
"I can't help but see things in life through a humorous lens, so anything that comes my way is gonna probably be, you know, bent in that direction. And when I went through having cancer and losing my mother and other things, it took me a while to have a sense of humor again and to have confidence. I pretty much lost everything in my life and I really lost all my confidence as a person, and I think it's just been just a steady walk forward trying to find myself and my confidence and my humor in all of that destruction."
On how she's doing now
"Embarrassingly well. It's something where I try to not hijack people's time too much with 'I'm happy, I'm in love.' I can become annoying, I think, to be around."
On the personal nature of her material
"It's really a funny place to be because people talk to me like they know me and they'll approach me in such a casual way that I'll think 'Am I related? Is that my brother? What is happening? I'm confused.' One of the stories I always tell is that I was walking across the street in New York and somebody said 'Hey, listen, there's a restaurant across the street to the left, it has really healthy options and I know you have some health issues, and I just thought it's a place you might enjoy.' And I said 'thank you' and continued to walk across the street. So I get unsolicited advice that's often very helpful."
On whether she's shared everything about herself
"I have so much I have not revealed. My girlfriend and I talk all the time about how it's funny that people think they know everything about me. And there are some cards I'm holding close to my chest. But when I lost everything, essentially, in 2012, it kind of…when you have nothing left to lose it just takes a lot of that away, the holding close and holding tightly to things. But I think there's a time and place to share, and there's ways to do it, and we'll see."
Guest
This segment aired on August 19, 2015.