Senegalese Recipes From Chef Pierre Thiam
Resume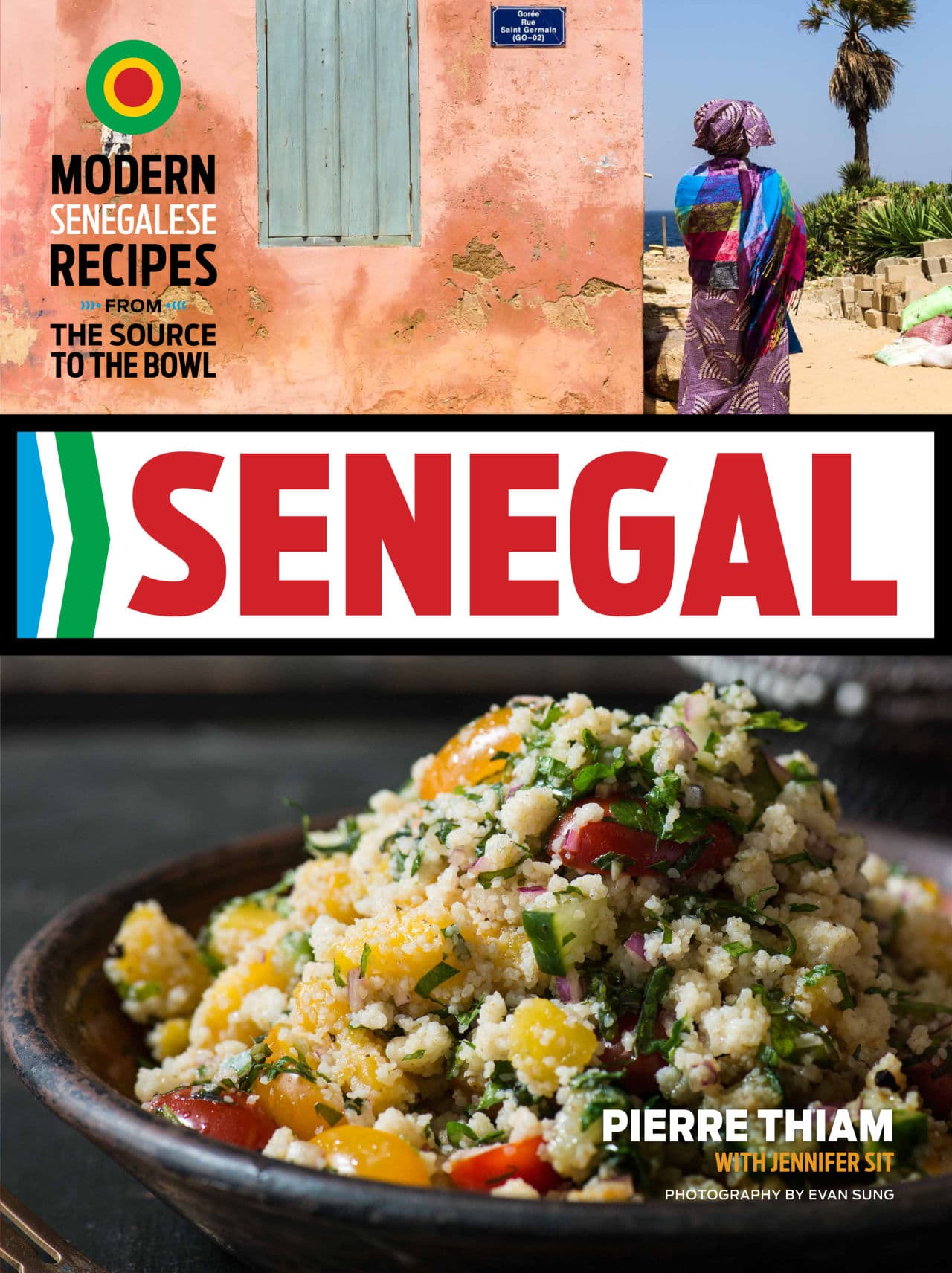 How much experience do you have with food from Africa? Ethiopian cuisine has become popular in the U.S., but how about food from West Africa - Senegal, specifically?
Senegalese chef Pierre Thiam has just released a book of recipes called "Senegal: Modern Senegalese Recipes from the Source to the Bowl." Many of the ingredients are familiar, but the flavors are unique.
Thiam shares a few of the dishes with Here & Now host Jeremy Hobson. You can try the dishes for yourself using his recipes:
All recipes from "Senegal" by Pierre Thiam. Copyright © 2015 by Pierre Thiam. Reprinted with permission of Lake Isle Press.
Lamb Shank Mafé
with Rof Gremolata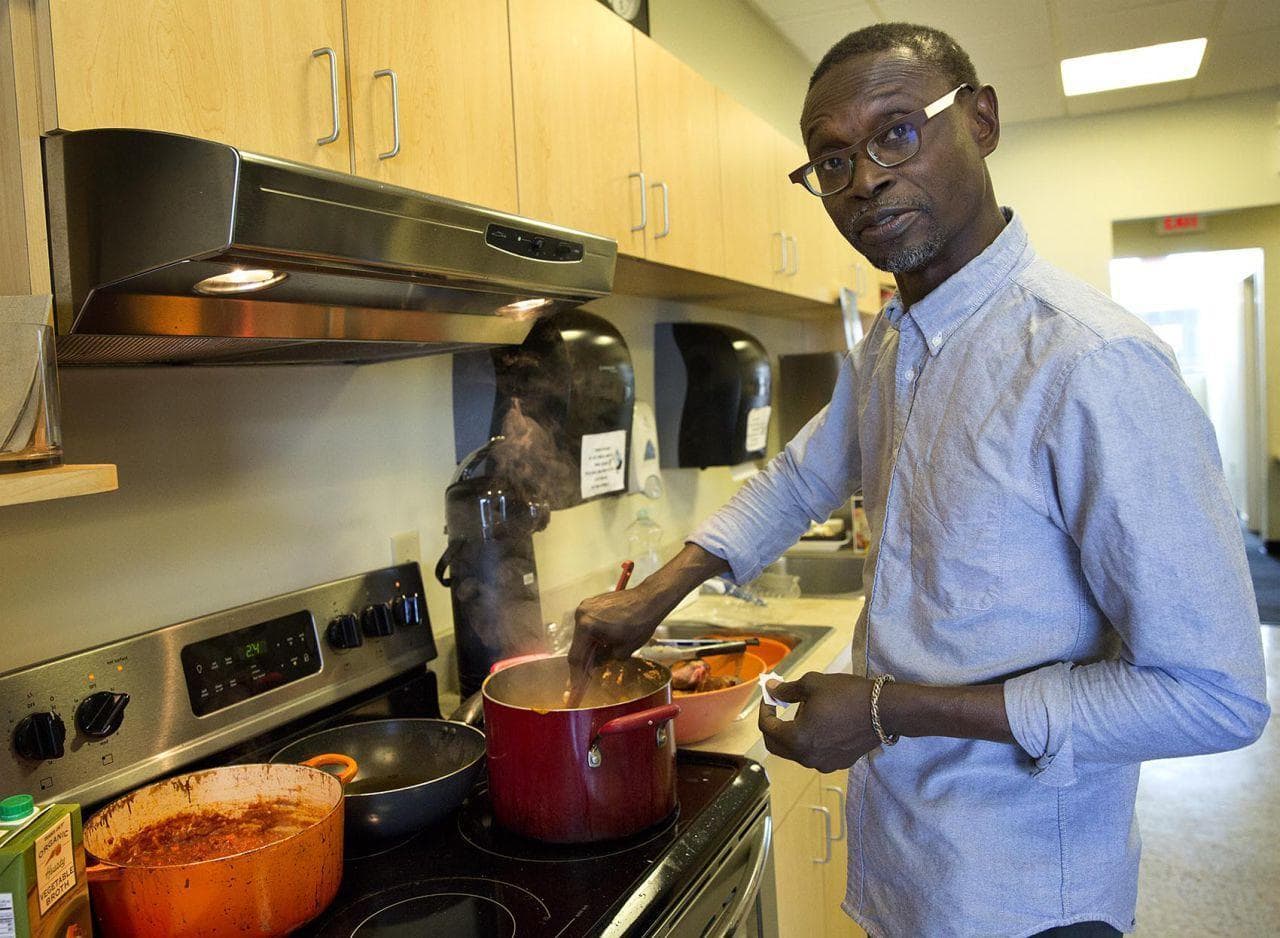 Serves 6
Lamb shanks slowly simmered in peanut sauce are to me the image of comfort food in Senegal, especially when served with steamed rice, couscous, or fonio. I must thank Jenn Sit for the idea of topping the shank with a gremolata just as the Milanese people would do. This gremolata recipe is a twist on our traditional rof, the parsley mixture we use to stuff the fish in thiebou jenn (page 204). The heat from the Scotch bonnet and brightness of the lemon zest brilliantly lifts all the earthy flavors of the peanut sauce.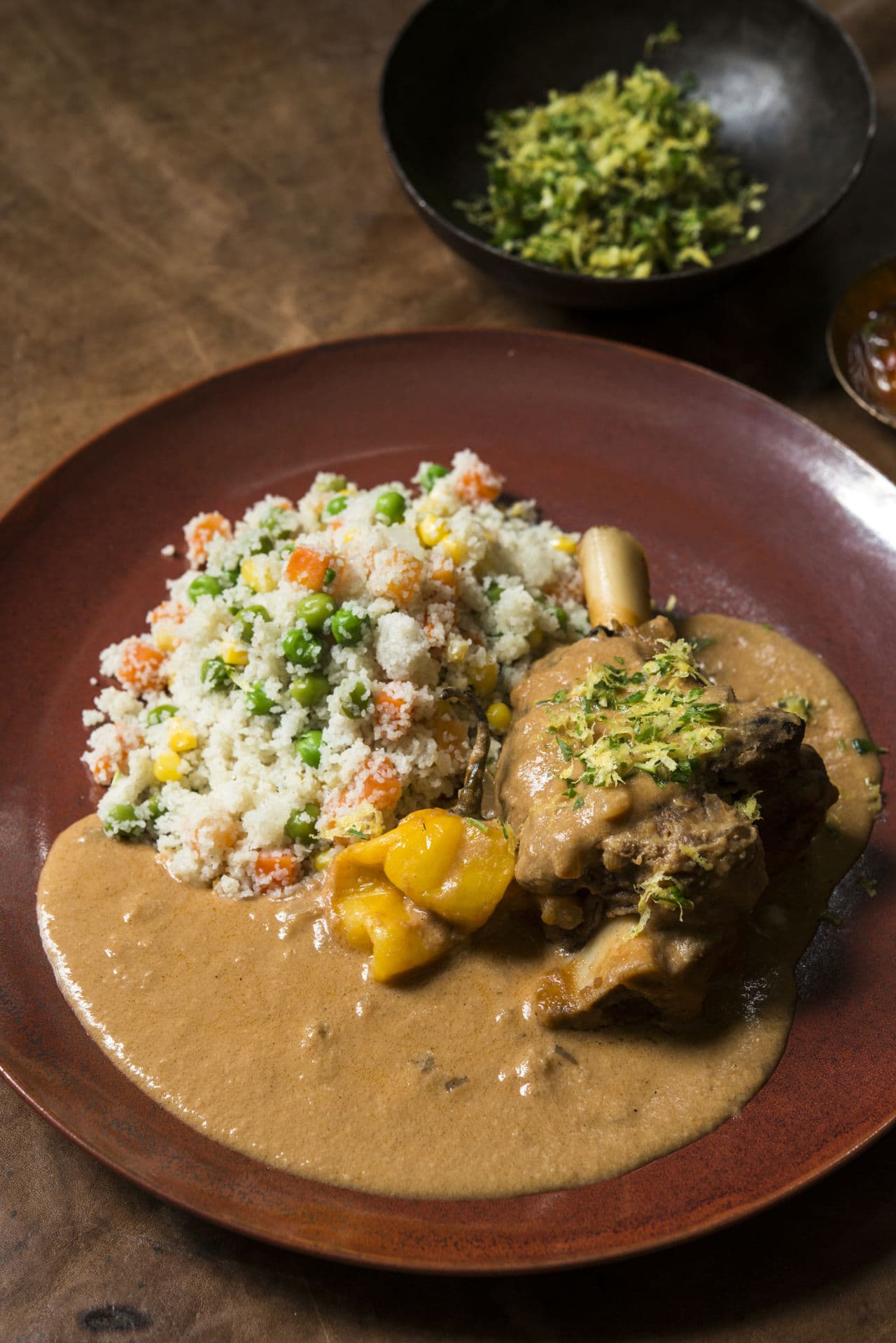 Ingredients:
2 tablespoons peanut or vegetable oil, plus more if needed
6 lamb shanks (about 1 1/4 pounds each)
Salt and freshly ground black pepper
2 cups chopped yellow onion
2 garlic cloves, minced
2 tablespoons tomato paste, mixed with a few tablespoons water
2 quarts chicken stock or water
2 dried bay leaves
1 tablespoon finely chopped fresh thyme
1 cup unsweetened smooth peanut butter
1 Scotch bonnet pepper
2 tablespoons Vietnamese or Thai fish sauce
Rof Gremolata (recipe follows), for serving
Spring Vegetable Fonio Pilaf (page 162), for serving
Instructions
Heat the oil in a large saucepan or Dutch oven over medium-high heat. Season the lamb shanks with salt and pepper. Add the shanks a few at a time, without overcrowding. Brown them well on all sides, about 8 minutes, and set aside on a plate. Repeat until all the shanks are nicely browned, adding more oil if necessary.
In the same pan, brown the onions. Reduce the heat to low and add the minced garlic. Stir well, then add the diluted tomato paste. Cook, stirring with a wooden spoon, for 7 to 10 minutes, until a deep, dark red. Add another tablespoon or two of water to prevent scorching, if needed.
Add the stock, raise the heat, and bring to a boil, then reduce to a simmer. Add the bay leaves, thyme, 2 teaspoons salt, and 1 teaspoon pepper. Slowly add the peanut butter 1 to 2 tablespoons at a time, stirring constantly to dissolve it in the liquid.
Return the shanks to the pot, pressing down to submerge them in the sauce. Add the Scotch bonnet and fish sauce. Bring to a boil, then reduce the heat to a simmer. Cover and cook for about 1 hour and 30 minutes, until the shanks are tender.
Uncover the pot and continue cooking until the sauce is thick and coats the back of a spoon. Remove the bay leaves and skim off the fat. Adjust the seasoning.
Serve the lamb shanks and sauce hot, on a platter. Top each shank with a generous pinch of gremolata and serve with a side of fonio pilaf.
---
Rof Gremolata
Italian gremolata, a condiment traditionally made with herbs, lemon zest, and garlic, meets Senegalese rof in this fresh, flavor-packed topping.
Makes about 1 cup
Ingredients:
1 bunch parsley, leaves finely chopped
3 scallions, finely chopped
2 garlic cloves, minced
1/2 Scotch bonnet pepper, seeded and finely chopped
Grated zest of 1 lemon
Fine sea salt and freshly ground black pepper
Instructions:
Gently combine the parsley, scallions, garlic, Scotch bonnet, and lemon zest in a small bowl. Season with salt and pepper to taste. Store in an airtight container and refrigerate for up to 1 week.
Vegetarian Jollof Rice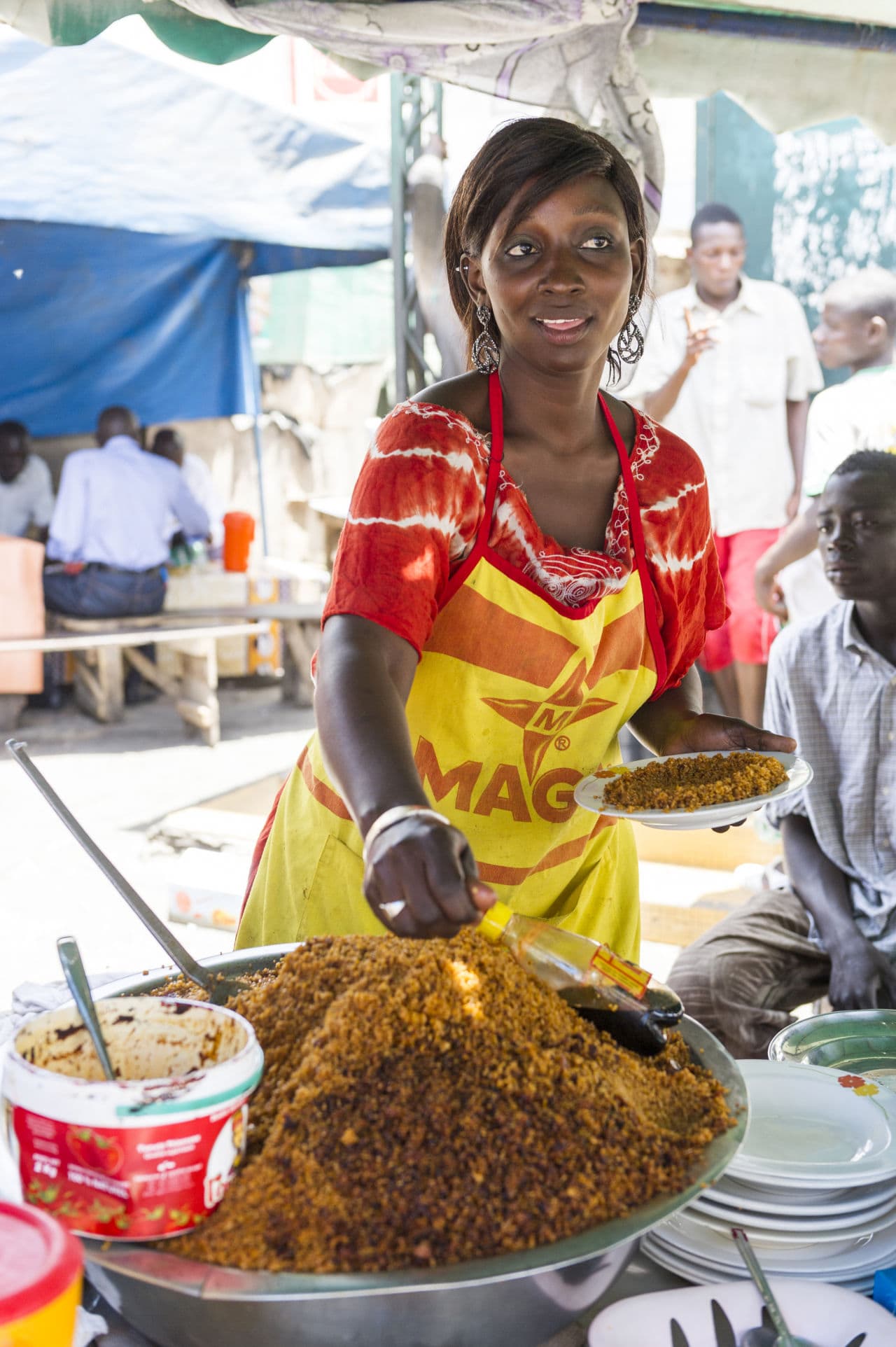 Serves 4 to 6
Jollof rice, one of the most popular and best-known dishes throughout West Africa, has many countries claiming it as their own. I can proudly, and correctly, say that the dish has Wolof origins, as Jollof is the name of an ancient Wolof kingdom in Senegal. From Senegal, the dish spread and evolved throughout West Africa, inspiring fierce regional preferences. At its simplest, jollof is a tomato-based rice dish, but depending on the region or even the household, the dish can incorporate different meats, seafood, vegetables, and spices. In Senegal, jollof serves as the base of the popular thiebou jenn. This is my vegetarian version, which works perfectly as a side dish or as a main rounded out with a few other dishes. If you have any rice left over, be sure to try my Herb-Stuffed Jollof Croquettes (page 111).
Ingredients:
3 tablespoons vegetable oil
1/2 yellow onion, finely chopped
1 red bell pepper, thinly sliced
2 carrots, peeled and diced
3 plum tomatoes, chopped
2 cups tomato paste
1/4 cup water
3 cups vegetable stock
1 dried bay leaf
Salt and freshly ground black pepper
2 cups basmati rice
1 cup fresh or frozen green peas, thawed
Instructions:
In a large, heavy pot, such as a Dutch oven, heat the oil over medium-high heat. Add the onion, bell pepper, carrots, tomatoes, tomato paste, and water. Reduce the heat to low and slowly cook, stirring frequently with a wooden spoon to prevent scorching, about 15 minutes or until the oil starts to separate from the liquid and rises to the surface. Add the stock and bay leaf and season with salt and pepper. Bring to a boil, reduce the heat, and simmer for another 10 minutes, until well combined.
Meanwhile, thoroughly wash the rice under running water until the water runs clear. Drain well.
Add the rice to the vegetables and stir with a wooden spoon. Season again with salt and pepper. Bring the pot to a boil, then reduce to a simmer. Cover the pot with a tightly fitting lid and cook undisturbed for an additional 20 minutes or until the rice is fully cooked and tender. Add the peas and gently fold the rice to fluff it. Remove the bay leaf and serve hot.
Mango Fonio Salad
Bursting with fresh herbs, lemon, and mango, and super easy to throw together, this healthy grain salad would make a great addition to picnics or potlucks as a side for grilled fish or meat or as a vegetarian main. Think of this salad as a template to which you can add any number of your seasonal produce favorites.
Serves 4
Ingredients:
Juice of 2 lemons
1 teaspoon salt
1/2 teaspoon freshly ground black pepper
1 cup olive oil
2 cups cooked fonio (see instructions below) or quinoa
1 bunch parsley, leaves finely chopped
1 bunch mint, leaves finely chopped
1 ripe mango, peeled, pitted, and diced
1/2 red onion, finely chopped
1 cup red and yellow grape tomatoes, halved
1 small cucumber, seeded and diced
1/2 cup Spiced Cashews (page 87; optional)
Instructions:
In a small bowl, combine the lemon juice with the salt and pepper. Slowly pour in the oil, whisking to emulsify.
Place the fonio in a large bowl and add the parsley, mint, mango, onion, tomatoes, and cucumber. Toss well and generously fold in the vinaigrette to taste. (You may have some left over.) Top with the spiced cashews (if using) and serve immediately.
---
Basic Fonio
Makes about 4 cups
This healthy, gluten-free grain can be used as a side in the same way you would use rice, couscous, or quinoa. These are two basic methods for steaming fonio. You can cook it in a steamer basket (the traditional way) or just in a pot on the stove. I've also had success cooking it in the rice cooker, if you have one (keep the ratio of fonio to water 1:1). You can always add a little bit of butter or oil to the fonio while cooking to keep the grains more separated, if you'd like. If you can't find fonio, quinoa would make a good substitute when it is called for throughout the book.
Ingredients:
1 cup uncooked fonio
Salt
Instructions:
In a large bowl, wash the fonio grains by submerging in warm water, swishing the grains around with your fingers, then pouring out and replacing the water several times until it runs clear. Drain well.
Using a steamer: Place the fonio in the top of a steamer basket lined with damp cheesecloth. Set over simmering salted water, cover, and steam for about 15 minutes. Remove from the heat and fluff with a fork. Drizzle a few tablespoons of salted water over the fonio and steam again until the grains are completely tender, another 5 to 10 minutes. Fluff with a fork and serve.
Without a steamer: Bring 1 cup of water to a boil in a medium pot. Stir in the cleaned raw fonio and 1 tablespoon of salt, cover tightly with the lid, and turn the heat to low. Cook for about 2 minutes, until the water is just absorbed. Turn off the heat and gently fluff with a fork, making sure you fluff the bottom where it's wetter. Cover again for another 5 to 10 minutes, until tender.
Guest
This segment aired on October 19, 2015.