Timbaland Reflects On His Music Career In 'Emperor Of Sound'
11:21
Play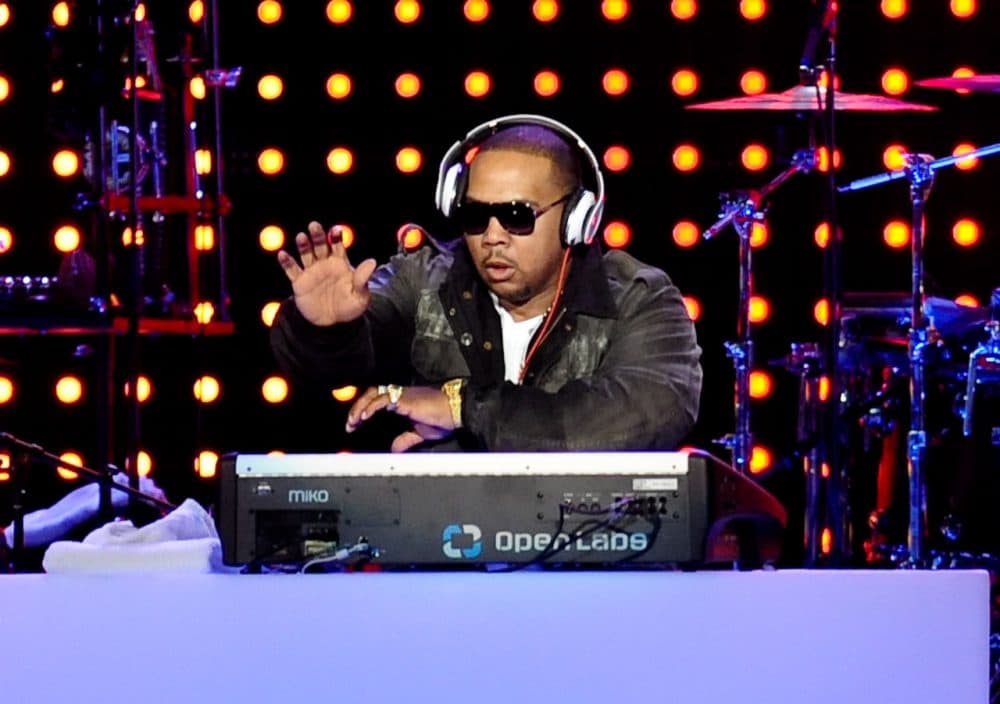 This article is more than 5 years old.
If you don't know Timbaland by name, you've certainly heard his music. For two decades now, Timothy Mosley, who goes by Timbaland, has been producing some of music's biggest stars, including Missy Elliot, Jay-Z, Madonna and both of Justin Timberlake's solo albums.
Here & Now's Jeremy Hobson speaks with one of popular music's biggest producers about his life, his new memoir "The Emperor of Sound" and why he considers himself a musical genius.
Interview Highlights: Timbaland
What does it mean to be a producer on some of the most popular songs?
"It means to me I get to spread my joy to the world. Meaning I love music so I know how it makes me feel, so I wanted – when I produce for somebody else, I say 'I wonder if the world gets the same feeling as I do.' And evidently, it has worked for me because what I felt when I was doing it, they felt it too when I put it out."
What did you listen to growing up that might have influenced your work?
"I listened to everything, but what influenced me? Just me. That's a gift from God that I have. I just know music like Steve Jobs knows the computer and knows the vision of a small computer and know what he could do with it. I just know music and sound. It's a God-given gift."
"I just know music like Steve Jobs knows the computer."
On his parents' support
"I mean, when you see your child keep doing the same thing, you got to pay attention to that. I mean, you might not understand it, but you need to pay attention to it. And I thank God for them to allow me to keep doing what I'm doing and to go forward with my dreams. It was God's blessing."
Did you think you would make a living out of music?
"I wasn't thinking about a living at the time. I just wanted to express my talent, and the living just came. I never looked at it 'I'm going to make a lot of money,' no."
On the moment his mother lost her house
"I mean, we would just have a lot of faith, you know? It wasn't about 'Oh, I need to go work, and take care of my mom and move.' Because you know at that time, my parents had gotten divorced. My mom was a hard worker and I didn't look at it like I had to provide. I looked at it as I had to provide, just not her, but my whole family. So I knew that would come in time, but I was more focused on my craft."
On the time he was shot in the neck in his hometown of Virginia Beach, Virginia
"I was at a football game. We used to meet at football games and any beef would happen at the football game. So he had a gun, he's putting it up, and that's when it went off. It went in sideways, but thank God I wasn't facing him. I was to the side."
Did you doubt you would move on with your music career after that?
"Yeah, because my arm was paralyzed for a while, so I didn't know – put it this way: when it happened, no negativity was brought around me. You know what I'm saying? Like 'oh, no, he might not be able to use his arm again,' or 'he might not be able to do this' or 'he might die.' There was all good positive influence at that time."
On Black Lives Matter and the events that have been unfolding around the nation
"I think I am music... I feel like I've birthed a lot of the sound that's out today."
"I think all lives matter. I mean not just black. I mean all lives matter. We're living in a society where video games are becoming reality if you want to put it that way. So it's like, you know, it's a future. So I can't predict, you know, anything or what's going on. I just think that everything that we saw in movies and TV shows, and it's actually happening now in real life."
Do you think you're a musical genius?
"That one I'm not going to be modest on: yes. I think I am music. You know, anything that's dealing with music I feel like got to go through me, because I feel like I've birthed a lot of the sound that's out today. It's like 300 – you have me, Pharrell, Dr. Dre, Swizz, Kanye – and we all are kings in our own way. And I think that we have all changed music. It's not saying 'I have a hot beat.' It's like we came in and changed the sound, and the sound how people was listening to music. That's more than putting out a record. That's like captivating a culture and thus the genius part about what we do."
How would you describe the sound you brought to the world that wasn't there before?
"What I brought to the world is music is all around you. Animals, TV sounds, remote controls, people talking, even when you sleep – it's a sound that can be used in a song. And now I try to show the world that. Use what's around you. Be thankful what's around you. Look at the flowers. Go outside and listen to the air blow. It's a sound. It calms you."
Book Excerpt: 'The Emperor Of Sound'
By Timbaland with Veronica Chambers
Prelude: A Catalog of Sound
The "rain" in that song is a riff created on what, at the time, was a brand-new instrument: the electric timbale. That timbale, the love child of salsa music and the electric guitar of the modern era, gave the song a distinct opening. Before Ann even sings a word, we are there with her: sitting by a window in Memphis, listening to the rain, each drop a reminder of how lonely we are.
In a business where people do a lot of talking and more than talking—a lot of bragging—I have distinguished myself by my ability to listen. Like most musicians, I live a very nocturnal life. Once I heard late-night talk show host Larry King say, "I remind myself each morning. Nothing I say this day will teach me anything. So if I'm going to learn, I must do it by listening." I listen to the artists: who they've been, who they hope to be, how they've lived, and how it comes out in their music.
I listen to the way people talk—in the club on Saturday night and in the church on Sunday morning, in the elevator of big office buildings and in the line at food trucks when it's lunchtime on a busy summer afternoon.
But perhaps most importantly, I listen to the world around me: the music that begins when the sun rises and the rhythms that don't make themselves known until after dark. Anyone who has argued with someone they love knows the limits of language: twenty-six letters in the alphabet and you can only rearrange them in so many ways. But sound is infinite and anyone who has ever been soothed by a bar of music, felt their heart leap when a pianist plays a dozen notes, felt themselves smile at a guitar riff or tapped along to a drumbeat knows that there is a direct line between the acoustic universe and our hearts, a line that bypasses the brain and transmits truth, wisdom and meaning. The catalog of sound in my brain is my own creative Fort Knox. Each beat, each riff, each raindrop, each moan, each gurgle is priceless—a painter's palette of possibility, a fortune beyond measure.
Excerpted from the book THE EMPEROR OF SOUND by Timbaland. Copyright © 2015 by Timbaland. Reprinted with permission of Amistad.
Guest
This segment aired on November 17, 2015.