EmiSunshine: A Country Music Star At Age 11
11:16
Play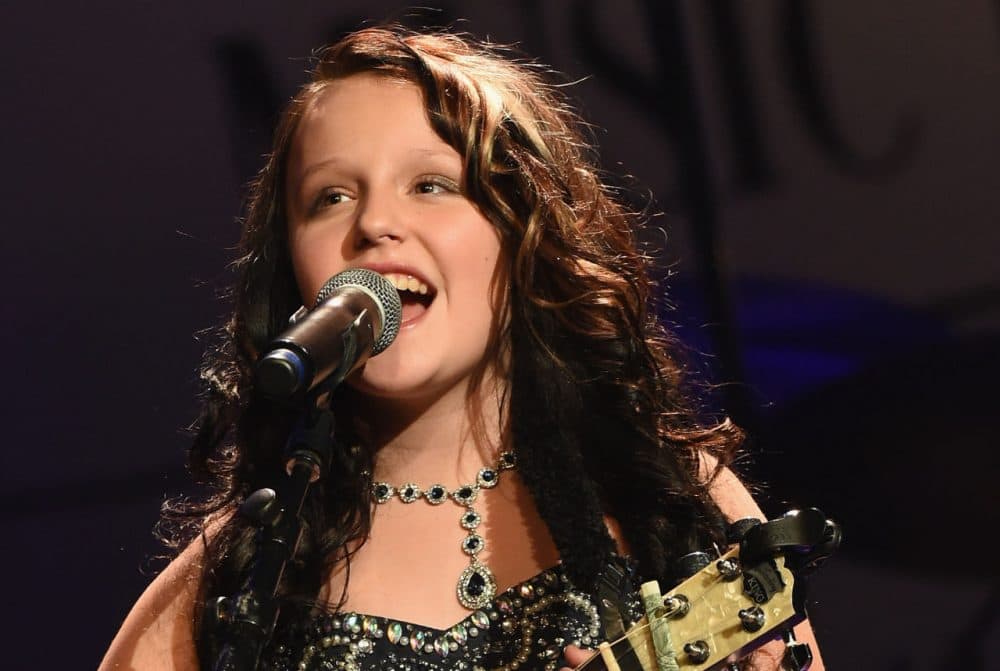 This article is more than 4 years old.
A musician turning heads in Tennessee's country music scene is just 11 years old. EmiSunshine showed interest in music by the time she was 4, and her family now tours full time with her.
Her band includes her dad on bass, her brother on mandolin and her uncle on drums, and her mom co-writes her songs. Here & Now's Jeremy Hobson speaks with EmiSunshine, or Emily Sunshine Hamilton, about her music and what it's like to be a kid on tour. EmiSunshine also performs three songs.
Interview Highlights: EmiSunshine
On her song "Mama's Girl"
"My mom lost her mama a few years ago and I think it's more about my grandmother. My mom used to love to go hear her songs and hear her write songs really and I think that's one of the reasons she started writing too."
On having an old soul
"My songs that I write – I write these songs about how people die, and how people get sick and I write all about this kind of stuff. And it's always just come naturally to write that kind of music."
On calling herself EmiSunshine
"My mom was gonna name me Maggie, but she decided to call me Emily Sunshine Hamilton. When I was little, I couldn't say Emily, so I just started calling myself Emi."
How did you get started?
"That is a long story. My mom's always written for all of her life. But my dad, his mom – well she was a singer in a gospel group. So I've had a lot of musical history."
Are you worried that there might be pressure to change your sound?
"Well actually I'm not going to change my sound at all. I don't want to change to anything pop-country or anything like that... Because it's not who I am. I just don't feel like the music is really – it ain't real anymore to me at all."
What do you want to do next?
"I told my mom I want to go to China. I just like to go to different places. It's a lot of fun to go places you've never been before. They have a big country music festival there too."
What do you want to make sure that people hear in your music?
"What I want to make sure they're hearing in it is the story of it, just like the Porter Wagner Blue Song. That was a story song and I really love that song. I want my story songs to be heard. I don't want them to be just my voice, you know?"
Songs In This Segment
EmiSunshine, "Mama's Girl"
EmiSunshine, "Porter Wagoner Blue"
EmiSunshine, "Black Sunday '35"
Guest
This segment aired on November 30, 2015.