Bill Clinton's Past Infidelity And What It Means For Hillary's Campaign
09:45
Play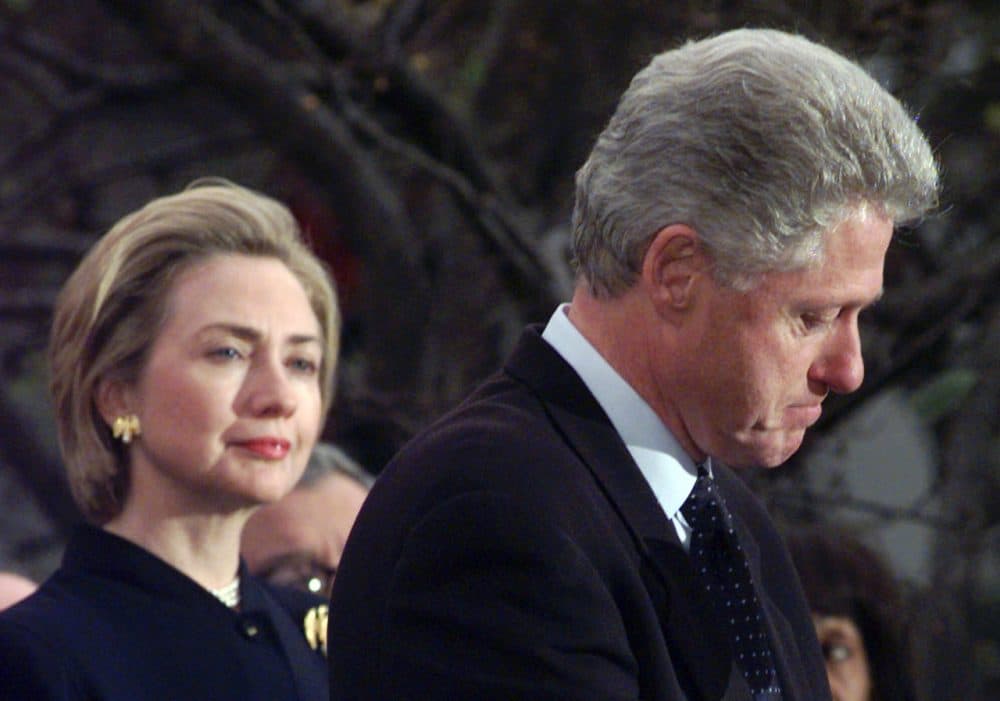 This article is more than 5 years old.
Republican presidential candidate Donald Trump has warned that Democratic Party rival Hillary Clinton should not play "the woman's card" against him because of Bill Clinton's "terrible record of women abuse."
Longtime Clinton watcher John Harris reaches "way back into the attic" to give Here & Now a primer on Bill Clinton's marital infidelities.
Harris also talks with host Robin Young about what Hillary Clinton's response was, and how it might all shake out in the presidential election this year.
Interview Highlights: John Harris
Were there ever any charges brought by the women who claimed they were sexually assaulted by President Clinton?
"What I would say, with Bill Clinton and extra-marital relationships, is that there are two sets of people. There are people with whom he has acknowledged consensual affairs - there is no dispute about that. Then there is this other set that we are talking about, women who have, very publicly and on the record, leveled accusations. But Bill Clinton has never acknowledged these to be true, he's always maintained that these are false, and there's never been an adjudication, trial or hearing that has confirmed these claims to be true or false."
He did settle a suit with Paula Jones?
"Yes he did. But in doing so, he did not acknowledge that her claim of an unwanted sexual advance when he was governor of Arkansas in 1993 was true."
What about the claim that Hillary Clinton, and other feminists at the time, savagely turned on the women making these claims?
"It was perceived that these claims were part of an ideological war; that it was impossible to remove them from politics and the fact that the people who were pushing these claims were being promoted and supported by people who had an agenda that was opposite of Bill Clinton's. The question that you raised was raised at the time: 'Is there not hypocrisy?' People that would ordinarily say that all women are entitled to a hearing, that more often than not these claims have truth to them. The benefit of the doubt was not given by Hillary Rodham Clinton, as first lady, and certainly not by Democratic women's groups. It seems to me, both then and now, that it is impossible to remove this question from the politics that swirl around it."
There was a lot at stake. There may have been a change in power if the claimants were able to make their case.
"I think the impeachment saga of 1998 and 1999 really put this into sharpest relief, that people were asked to decide 'which side are you on?' There wasn't, at the end of the day, a lot of room for nuance."
Does Hillary Clinton have to answer some questions regarding her stance during the affair accusations and her current campaign as a feminist icon?
"When you run for president, everything from the age of 18, when you become an adult, up until the present time is fair game and is going to be ventilated. Personally, as someone who covered the Clintons in the 1990s and saw how the nation reacted at that time to this whole set of allegations, I would be surprised if people were learning fundamentally new things about Hillary Clinton's character and judgement. Maybe they'll be reminded of old things, but not fundamentally learning new things. So is it illegitimate to raise these questions? I don't see how it's illegitimate to raise almost any of question in the context of selecting a commander-in-chief. Is it of fundamental relevance? That's not up to you or I to decide. It's up to voters to decide. All I'll say is usually when the public has had a chance to deliberate on these things, they ultimately come down on the side of 'this is uncomfortable, I don't like this kind of behavior, but it's not going to be the basis on which I make my decision on who to vote for.'"
This is a different time, and these events that occurred in the past are being looked at in the context of today. It's a 'post-Cosby era,' as critics are saying.
"In general when it comes to sexual mores, our society has become a lot more tolerant. Gay marriage was a far-fetched idea during Bill Clinton's presidency, and now it's been popularly accepted. We are more tolerant of certain types of sexual behavior and the notion of sexual diversity, but perhaps less tolerant of the notion of sexual hypocrisy and certainly much less tolerant as a society of anything that has a whiff of sexual violence or sexual abuse. So yes, we're having an old debate in new circumstances. Let's see how it plays out."
Guest
This segment aired on January 14, 2016.