Behind The Scenes At 'Hamilton' On Broadway
Resume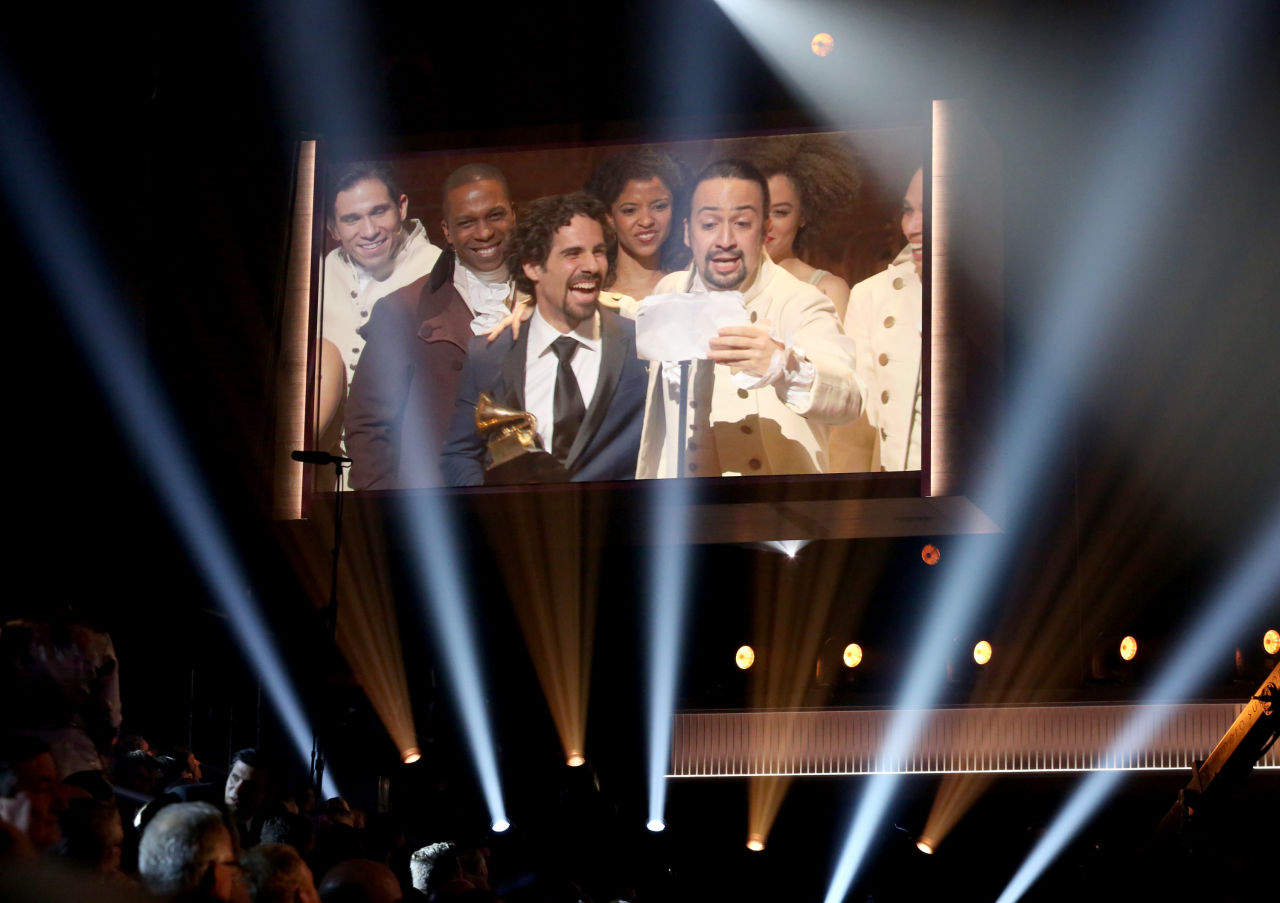 "Hamilton" is the biggest musical to hit Broadway in years. Tickets are sold out for years and scalpers are charging hundreds of dollars to eager buyers.
The show, whose score tells the story of Alexander Hamilton and Aaron Burr through rap and hip-hop, won a Grammy Monday night, shortly after its cast performed live during the event on CBS.
Here & Now 's Karyn Miller-Medzon went behind the scenes of "Hamilton" as the cast prepared for its Grammys performance. During breaks in the rehearsal, she speaks with Lin-Manuel Miranda, who wrote the play and the the score, and stars as Alexander Hamilton.
Interview Highlights: Lin-Manuel Miranda
You're just a few hours from your first televised performance, it happens to be at the Grammys and there are going to be 30 million people watching. Best night ever?
"Yeah, and what's really exciting is the home court advantage of getting to do our show where we do our show every night. So we're performing the opening number from our musical and there's no re-spacing for a different stage or a differently sized audience. We're doing what we do and that's really exciting and that never happens so we're really grateful to the people at the Grammys for making this happen."
The other performers are Kendrick Lamar, The Weeknd, Lady Gaga. How does your music fit into that mix?
"Well, it's music. I'm fan of all those people actually so that's a really lovely list to be in. But it's been an amazing year in music, I've listened to all the albums of those artists you just listed, so it's wonderful that musical theater is being invited to the cool kids' table."
Hip-hop isn't the standard Broadway music. And you've incorporated this nearly all-minority cast rapping, hip-hopping. This is about guys who wore powdered wigs. They wrote the federalist papers. How does it work, why does it work?
"The casting is not 'minority.' Your piece is going to be dated in about five years when we're the majority. So you might want to say 'people of color.' But the score is really a hip-hop and R&B influenced score. Our cast reflects that genre of music. Tommy Kail our director was very smart; he wanted to eliminate any distance between Alexander Hamilton's story and the contemporary audience. And I think our casting and our music all help to eliminate that distance. You see them as flawed, brilliant people and all of that helps with making the story speak to you directly today."
How does immigration figure into this show? What does it mean to you?
"On a certain level, Hamilton is the first proto-immigrant story. He is local boy, comes from Caribbean, works harder than everybody else, makes good. I think it's a very important reminder that the people who have helped build this country and make it what it is often have come from somewhere else. It's the renewable life source and blood source that makes this country great."
Are there lessons from the election of 1800 for voters of 2016? 
"Every election is a remix of the one before. It only feels contemporary because we've been fighting about the same thing for some 200 years. The election of 1800 was the first contemporary election. It was even more ugly, even more bitter than what we're seeing today. I know that sounds crazy, but 'twas ever thus. And that gives me hope as an American. It means we haven't fallen from grace. You had Adams and Jefferson calling each other hermaphrodite and one accusing the other of being dead and hoping news would travel quickly to win the election. It got dirty right away. It's always been a really elbow-throwing time every four years or so. So that gives me hope as an American because 'twas ever thus."
So you've re-imagined the founding fathers as people of color. The story is current, the music's current. But some of the people who are your target audience can't afford to come and see it. Does that make it less of a populist show?
"Well that's true of every theater show that exists. Part of the magic of theater is that people are in the room where it happens. And the simple laws of supply and demand have made this a tough ticket. My responsibility is honestly to try to get as many kids to the show as possible. That's always something that's been our mission statement. To that end, we've got 20,000 students coming through an amazing grant from the Rockefeller Foundation to dedicated Wednesday matinées over the course of this year. We are continuing that with our tour stops in Chicago and San Francisco when we launch those tours. I think with good luck and the way we've been selling, we're going to be around a while and that makes me happy."
How significant is it to you that it is such a popular show? The Oscars have been running with a hashtag, #OscarsSoWhite. But that doesn't seem true for the Grammys. What does that mean to you?
"First of all, I'm thrilled to be in a season so extraordinary and diverse as this one. 'On Your Feet!,' 'Allegiance,' 'Shuffle Along,' 'The Color Purple.' It's been an extraordinary year for diversity on Broadway. But that being said, it's all an accident of timing. Last year's Tonys were just as white as this year's Oscars are. It's three theater owners and 40-something theaters and that's all a combination of luck and what's ready and what's in the pipeline. So don't pat yourselves on the backs too hard, Broadway. It's all about what comes in a given year and I'm really excited we're part of this season."
Reporter
Karyn Miller-Medzon, producer for Here & Now. She tweets @KBMM.
This segment aired on February 16, 2016.