Man Accused Of Deliberately Driving Snowmobile Into Dog Teams
03:44
Play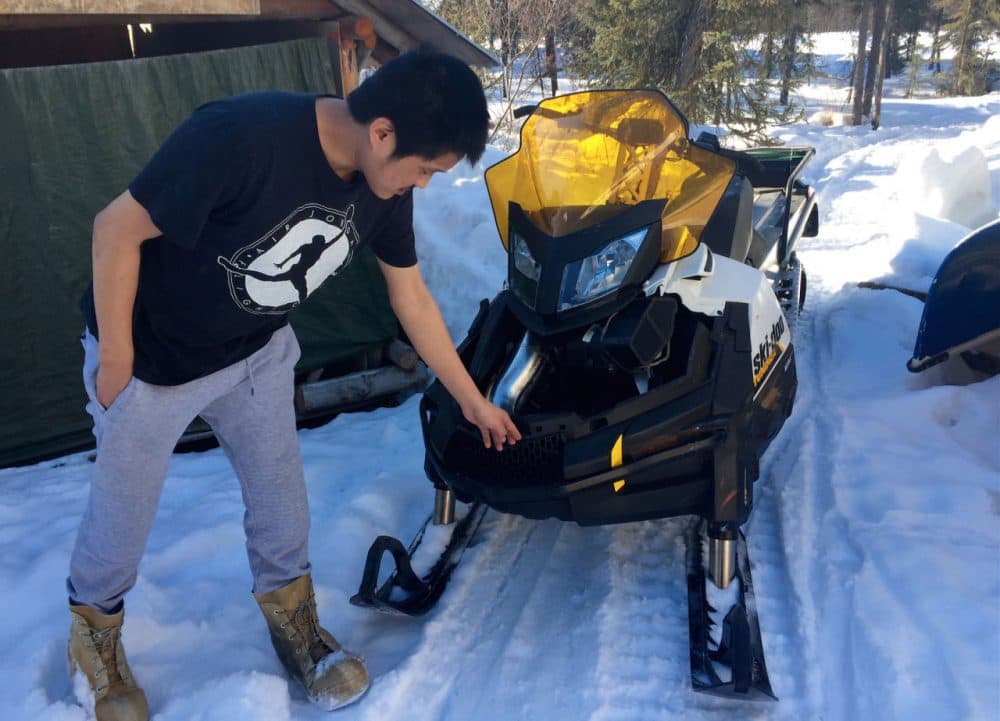 This article is more than 5 years old.
The Iditarod is still underway in Alaska, despite what police call a deliberate attack on the famous 1,000-mile sled dog race this past weekend. Police say 26-year-old Arnold Demoski deliberately drove his snowmobile into the teams of two veteran mushers, Aliy Zirkle and Jeff King, killing one sled dog and injuring two others.
Demoski claims he doesn't remember the crash because he was "blackout drunk." He told KTUU, an NBC affiliated television station in Anchorage, "I just want to say I'm sorry... I hope they can forgive me. I didn't mean it."
Alcohol is a big problem in the area, and the local Nulato Tribal Council put out a statement about the "complex behavioral health issues" that affect people there. Jen Seavey, a musher in Seward, Alaska, who is married to three-time Iditarod champion Dallas Seavey, talks with Here & Now's Robin Young about how the attack is affecting the race this year.
Interview Highlights: Jen Seavey
How is the mushing community doing following this incident?
"Well, I think that we were all deeply impacted. Everybody I think was right there with Aliy in feeling traumatized, and there with Jeff in his grief over the loss of his dog, Nash. The problem is that this is not the first time that it's happened, so it feels just a little bit like a broken record and I think that there's finally going to be some action taken to hopefully get to the root of the cause of this unfortunate type of incident that is just becoming all too common on the dog trails."
The police have claimed that this incident was deliberate, as does Jeff King. When you say 'get to the bottom of this,' what are we getting to the bottom of?
"Well, there's some very dark social issues that the residents of these villages have been struggling with for generations. People are stepping up and people are starting initiatives. There's at least a half dozen mushers racing in the Iditarod this year that are from these villages out here and that have grown up with this dysfunction and they're beginning to ask for a change, because really at the bottom of this situation is a substance abuse issue combined with probably some mental health issues."
On how the mushing community feels about Nash's death
"It is devastating, and as devastating to the mushers if something happens to a fellow musher's dog team, you know, our dogs are all related and we buy dogs back and forth and Dallas is racing with a Jeff King dog in his team right now, and we really just feel a responsibility for every dog on the trail, not just our own and when something like that happens, we're all just very grateful that, you know, as hard as it is to lose Nash, that Jeff is okay.
Guest
Jen Seavey, musher in Seward, Alaska, who is married to three-time Iditarod champion Dallas Seavey.
This segment aired on March 14, 2016.