Ohio Senator Sherrod Brown On Panama Papers, Possible VP Nod
08:04
Play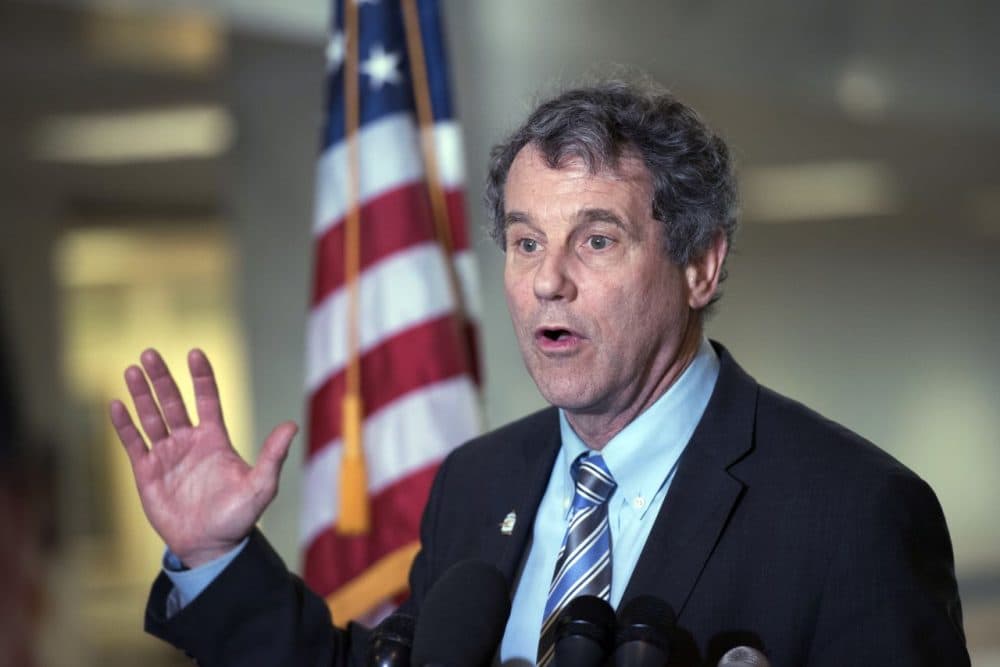 This article is more than 5 years old.
U.S. Senator Sherrod Brown of Ohio has issued a letter along with fellow Democrat, Senator Elizabeth Warren of Massachusetts, asking that the Treasury Department launch its own investigation into the Panama Papers.
Here & Now's Robin Young speaks Brown about why more investigation is needed. She also asks him to weigh in on the presidential race and say whether he'd consider being vice president.
Interview Highlights: Sherrod Brown
President Obama has spoken about the Panama Papers and then there's the Justice Department review. Isn't that enough?
"It's never enough. We've asked Treasury to gets serious about this investigation. I think they are, and I think they will be. I think that the American public is already skeptical of international finance and U.S. banks' role in international finance. I think Americans are skeptical and want answers about offshore tax havens and safe havens in the United States, and this is all related to each other, if you will. And what individual Americans, what wealthy Americans, what leaders in our country - I don't necessarily mean elected officials, but what leaders in our country have been part of this, if they have, and what is the role of American financial institutions, especially when we're focused so directly on when what's happening with Iran and sanctions and doing that right, so we know what American companies are doing internationally."
People say part of the reason more American names aren't on these documents is because they can use English-speaking places like the Cayman Islands, or states like Delaware. Are you working to change the laws that allow people to do this? 
"Unfortunately we're a federal system, where states like Delaware, Wyoming and Nevada have been the ones that have engaged, if you will, in the most secrecy. These states are on their own in many ways to do what they want to do with corporate governance, but there are things that we can do legislatively, there are things we can do to, at some point, override some of these rules to make sure that the people who are playing in this international financial structure have to disclose where the money comes from, what companies are behind this. I think we'll learn some things. That's the reason for the letter that Senator Warren and I are sending, that's the reason that, I think, the president is so interested in this investigation."
On Bernie Sanders' comments on Hillary Clinton's support of the trade deal with Panama
"Full disclosure, I support Secretary Clinton. I've also worked with Senator Sanders on a whole host of trade agreements, I've joined him in opposition to them. The Panama trade agreement, which I again opposed, likely has nothing to do with this. This is an issue where this could have happened in Panama, we know that in the Unites States we're one of the world's largest secrecy havens partly because of what states like Wyoming and Nevada and Delaware are able to do by falling far short of disclosure on financial transactions there. But the Panama Papers, I think, show fundamentally that some of the world's richest people and some of the world's institutions that might back them up have been hiding information. We will get to the bottom of it, that's the whole point of our letter. That's the whole point of the, we hope, Treasury investigation."
Why have you endorsed Hillary Clinton despite your support of Sanders and agreement on a lot of his points?
"I think they're both good progressives. I think that Hillary will know how to get things done. I trust Hillary Clinton on what she is discussing in her plans, in her proposals on trade and on Wall Street reform. As the senior Democrat on the Banking Committee, I take a backseat to nobody in applauding the regulators when they are doing the right things, as they recently did with FDIC and the Fed, and in criticizing those regulators when they're not tough enough. I think that Secretary Clinton's proposals, which I had input on with her staff, I think that her proposals will make Wall Street way more accountable than they have been in the past."
Some say you should be the presidential candidate, others say you could be Clinton's vice president.
"If you want to be VP, I guess you want to be president. I look in the mirror and I don't see a president of the United States. My wife says, 'can you imagine living with somebody that wants to be leader of the free world?' I love what I'm doing now, I want to keep fighting on these Wall Street issues. I want to keep fighting on trade agreements, and for people in Ohio, in my hometown of Cleveland, and all over our state. This is where I work best and I am privileged to have this job. As a senator from Vermont once said, if you want to be president, the senator 50 years ago said, the only cure for the presidential virus in the U.S. Senate is embalming fluid... that was not Bernie Sanders, that was Senator Aiken, a Republican from Vermont, 50 years ago."
Guest
This segment aired on April 14, 2016.