'Lemonade' Hailed As Beyoncé's Most Important Release Yet
03:43
Play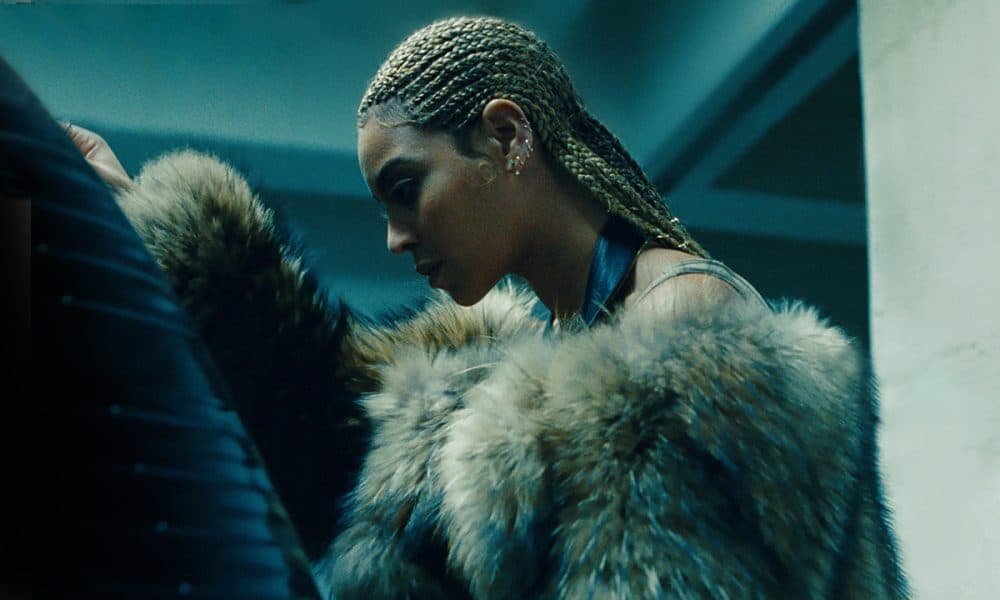 This article is more than 5 years old.
The release this weekend of Beyonce's sixth studio album, "Lemonade," and accompanying hour-long movie - which is as much a part of the release as the audio album - is being hailed by reviewers as her most accomplished work yet.
The album has been called complicated, eclectic, powerful and edgy, and boasts an impressive list of collaborators, including Kendrick Lamar, The Weeknd and Diplo.
The musical styles in "Lemonade" are also diverse, spanning pop, blues and even a foray into country. As for themes, Beyonce's new work touches on faith, black identity, sisterhood, marital fidelity and more.
The album was available exclusively through Tidal over the weekend, but begins a broader release Monday on iTunes. Tidal is her husband Jay Z's subscription-based music streaming service.
Here & Now's Meghna Chakrabarti talks with Danielle Belton, associate editor of The Root. She also pens the award-winning blog, "The Black Snob."
Interview Highlights: Danielle Belton
First impressions of 'Lemonade'?
"I thought it was really beautiful. It was poignant in so many different ways and it showed her continued growth as an artist and her continued maturity that she kind of set off with the previous album, with the 'Beyoncé' album."
Many believed that the album would focus on her relationship with Jay Z, but it's about so much more than that.
"Exactly, there's so many things going on in 'Lemonade' to unpack. It's everything from a celebration of black womanhood but it's also about a very personal journey through denial, anger, hurt and it also encapsulates some of these cycles of womanhood like using the poetry of Warsan Shire, where she talks about childbirth and pain."
What is uniquely important about how and why Beyoncé talks about black womanhood?
"It's really important because a lot of times, artists are kind of afraid to get political in that way, and Beyoncé has shown that she is not afraid to do that. She is not afraid to fully embrace her blackness with two open arms and the fact that she quotes Malcolm X talking about how black women are often neglected and forgotten about and she's uplifting them and putting them on this pedestal."
She hits a lot of genres in this album.
"I think she's just ready to explore this other side of herself. She's conquered R&B, she's done that, and she's conquered pop music, she's done that, and she wants to show her versatility as an artist."
On the video that accompanied the album
"I was blown away. The mixture of the poetry, the mixture of the different songs and her just highlighting the different stages that she went through of self-discovery revolving around a – it's implied that it's about her marriage, or you could say it's about her relationship with her father, or you could say it's all of those things, and it's all set to this Southern Gothic beautiful setting that hearkens back to her Louisiana routes."
The world recently lost Prince. Would you say that Beyoncé is held in a similar light, relating to her influence on the music genre and her impact on social issues?
"I mean, Beyoncé was greatly influenced by Prince and Prince really enjoyed Beyoncé's music. Beyoncé is one of the few artists that can really command national attention in the same way that a Prince or a Michael Jackson or a Whitney Houston once did, and so she owes a lot to those artists."
Guest
This segment aired on April 25, 2016.