Penn. Governor Backs Hillary Clinton, But Doesn't Share Views On Trade
Play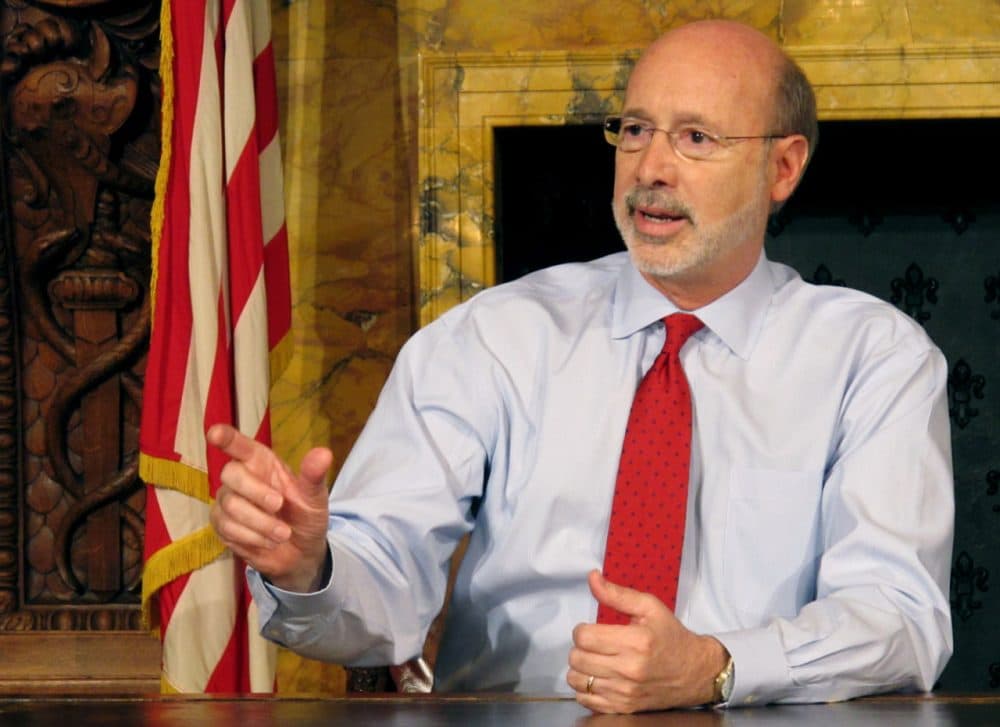 This article is more than 6 years old.
On primary election day in Pennsylvania, Here & Now's Jeremy Hobson sits down with the state's Democratic governor, Tom Wolf. He backs Hillary Clinton, but the two don't agree on trade policy. Wolf is in favor of the Trans-Pacific Partnership deal with 12 Pacific Rim countries. Clinton is against it.
Interview Highlights: Tom Wolf
Is there any way Hillary Clinton is not the Democratic nominee?
"No. I think her victory in New York was tremendous and I think she is going to be the nominee. I think that's going to be a great thing for the party and for the United States."
Should Bernie Sanders stay in the race all the way?
"I think he has brought a lot of really good ideas to the campaign. I believe that what Hillary said last Tuesday in New York is right. It's time for us to come together and think more about what unites us rather than what divides us."
So, should Sanders get out and rally behind Clinton?
"Well, I think he has to do what he decides to do, but it would be a wonderful thing for the party to say to Secretary Clinton: 'I'm with you.'"
Both candidates have come out against the Trans-Pacific Partnership. Where do you come down on the TPP?
"I'm generally in favor of open trade and I think that's a good thing for an economy, but what the TPP gives the president the ability to do is to make sure that we're not being treated unfairly. I support the bill in the hands of the right president, and I think we have that president right now. I think Hillary would be the right president to make sure that the interests of working Pennsylvanians are regarded."
So you are in favor of the TPP even though Clinton is opposed to it?
"Yeah, and I think she's against it because, in its worst form, creating an open trading relationship with countries outside the U.S., if that's not done right, if they aren't paying due regard to workers' rights and the environment, we have problems."
What do you think are the biggest issues this year for Pennsylvania?
"I think, in Pennsylvania, there are a couple of things. First of all, I think the votes for people like Donald Trump and others are in some way protest votes. It's a disaffection with the American political system. I think the other thing is that there is a lot of unfairness out there and that unfairness I think manifests itself sometimes in some bad politics, but also some bad economic results. ... I think in Pennsylvania, like the rest of the country, we need to work on making our government work better and we need to work on making our economy have the opportunities that it should have for many people. So, fairness is a big issue."
Guest
This segment aired on April 26, 2016.