How American Pharoah Raced Into History
09:41
Play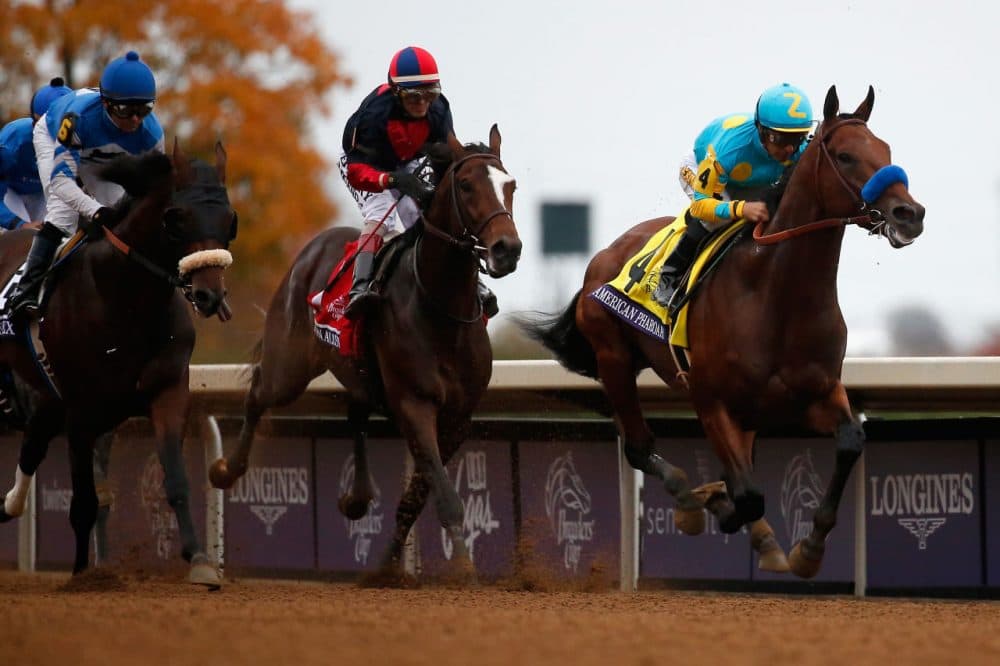 This article is more than 5 years old.
Last year, American Pharoah, the thoroughbred with the misspelled name, thrilled the world with his run to horse racing's Triple Crown, winning the Kentucky Derby, the Preakness and the Belmont. It was the first time that feat had been accomplished  in 37 years. As Derby weekend kicks off, Here & Now's Robin Young talks to Joe Drape, author of a new book that documents how Pharoah developed, through a combination of his bloodlines and the people who worked with him.
Book Excerpt: 'American Pharoah: The Untold Story Of The Triple Crown Winner's Legendary Rise.'
By Joe Drape
From Chapter Twelve: The First Saturday in May
Pages 169—171
May 2, 2015
"Horsemen, please bring your horses to the paddock for the eleventh race, the Kentucky Derby," came the announcement over a scratchy loudspeaker.
It was delivered in a monotone that failed to capture what those words meant to the dozens of owners and trainers sweating through their suits and beneath their floppy hats. They were about to walk their horses (all of whom they had spent hundreds of thousands, even millions, of dollars on) a quarter mile to the racetrack and perhaps into the record books.
As the Zayats left the barn area, Frances and Joe trailed behind them as they passed through a gauntlet of noisy well-wishers lined up five deep before the gap on the backstretch. They stood in the beds of pickup trucks and cheered them on as they took their first steps onto the racetrack. Frances was honored to be asked to make "the Walk," as it was known, an exhilarating experience for a horseman, second only to winning the Derby itself. It meant you had bred or bought, you had raised or trained, a horse worthy of the sport's grandest stage. It was like being asked to perform at the Grand Ole Opry if you are a country music artist.
Her first steps on the track were wobbly because ahead of them was a never ending line of human bodies—more than 170,000 of them—erecting a wall of sound from deep within their lungs. To the right, the infield was packed with more than 50,000 people and was a rowdy city unto itself, kids mostly, more concerned with the mint juleps than fancy hats. The roar began there and rippled through the grandstands and was sustained as one horse and its entourage after another began the promenade clockwise around the track's first turn, to the stretch, and through a tunnel into the paddock. Frances blinked back tears and took in the kaleidoscope of smudged pastels that rendered Churchill Downs and its twin spires something out of a Monet painting.
"This is surreal," she said.
The Zayats flanked American Pharoah. Paul Shanahan and some of the Coolmore lads were in their wake, hoping that the colt was going to win and increase the value of the stallion rights it now owned. Baffert stayed close by his side, a bodyguard daring anyone to get too close. He had traded the cotton balls for the soft, cotton earplugs that show horses often wore. Still American Pharoah was hearing and seeing too much. He was the favorite, the superhorse, and the ovation that he was receiving was deafening. Fans were crushed against the rail with their cell phones, and television camera crews weaved on the racetrack between horses.
American Pharoah fought his groom, Eduardo Luna, for the entire walk, tossing his head, balking, and skittering. He was agitated, working himself into a lather. Baffert did not like what he saw and was getting agitated himself.
He felt like he was walking his horse through Times Square at midnight on New Year's Eve with people yelling and screaming and running next to him.
When they finally arrived in the paddock, American Pharoah was doused with water to soothe and cool him off. Baffert kept him in his stall to unwind. Every other horse was limbering up, circling a postage stamp–sized opening of paddock that was overflowing with people. Baffert backed everyone but Zayat away from the colt. He needed to get him quieted down.
By the time Espinoza showed up in the paddock, the colt was cooling off and Baffert was distracted. The night before, Baffert had given his rider some instructions via text.
"Just send it," he told him. "I don't care. Just go to the front." Now in the paddock, Baffert was not so sure. "Just do whatever you want," he told Espinoza.
In the jockeys' room, Espinoza had planned to do that anyway. He'd put on his silks ninety minutes earlier, set the alarm on his watch, and tried to lie down for a nap like he often did. Stevens, who was sharing a locker with him, smiled, thinking his friend really, really didn't give a shit. Espinoza, however, did not take a nap. He ran the race through his mind. He decided to ride American Pharoah like he was the best horse in the race. In Arkansas, the colt showed that he could wait behind other horses. Espinoza was intent on breaking cleanly. Then he would take whatever the rest of the field gave him. As spectacular a racehorse as American Pharoah had been so far in his career, Espinoza still did not believe that he had seen his true talent.
"I really haven't had a chance to push him, to see what he's really got," he had said before the race. "I know I ride him, but right now, I'm like everybody else. I don't know how good he is."
When Baffert saw Stevens in the paddock, he gave Espinoza a nudge. "Gary's got his game face on," he said.
Both trainer and jockey knew that Stevens's horse, Firing Line, was a dangerous contender. In fact, he told both Espinoza and Mar- tin Garcia that the colt was sitting on a big race.
"It's going to be you guys and Gary Stevens," he told his riders.
Excerpted from the book "AMERICAN PHAROAH: The Untold Story of the Triple Crown Winner's Legendary Rise" (Hachette Books, April 26, 2016)
Guest
This segment aired on May 6, 2016.