New Drug-Resistant Bacteria Seen In U.S. For The First Time
04:46
Play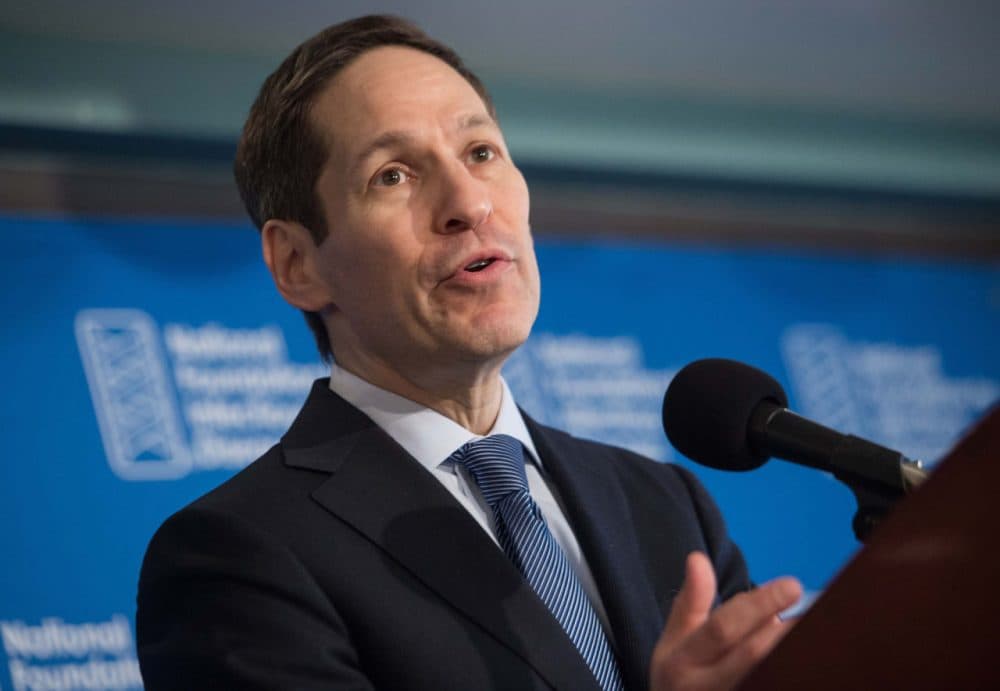 This article is more than 5 years old.
A drug-resistant strain of E.coli bacteria has been found for the first time in the United States.
The bacteria was discovered when a 49-year-old Pennsylvania woman showed up at a local clinic seeking treatment for a urinary tract infection. Samples of the bacteria were sent to Walter Reed National Military Medical Center for testing, where it was confirmed that the E. coli carried a resistance gene known as Mcr-1.
The same bacteria has been found in China and parts of Europe. Centers for Disease Control Director Tom Frieden expressed concern about the infection, saying it shows that we're close to the "end of the road" for antibiotics.
Dr. Barun Mathema at Columbia University's Mailman School of Public Health joins Here & Now's Meghna Chakrabarti to discuss the new bacteria's significance.
Interview Highlights: Dr. Barun Mathema
What do we know about the particular strain of bacteria that this woman was infected with?
This particular species of bacteria is called E. coli. E. coli are quite common bacteria that reside in our gut but then can cause various kinds of infections, most commonly urinary tract infections, which is what I believe this individual had and was diagnosed with.
And usually E. coli can be treated by a variety of antibiotics, right?

Yes, there's a whole menu option of antibiotics available to treat E. coli. When I say that, I say that with a caveat, as long as that bacteria is susceptible to those various antibiotics.
It was found out later that woman's bacteria was resistant to the particular antibiotic Colistin. Why is that significant?
Colistin is often used to treat difficult, gram-negative infections. E coli would fall into a class of bacteria called gram negative infections. And the reason this particular event was significant is that the genetic mechanism that confers resistance to Colistin is harbored on a plasmid. And a plasmid is essentially sort of a circular form of DNA that resides outside the main DNA of the organism.
One of the issues with plasmid mediated resistance is, one could call it promiscuity, sharing the goods, but in more technical language, horizontal gene transfer. The plasmid can horizontally transfer to another organism of E. coli, or other species that does not have that plasmid.
If this Colistin resistant bundle of genes were to get into another strain of bacteria or other species, then we could potentially have a superbug, right? Because there are pathogens that are resistant to everything but Colistin.
Exactly, therein lies the problem. There has already been reports from a number of different countries, a lot coming out of China at the moment, of what they call carbapenem resistant Enterobacteriaceae, or CREs. I think there was some misreporting initially about calling this particular infection a CRE. A CRE organism, an organism that is resistant to carbapenem, which is a very very effective antibiotic, to treat these highly resistant organisms, acquires this plasmid that has this Colistin, you've almost run out of options.
Guest
This segment aired on May 27, 2016.