Muhammad Ali's Poetry: Wit, Rhyme And Power
10:53
Play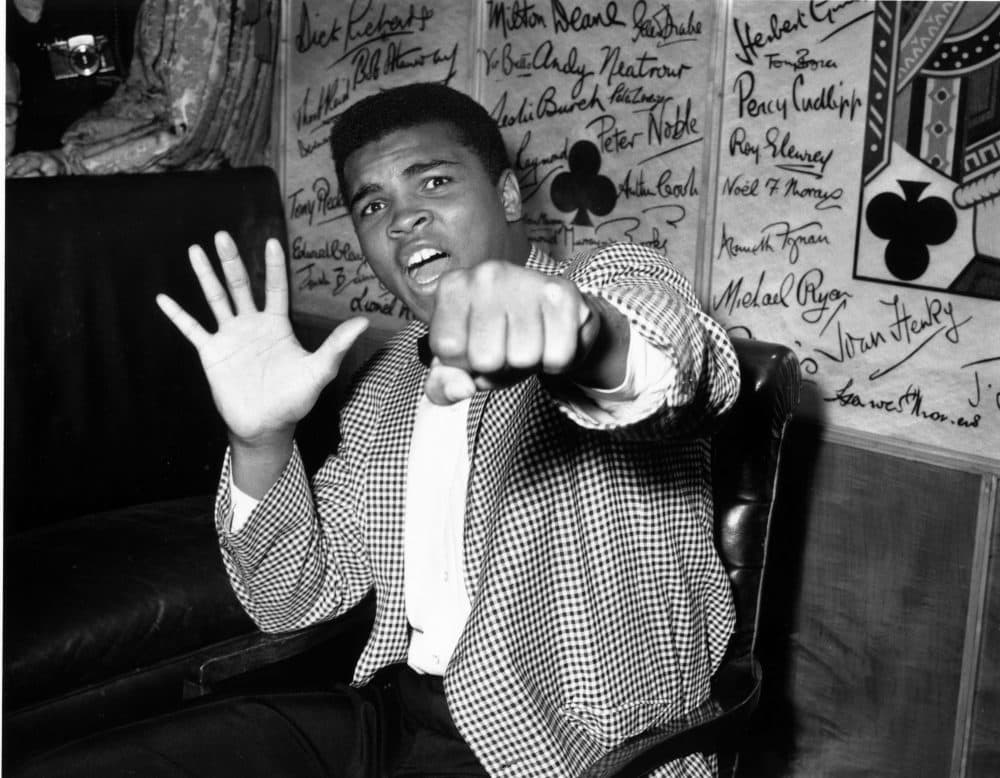 This article is more than 4 years old.
This week we've been remembering Muhammad Ali – the boxer, Muslim convert, political activist, friend. Today, we remember Muhammad Ali the poet.
There were the quick couplets he used to taunt his opponents, sometimes in the ring. There were the short poems he would recite during interviews – those were noteworthy for their witty rhymes and metaphors. And then there were powerful and moving tributes, like the one he recited in 1972, imagining himself as a black prisoner at the Attica Prison uprising.
Some say his poems were a precursor to rap, and most agree that his was a poetry of power. Joining Here & Now's Robin Young to talk about Ali's poetry are poets Sonia Sanchez and Adrian Matejka.
Hear more segments from our series remembering Muhammad Ali
Watch Muhammad Ali Performing His Poetry
Interview Highlights: Sonia Sanchez and Adrian Matejka
Adrian Matejka on how he now hears Muhammad Ali's words:
When I heard them, and continue to hear them, as this great example of how to create your own identity. It's asignifying, it's braggadocio. When he would say something like, "This kids got a left, this kids got a right, if he hits you once, you're out for the night." That kind of thing is just unbelievable to me, in terms of owning the space around you and owning your own image.
Adrian Matejka on Ali's rhyming skills:
Rhyme! Just over and over, these incredible rhymes. I'm trying to think of, I can't think of the exact line, but it's from that "Jack Paar" and he said something like, "Here I predict Mr. Liston's dismemberment. I'll hit him so hard; he'll wonder where October and November went." That kind of, off rhyme, that's where it starts to intersect with rap to me—to rhyme dismemberment and October and November went.
Sonia Sanchez on the poetry Ali inspired her to write:
I did discover a couple haikus that I had done, but two of them that I had done, I wrote "In your love for us, you abandon mirrors," because people would think that this man was always looking in mirrors, always trying to look for his reflection. But the reflection he always looked for was coming from people, if you understood what that said.
Sonia Sanchez recalling an experience with Ali:
I have twin sons and he'd get in the ring and tell them, "Ok come, come on, beat me up, beat me up!" These are like 2 ½ years old, they go and bang him, then he falls out and they stop on him and say we won, we won! This is the motion and beauty and poetry of this man. The poetry of his body as he fought, but the poetry of his humanity as he dealt with us and made us understand what it meant to be human. And when I think of him, I think of a John 14:27, which says, "Let not your hearts be troubled, neither let it be afraid." His heart was never afraid. He was never afraid of anything, that's why we loved him so very much.
Guests
Sonia Sanchez, former professor of English and women's studies at Temple University, prominent writer in the Black Arts Movement. She tweets @PoetSanchez.
Adrian Matejka, poet-in-residence at Indiana University and author of several books, including "Big Smoke," an anthology of poems about boxer Jack Johnson. He tweets @adrian_matejka.
This segment aired on June 10, 2016.