Bodies Removed After Orlando Nightclub Shooting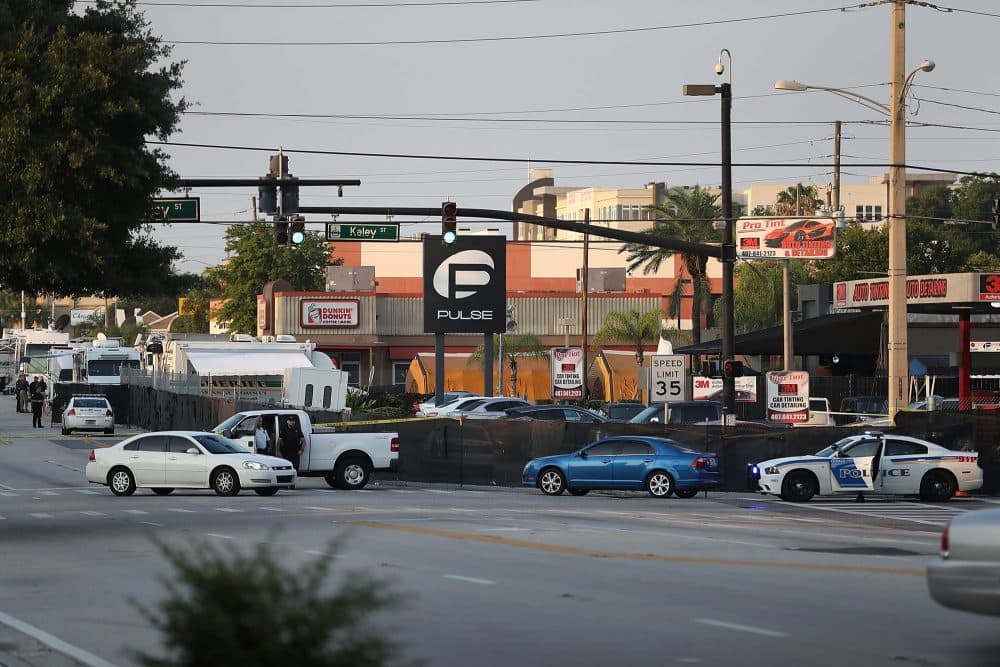 This article is more than 6 years old.
Here & Now is following the latest news on the Orlando nightclub shooting this week, with assistant managing editor Peter O'Dowd providing updates on the ground in Orlando.
Dozens of bodies were slowly removed overnight from a popular Orlando gay club after a gunman sprayed the helpless crowd with bullets in violence that killed 50 people and devastated a city famous for family-friendly theme parks.
When the attacker opened fire in the early hours of Sunday morning, it interrupted an evening of drinking, dancing and drag shows at a club known for tolerance for all people.
Authorities say suspect Omar Mateen emerged, carrying an AR-15 and fired relentlessly - 20 rounds, 40, then 50 and more. In such tight quarters, the bullets could hardly miss. He shot at police. He took hostages.
When the gunfire at the Pulse Orlando club finally stopped, 50 people were dead and dozens critically wounded in the deadliest mass shooting in modern U.S. history. Mateen, who authorities said had pledged allegiance to the Islamic State in a 911 around the time of the attack, died in a gun battle with SWAT team members.
"I've always felt so safe here for my family, kids. And now, I don't know," said Marlon Massey, who lives across the street from the club.
Authorities are wondering if it was an act of terrorism and are probing the background of Mateen, a 29-year-old American citizen from Fort Pierce, Florida, who had worked as a security guard. The gunman's father recalled that his son recently got angry when he saw two men kissing in Miami and said that might be related to the assault.