Orlando's LGBT Chamber Of Commerce On The Impact Of The Shootings
05:50
Play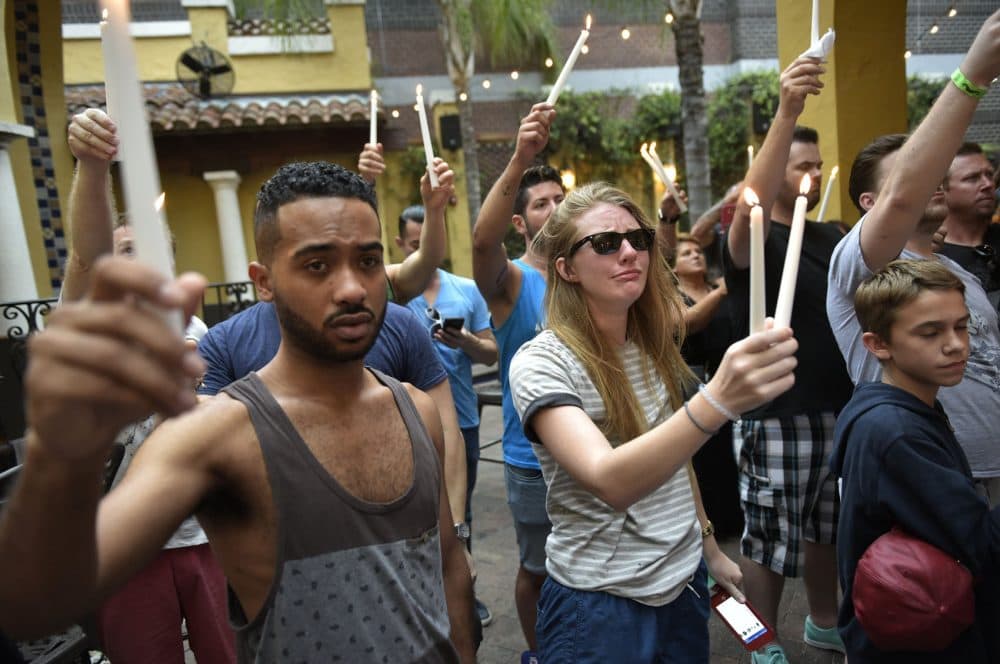 This article is more than 6 years old.
Fifty people were killed at the Pulse nightclub on Sunday morning, including the shooter. Here & Now's Robin Young speaks with Tammy Lally, treasurer of MBA Orlando, the city's LGBT chamber of commerce.
View all our coverage on the Orlando nightclub shooting.
Interview Highlights: Tammy Lally
On what Orlando's gay community is like:
The community here is extraordinary. It's a very tight knit group community. Probably one of the largest gay and lesbian chambers in the US. It's a wonderful city because you can be who you are because it's very accepting of diversity city-wide that attracts a lot of gays and lesbians to be in business.
On why Orlando is an attraction for the LGBT community:
The reason why Orlando is such an attraction for gay, lesbian, transgender and bisexual people is because the city of Orlando is completely open and accepting and supportive through Mayor Dyer and Commissioner Patty Sheehan.
On how people have been affected:
Yesterday my experience at the LGBT Center, predominantly the gay male community has been impacted greatly. And they all know each other. It's such a close community. There wasn't anybody there yesterday of hundreds of hundreds of people that came through the center that wasn't affected. And we do have members of our board that have lost very good friends. It's very close to home, it's in our backyard. We're a few blocks away from the pulse. And we're going to rise strong. As a gay community that's what we do, but as American citizens that's what we do.
On how people are doing:
Saddened. Shocked. Scared. So loving. I just totally fell in love with the gay community and the community at-large in Orlando yesterday. I spent the day at the Center, which is the gay and lesbian hub for Orlando. It was extraordinary, the outpouring. I think all of us are just in shock, right? We don't really know what's happened yet. I can say for myself, emotionally, we're a very small community. Everybody is heavy hearted and sad and banding together.
On what she anticipates these losses will feel like down the road:
We don't know. It's too early to understand the exact impact it's going to have on the community at large. We're staying very close in connection, just supporting each other in every way we can through mental health support, grief centers have been set up everywhere along the community. The mental health community here in central Florida is extraordinary. I put out a Facebook message that I needed grief counselors show up at the center, and 25 showed up in 30 minutes.
On whether the Pulse will reopen:
Absolutely. They will. I can't imagine they wouldn't and they shouldn't.
Guest
Tammy Lally, treasurer of Orlando's LGBT chamber of commerce.
This segment aired on June 13, 2016.