Celebrating The Strawberry With Resident Chef Kathy Gunst
Play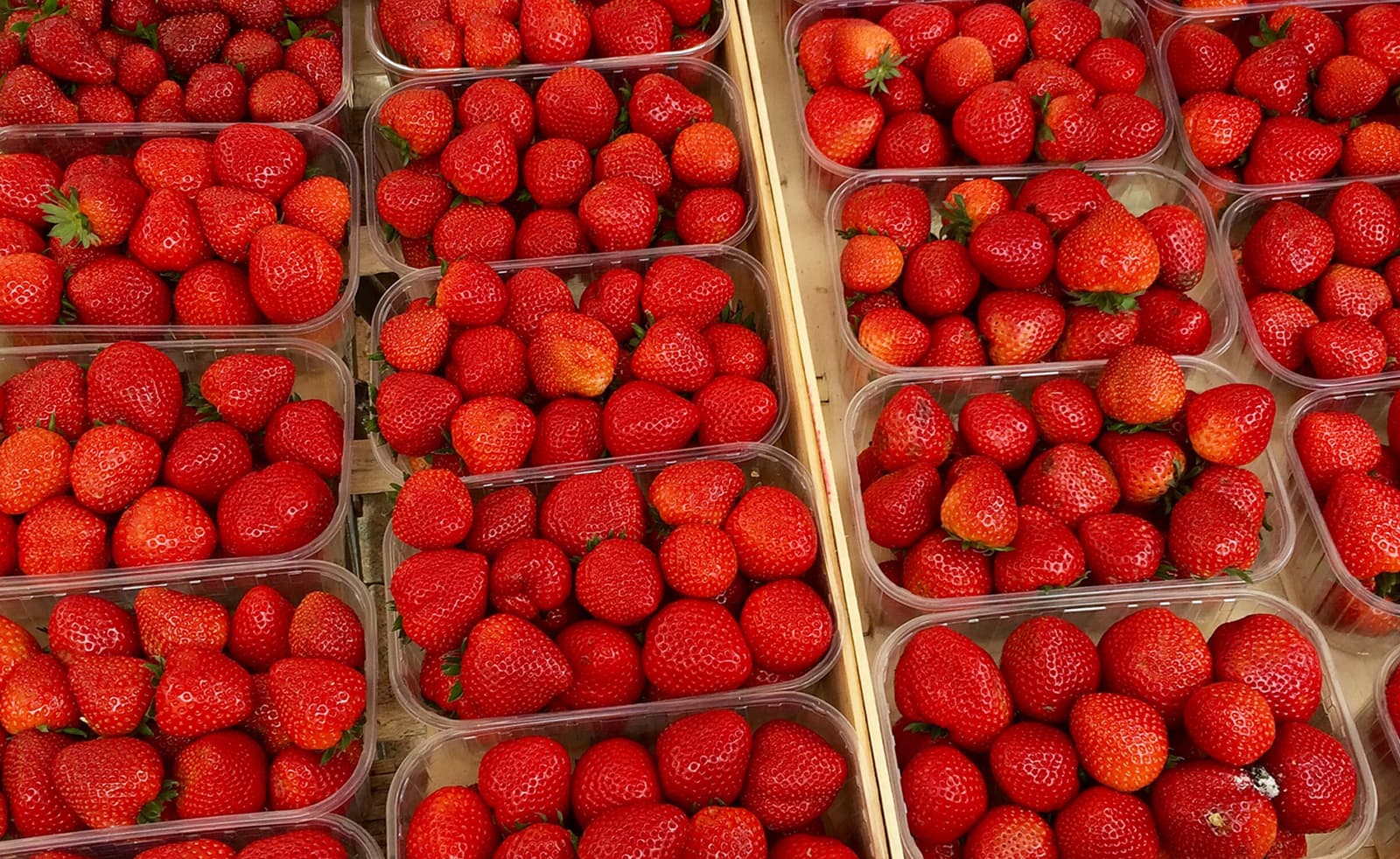 This article is more than 6 years old.
Inspired by a recent trip to France, Here & Now resident chef Kathy Gunst makes both sweet and savory dishes using strawberries, which are also in season in many parts of the United States.
Kathy brings Jeremy Hobson and Robin Young recipes for a shortcake, a salad with roasted strawberries and a simple dish that utilizes berries at the peak of their flavor.
Buttermilk Shortcakes with Strawberries, Vanilla Whipped Cream and Strawberry-Rhubarb Sauce
These flaky buttermilk biscuits are an adaptation of a recipe in "Heartlandia," by Adam and Jackie Sappington. They are cut in half and served with whipped vanilla-scented whipped cream, fresh berries and a strawberry-rhubarb sauce.
The biscuits need to sit in the freezer for at least 30 minutes or overnight, so plan your time accordingly.

The Biscuits
2 1/2 cups all purpose flour
1 2/3 cup cake flour
2 tablespoons baking powder
1 1/2 tablespoons sugar
1 teaspoon salt
1/2 teaspoon baking soda
2 sticks chilled salted butter, cut into small cubes
1 1/4 cups buttermilk (if you don't have buttermilk add 1 tablespoon lemon juice to 1 1/4 cups milk and let sit for 15 minutes)
The Strawberries, Whipped Cream and Strawberry Rhubarb Sauce
About 1 quart local, ripe strawberries, thinly sliced
About 1/4 cup sugar
1 cup heavy cream
1 teaspoon vanilla extract
Make the biscuits: in the bowl of a standing mixer fitted with the paddle attachment, or a large bowl with an electric mixer, mix the flour, cake flour, baking powder, sugar, salt and baking soda. Add the chilled butter and mix until the butter is quite small. Add the buttermilk and mix until the dough just begins to pull away from the sides of the bowl and become one ball of dough.
Working a well floured surface, mound the dough into a rectangular shape. Take the end furthest from you and fold it in on top of the dough. Turn the dough and repeat four times. Using a well floured rolling pin roll out the dough until it is 1-inch thick. Use a three-inch biscuit cutter or glass to cut out 10 biscuits; you may need to roll the scraps together to a thickness of 1 inch to get the full ten biscuits.
Place the biscuits on a cookie sheet, cover with foil or plastic wrap. Place in the freezer for at least 30 minutes or overnight. (The biscuits can stay frozen for up to four weeks.)
Preheat the oven to 425 degrees. Unwrap the still frozen biscuits and bake them on the middle shelf for 10 minutes. Reduce the oven temperature to 400 degrees and bake another 5 to 7 minutes, or until the biscuits are a golden brown.
Meanwhile, place the sliced strawberries in a bowl and sprinkle with 2 tablespoons of the sugar.
Whip the cream by hand with a whisk or in a mixer until soft peaks form. Add 2 tablespoons sugar and the vanilla. Whip until almost stiff.
To serve: cut the warm biscuits and fill with whipped cream, berries and some strawberry-rhubarb sauce. Serves 10.

Strawberry-Rhubarb Sauce
This simple sauce can be served with the buttermilk biscuits, or on top of pancakes, waffles, yogurt, toast or angle food cake.
1 1/2 cups rhubarb, cut into 1/2 inch pieces
1 cup strawberries, thinly sliced
1/3 cup sugar
1/4 cup water
Place the rhubarb, strawberries, sugar and water in a medium pot and bring to boil over high heat. Stir, simmer over low heat for about 15 minutes, or until thickened. Taste for sweetness. The sauce will keep covered an refrigerated for a few days.

Blue Strawbery's Strawberries with Brown Sugar and Sour Cream
The Blue Strawbery was a wonderful restaurant that began the restaurant revolution in Portsmouth, New Hampshire. Chef James Haller only served one dessert for all the years that the restaurant existed: ripe strawberries with brown sugar and thick sour cream.
1 quart ripe strawberries
1 cup sour cream
1/2 cup light brown sugar
Here's what you do: dip the berry into the sour cream and then the brown sugar. Pop it into your mouth. Good, huh?

Roasted Strawberry and Arugula Salad
Roasting strawberries brings out their natural sweetness and an almost buttery quality. They are a great counterpoint to spicy arugula greens, scallions and fresh basil leaves. Balsamic vinegar is reduced and tossed with olive oil. You can also top the salad with crumbled soft goat cheese or feta.
8 to 10 strawberries, depending on size
1 1/2 teaspoons sugar
4 tablespoons balsamic vinegar
2 1/2 packed cups arugula or other spicy greens
1 scallion, thinly sliced
2 tablespoons very thinly sliced basil
Salt and freshly ground black pepper
2 1/2 tablespoons olive oil
Preheat oven to 400 degrees. In a small ovenproof skillet, toss the berries with the sugar. Roast for 12 minutes. Reduce and let cool.
Meanwhile place the vinegar in a very small saucepan. Bring to boil over high heat, reduce to moderate and let simmer until thick enough to coat the back of a spoon. Be careful the vinegar doesn't burn. Remove and let cool.
Place the arugula in a bowl and top with the scallions and basil. Add the roasted strawberries and drizzle the reduced balsamic vinegar on top. Add the oil, season with salt and pepper and serve. Serves 2.
Guest
Kathy Gunst, resident chef for Here & Now and author of the upcoming book "Soup Swap." She is also the author of "Notes from a Maine Kitchen" and the video series "Simple Soups from Scratch." She tweets @mainecook and is on Instagram @kathygunst.
This segment aired on June 16, 2016.