Another South Pole Medical Rescue Mission Underway
06:08
Play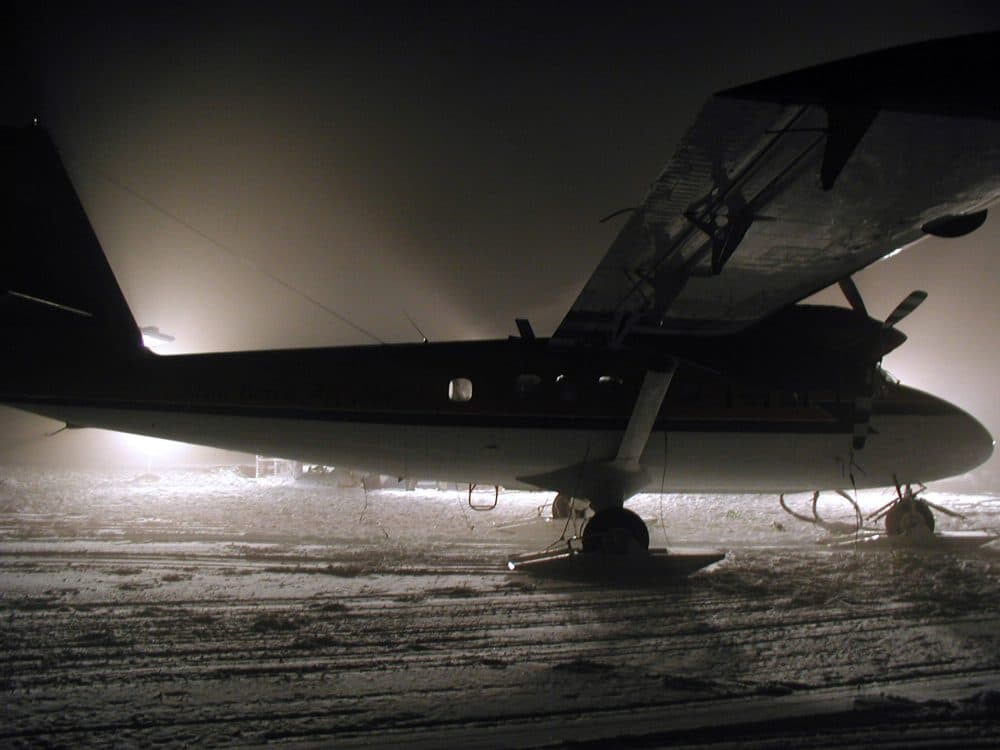 This article is more than 4 years old.
Two propeller-driven Twin Otter planes are on their way to the Amundsen-Scott South Pole Station in Antarctica to evacuate an ill member of the research station's winter crew. The evacuation effort is very uncommon and has many challenges, given the extreme Antarctic winter conditions.  The mission began in Calgary, Alberta, Canada, made a stop in Chile, and is now at the British research station Rothera on the Antarctic Peninsula, waiting for clearance to leave. The journey has 1,500 miles to go. Here & Now's Robin Young speaks to Kelly Falkner of the National Science Foundation, about what the mission entails.
Find information on NSF's South Pole evacuation.
Find information on NSF's Polar Programs.
Interview Highlights: Kelly Falkner
On getting to the South Pole:
At this time of year it's pretty difficult to get to the South Pole. You've got 24 hours of darkness and it's extremely cold, and you do have weather systems moving through. So there are only a few aircraft in the world that can actually conduct this mission, so we have hired Twin Otter Aircraft, they're operated out of Canada, and they've made their way down through South America. In fact, just this morning, early, they took off from Punta Arenas in South America in Chile to go to the British Antarctic Survey Station, Rothera. And from there, one of the planes will go to the South Pole to conduct the rescue.
What's the chain of events when someone gets sick?
First of all, we hope that people don't develop such illnesses, and we put them through a pretty rigorous health screening, but you can't predict everything. What we have in place at the South Pole is a small clinic, we have a physician who is there through the winter, and a physicians assistant as well. They have the capability of talking to medical expertise, stateside here, so for us that's the University of Texas Medical Branch, and they have access to a full staff of all kinds of expertise.
When someone gets sick they'll go to the clinic, and the doctor there will tend to them. Depending on the situation we'll consult with other experts and treat to the extent they're capable of treating there. If they get to the point where it's a very serious situation we'll be called in. We have our own chief medical officer on staff who will evaluate the situation with us, and we re-consult of course, and then we have decisions to make.
Do you worry that you might be overreacting to this situation, and maybe putting the pilots and sick person in jeopardy?
I want to say each case presents its own dynamics. And with respect to this history of this, we've actually had two other cases where we've gone in with the Twin Otter to take care of medical situations one in 2001, one in 2003. In each case there are a lot of consultations with medical experts and other experts, so we have to make a decision based on that, and I can't comment any further because each case has privacy concerns.
On the work scientists in the South Pole are doing:
We support very unique science at the South Pole station. We have a range of activities going on that include everything from long-term monitoring of the atmosphere to state of the art telescopes that are looking at elements of the origin and nature of our universe. We have the world's unique neutrino detector there, and many other activities going on.
Guest
Kelly Falkner, division director of Polar Programs at the National Science Foundation. The organization tweets @NSF.
This segment aired on June 20, 2016.