'Doonesbury' Comic Strip Author Garry Trudeau Publishes 30 Years Of Trump Satire
11:02
Play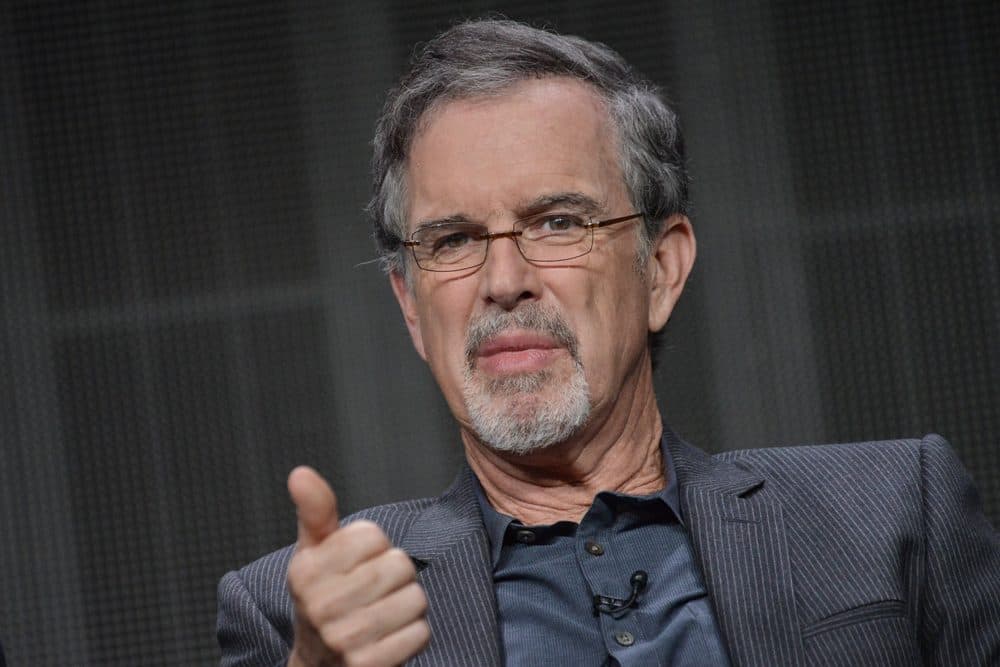 This article is more than 4 years old.
"Doonesbury," the popular satirical comic, has been lampooning religion and politics for decades. Cartoonist Garry Trudeau's mockery of Donald Trump began back in the 1980s, when Trump was a brash, self-promoting businessman.
Now that Trump has risen to presumptive GOP presidential nominee, Trudeau has gathered 30 years' worth of Trump cartoons into one giant book called "Yuge!" Here & Now's Robin Young talks with Trudeau about his new collection.
Interview Highlights: Garry Trudeau
On how long he's been following Donald Trump:
"I've been tracking his presidential aspirations since the fall of 1987. Then of course it was 2000 and 2012. And I think 2012 where he found his subject matter, the birther movement, which was the dry run. He got it, if you recall it, a 40 percent approval rating in an imaginary match between him and Obama, and I think that fed the grandiosity to the point, 'maybe next time I'll really go for it.'"
On how his language has remained the same over many years:
"It is the same. But I think if you go through the years and look at the positions he's taken over the 30 years, you'll find he's come on pretty much every side of every issue. I've got a Sunday coming up in which I've created that list. I actually researched it. And it's astonishing how many issues he's been on both sides, so much so that under the right circumstances, he conceivably might have run as a Democrat. He could have put together that portfolio too if he wanted to. It would have been more Bernie-like, but he did create the foundation for the Trumpian philosophy long ago, as you pointed out."
"There were phrases like 'nasty with lies.' Who says that? 'Nasty with lies.'"

Garry Trudeau
What, as a cartoonist, did you love about Trump?
"Well he was a kind of stand alone, right-out-of-the-box tune as a person. So he's the only person in public life that I actually drafted into the strip, just kind of as he was, as he looked, complete with his mannerisms, his unique speaking style, and his grandiosity and hyperbole. I didn't have to change a thing. I just brought him into the strip, and he was kind of welcomed as a colleague by the characters in the race without having to make any adjustments. I can't think of anybody else in public life. The closest I came of course was Hunter Thompson and Duke, but that was more of a straight hit parody. Hunter was where I started and the character took on a life of its own. I've never tried to make Trump anything but Trump."
What's your favorite Trump strip?
"Because it's still fresh in my mind, when he pitches Trump-brand insults to middle schoolers, and I list all the insults that he's used on his Twitter feed last August. I was only able to use 50 or 60 of them, and there were 500. And I wondered why wouldn't he brand that? There were phrases like 'nasty with lies.' Who says that? 'Nasty with lies.' So there's no reason in the world he wouldn't want to copyright that and sell it to children for use in the cafeteria."
Comics From 'Yuge! 30 Years Of Donnesbury On Trump'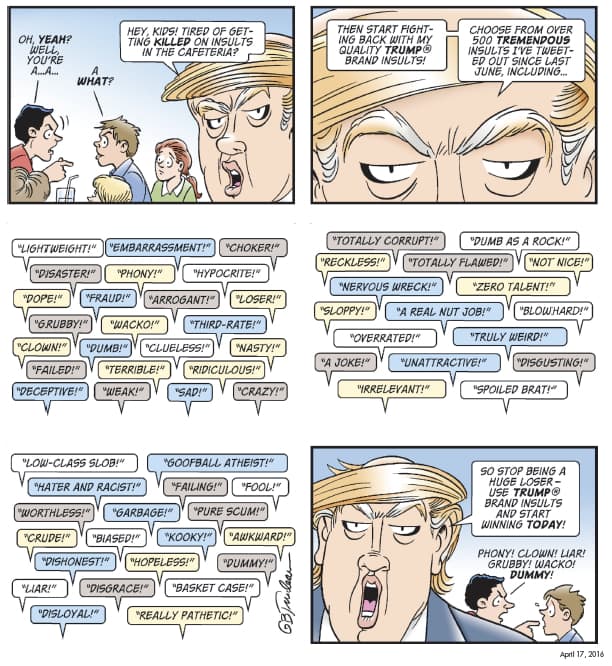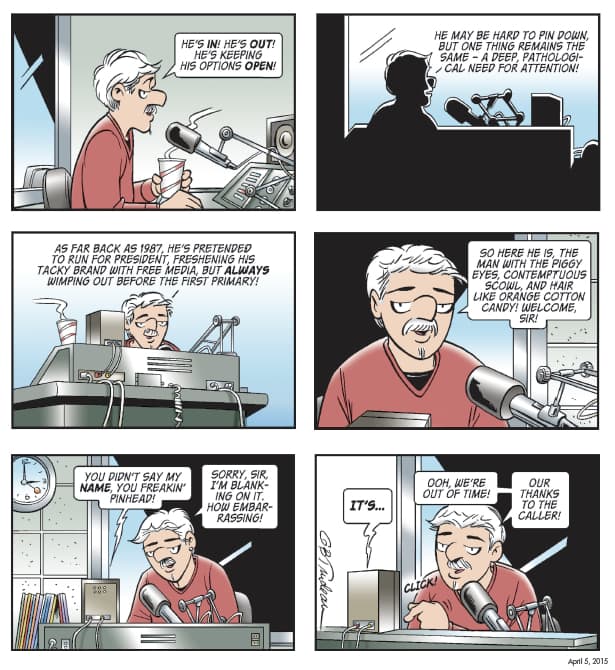 Read "The 239 People, Places and Things Donald Trump Has Insulted on Twitter: A Complete List" via The Upshot.
Guest
Garry Trudeau, cartoonist and author of "Yuge! 30 Years of Doonesbury on Trump" and the comic strip "Doonesbury." He tweets @doonesburycomic.
This segment aired on July 6, 2016.