Why The 'Do Not Call' List Doesn't Stop Annoying Robocalls — And What To Do About It
10:49
Play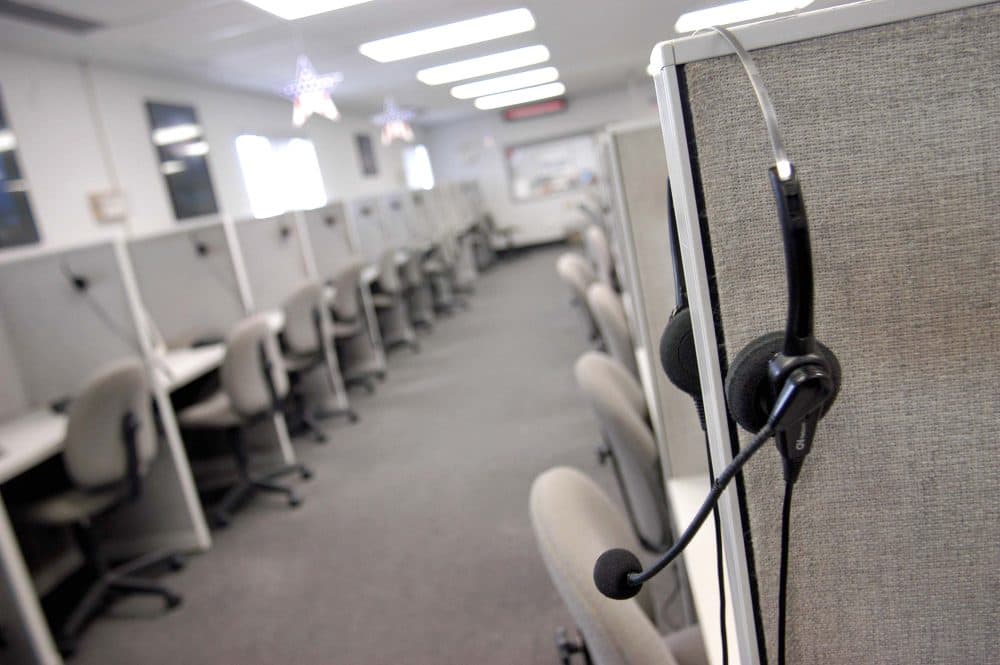 This article is more than 4 years old.
The National Do Not Call Registry is supposed to help limit the number of calls from telemarketers. But even if you're on the "Do Not Call" list, you're probably still getting annoying unwanted phone call solicitations.
Here & Now's Jeremy Hobson talks with Consumer Union's Tim Marvin about why we're getting these robocalls — and what to do about them.
Interview Highlights: Tim Marvin
On why some Americans still receive robocalls
"It's really annoying, and just about every American has signed up for the 'Do Not Call' list and I think if we did a survey tomorrow, just about every American has gotten a robocall in the last week. Here's the deal: In 2003 they passed the 'Do Not Call' list, at the time that was a great law and it worked really, really well. People stopped getting phone call solicitations that they didn't want to receive and people paid attention to the 'Do Not Call' list. But now since the internet has become so much less expensive to use, people who would like to make a phone call solicitation can make millions of calls for pennies on the dollar simply by having a decent computer setup and a phone number.
Before when people would call one number at a time and they would kind of cycle through numbers — it would take some time, it would cost a little bit more money. Now, these companies can call thousands and thousands and thousands of phone numbers in a matter of seconds for very little money. That's really why the "Do Not Call" list has become ineffective.
The fact is, is that crooks don't care about the "Do Not Call" list. If they're trying to scam you out of money, they don't care if you've signed up for the 'Do Not Call' list. So the laws just haven't been able to keep up with technology and that's why we've been calling on major telephone companies to give consumers, their customers, tools to stop blocking these calls before they get to our homes."
On why it's difficult for the government to stop the calls
"A lot of these calls are generated abroad, so there might be a call center in Jamaica, they're the ones setting up the IRS tax scam. It's not, most likely, happening in Lawrence, Kansas. It's happening in Jamaica, or the Virgin Islands, or something like that.
The fact is that the FTC and the FCC — the regulators who deal with a lot of this — and a lot of attorney generals, have gone after legitimate companies that have violated the Telephone Communication Protection Act. But the most egregious of these calls are most likely coming from places that we just can't get to the criminal, and that's why it's important to block these calls before they get to our phones."
On robocallers using fake phone numbers
"It's really easy for them to fake a number. And now we're seeing it get even more bold. I'm here in the West Coast in San Francisco and I get numbers all the time with the 415 area code that looks an awful like either my phone number or a phone number that could potentially be a call I think I should take. I pick it up and it's Rachel from cardholder services tricking me yet again to sign up for something and trying to get my personal information."
On potential solutions to the robocall problem
"We think that the easiest step for them to start making is to offer the consumers free and effective tools to block robocalls. So some of the solutions that we've seen out there, people might have heard of, the FTC did a competition and they've had a couple really interesting winners. One of those was a company called Nomorobo. It allows people to sign up for this service if they had voice over internet protocol and now they have a cell phone app that you can sign up for, and that allows you to start blocking phone calls.
Unfortunately, the phone companies, especially the major phone companies like AT&T, Verizon, and CenturyLink, haven't done much to make that tool accessible and easy to use for their customers. Somebody like Time Warner Cable, actually, did a really great thing. They allowed their customers to basically one-click opt in to Nomorobo and we've heard from consumers that it works really well, that they've seen the number of robocalls drop. It feels good when you're a customer and your company starts listening to you."
On what to do if you get an unwanted robocall
"Reporting them to the FTC and the FCC and your attorney general is really helpful. One place where the phone companies have been helpful is teaming up with a lot of the different applications that are out there along with regulators and they meet and they basically say, 'OK, what are the bad phone numbers that these calls are coming from?' And they can start working together to block those numbers. So reporting the numbers is really, really helpful to the regulators and to the phone companies.
But at the end of the day, stopping them, you can sign up for Nomorobo, or a service similar like that if you have voice over internet protocol or if you have a cellphone. The best thing to do when you get a call is just not do anything. If you pick up, and you can, everyone kind of knows what that 'click' sounds like when it's not a real person, just hang up. Don't interact, it's really tempting to get frustrated and mess with the phone callers, but to be honest they're probably just flagging you for more phone calls down the road."
More Information About Robocalls
Guest
Tim Marvin, campaign director for EndRobocalls.org and grassroots organizer for Consumers Union. He tweets @TimMarvin_.
This segment aired on July 7, 2016.